Des Linden Didn't Just Win The Boston Marathon — She Reminded Me Of The REAL Reason I Run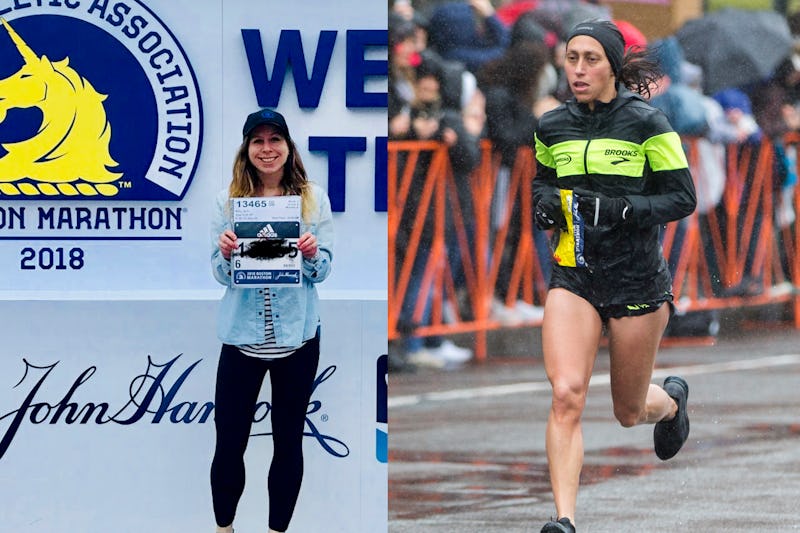 Courtesy of Erin Kelly / Scott Eisen/Getty Images News/Getty Images
About two weeks ago, I saw something on my Facebook newsfeed that stopped me mid-scroll: the weather report for the upcoming Monday showed a light monsoon with teeth-chattering temperatures. On any other Monday, this type of disheartening weather would be, well, just another Monday. But it just so happened that this Monday was also the day that roughly 30,000 runners were planning to make the 26.2-mile trek from Hopkinton, Massachusetts, to Boston, an event formally known as the Boston Marathon.
As a registered runner who'd been training for the race for almost five months, I began to feel my excitement for the race turn into unease. Maybe it won't be so bad, I thought. Maybe it will be like one of those snowstorms they make a huge deal about, and it doesn't even flurry!
It ended up being a historic race for many reasons. Not only were the wet, cold, and windy conditions some of the worst many of the runners had ever seen, but Olympian Desiree Linden became the first American woman in 33 years to win the marathon. But more on that, later.
This was my thirteenth marathon, so perhaps I should have had an inkling that something would happen to throw it out of whack. I left for the race wearing multiple layers, a hooded poncho, and plastic bags secured with rubber bands around my sneakers. "It looks like you're heading off to a day at a chemical plant," my friend Laura joked as I geared up to face the elements. When I got there, the Athlete's Village (where runners congregate before entering their starting corals) was worse than anyone anticipated: mud everywhere, puddles 10 Porta Potties wide, runners in rain getups even more ridiculous than mine. We laughed at the absurdity of it all — what else could we do?
Nevertheless, I had trained hard for this race and was determined not to let bad weather stop me from reaching my race goal — a marathon PR, or a personal record. But even the most elite runners had eschewed their runderwear for full rain jackets, which is pretty much unheard of in the professional running world. Despite the universal setback, there was only one real solution: continue to move forward, towards Boston.
I'd love to tell you that despite the conditions, I crushed the race. That I didn't let it phase me. That, gosh, I thrived in the harsh conditions, just like the men's winner, "citizen runner" Yuki Kawauchi, who blew everyone away by besting the pros to become the first Japanese man to win the Boston Marathon since 1987. But alas, I did not (thrive, that is). I kept up with my goal pace until about mile 13, when I started feeling an extra tightness in my quads, and, was I just imagining it, or was the headwind more powerful now?
I had trained hard for this race and was determined not to let bad weather stop me from reaching my race goal
I hit the wall around mile 18, just when the race really starts getting tough. My legs felt like tree trunks, and each step felt like my quads were emerging from under a pile of bricks. Inside my compression socks, my calves were twitching. It took everything in me — mentally and physically — to shuffle through the last few miles. When I finally slowed to a limping stagger past the finish line, more than 10 minutes slower than I'd hoped, I started to cry.
Logically, I know that finishing a marathon — let alone 13 — is an immense accomplishment. But emotionally, I was devastated. Three hours and twenty-two minutes ago, the goal I'd been working toward for months was dangling in front of me for the taking. Now, that goal was gone, and my next chance at redemption was hundreds of hours of training away.
Feeling defeated, I limped to bag check — teeth chattering, body shivering — to change into dry clothes. On my way to the changing tent, I heard a voice over the sound system announce that American runner Desiree Linden had won. Wow, I thought. Go Des!
She hadn't been the crowd favorite — not even close. Most people had been excited for Shalane Flanagan, the historic winner of the 2017 New York City Marathon and hometown hero, to break the tape. But hearing of Linden's victory immediately lifted my spirits. Over the past 11 years, Linden has run 14 marathons and come in second three times, once as the runner-up in Boston in 2011. Yet until that morning, she'd never actually won herself. A wave of happiness rushed through me as I realized that a dark horse had prevailed on a dark day.
Later, at the post-race bar where I met my friends, I fixed my gaze on the marathon race coverage playing behind the bar, and as I watched the replays of elite race footage, I learned that Linden had sacrificed her own race to help American runners Flanagan and Molly Huddle along the course. She said that helping out other runners during the race — one that, at a certain point, she thought she might have to drop out of — actually helped her pull out the win.
Running may technically be a solo sport, but the running community I've discovered in New York City is one of the most supportive environments I've ever been a part of. My personal desire to run has almost always been fueled by the people I've had the pleasure of running with — from the girls I hoped to befriend when I joined the high school track team as a sophomore, to the members of The Most Informal Running Club, Ever, who have inspired me to test my limits on the track as an adult.
Running is a funny sport that can be just as rewarding as it can be miserable, but the best part might just be the collective mindset that everyone is in the race together. Supporting one another along the way is customary, if not compulsory. In my running group, for example, as soon as anyone finishes their own speed interval during a workout, they immediately head back to the finish line to cheer on the rest of the group. Running gives people permission to push themselves physically, but often I find that this momentum extends beyond physical limitations to careers, volunteer work, side hustles, relationships, and even to one another. Having the opportunity to be around people who are constantly looking to improve themselves inspires me to chase my own goals, and push those I care about to do the same. That momentum, and the opportunity to influence others is what inspired me to become a run coach myself.
I wouldn't have had the confidence to go after a PR in Boston without the support of my running coach and my friend Chris, both of whom have been constant sources of inspiration through the ups and downs of marathon training. Every time Chris, who was on a similar training plan, crushed a workout, I felt motivated to do the same. And each time I got a workout assignment from my coach, I felt like I was being tasked with a secret mission only I could accomplish.
I guess what I'm saying is, Linden's display of selflessness and solidarity reminded me why I love running so much in the first place. I don't run solely to pull out outstanding performances in blustering conditions — though that would be nice — but because it gives me an opportunity to be part of something bigger, to consistently better myself, and to motivate others to finish their own race. When Des Linden embodies that spirit and pulls out the historic win in Boston, it reminds me that the only true 'win' is getting to inspire others.
So despite the awful weather and my initial feelings of defeat, the running community at large has proven (again) that my race outcome isn't nearly as important as surrounding myself with the right people — and every once in a while, it pays to take a hint from the pros.