All The Details About Becca's Brand-New Ring That 'Bachelorette' Fans Want To Know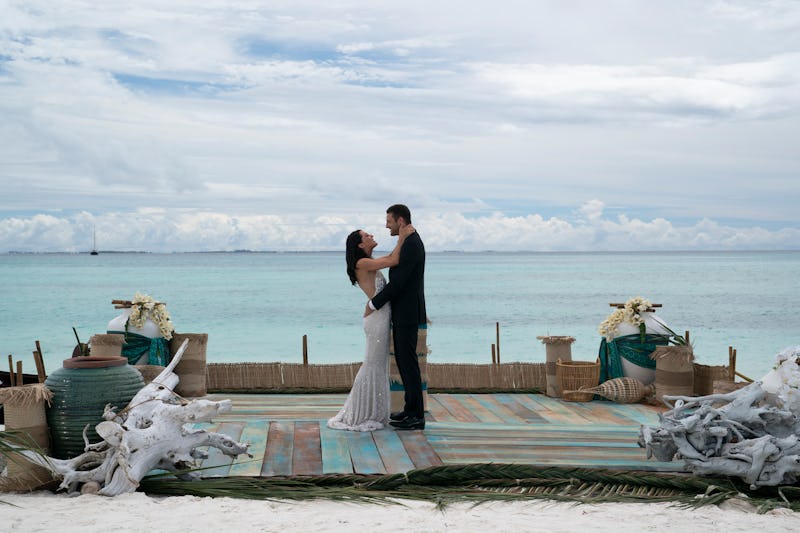 Paul Hebert/ABC
Every Bachelorette season ends with the final two guys meeting with Neil Lane to pick out an engagement ring, and this finale was no different. On Monday night's episode of The Bachelorette, Garrett Yrigoyen and Becca Kufrin got engaged, and he gave her a gorgeous ring — one that's definitely unique when you compare it to other rings from the franchise. And now, thanks to People, we have details on Becca's ring from The Bachelorette, and yes, the stats are just as impressive as you would guess.
After Garrett's proposal, fans were buzzing about Becca's yellow gold ring, which was super sparkly and featured more than one center stone. And now, we know exactly what makes it so special. The magazine reported that Becca's ring is 18-carat gold and has a total weight of 3.75 carats, featuring 84 — yes, 84 — diamonds on the band alone. That's a lot of diamonds, y'all.
And according to what Neil Lane told People, he designed the ring specifically with Becca in mind, because he wanted her to have something truly special after everything she had to go through with Arie Luyendyk Jr. on The Bachelor last season. How sweet is that?
"I wanted to make a ring that was totally different than anything I had done for the show before," Lane said. "I wanted to create something very special for Becca, especially considering everything that happened with Arie."
Lane also opened up about the symbolism the ring holds — to him, each of the center stones means something different. He told People, "I wanted it to be elegant, quite glamorous and I wanted to use gold. It's a whole different concept — it has three oval stones, which helps celebrate both of them as a couple and the third diamond represents their future together."
That's really sweet, because marriage is about two people coming together to form one family unit, which is something that Becca has talked a lot about wanting this season. And while some fans have certainly had their doubts about Becca's choice in men, it seems like Garrett left a very positive impression on Lane. He told People:
You could tell Garrett was genuinely smitten, and just so excited and enthusiastic to be with Becca — he was funny, sweet and charismatic. He took the process of picking out the ring so, so seriously and seemed to enjoy it. He really studied them thoroughly and had a grin on his face, from ear to ear, the whole time ... Garrett wasn't nervous at all. He was full of joy and his heart seemed wide open. It was a lot of fun for me to see so much love!
It seems like Garrett definitely chose the right ring for Becca, which is a good sign when it comes to their future together. One thing's for sure: No Bachelorette has had a ring that looks like this, so once again, Becca's standing out in the most awesome way. Now we just need her to share more ring photos to satisfy fans' curiosity. Don't be afraid to show off that bling, girl.