Wow, Becca's Engagement Ring Is STUNNING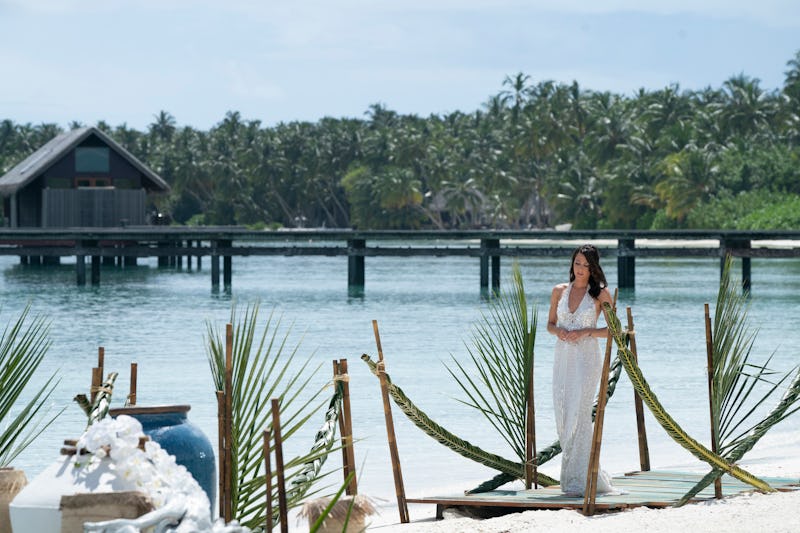 Paul Hebert/ABC
On Monday night, it happened. After all the drama of her Bachelor finale earlier this year and her journey on The Bachelorette this season, Becca Kufrin is officially an engaged woman, y'all — and it seems like she's very happy with her choice. And now that we know she's scored that Neil Lane sparkler, what does it look like? Fortunately, there are photos of Becca's engagement ring that will help you get a better look at her new bling.
Update: According to a People report the morning after the finale, Becca's ring is 18-carat gold with 84 full-cut smaller diamonds in it, totaling 3.75 carats of diamonds in all. Lane told the outlet, "It's a whole different concept — it has three oval stones, which helps celebrate both of them as a couple and the third diamond represents their future together."
As per usual, Garrett picked out the ring himself with Lane's help before he officially proposed, which is one of the many Bachelorette traditions. He did an awesome job. Becca's ring is absolutely gorgeous, and it's sparkly, which is something many people look for in a diamond ring, so he definitely gets points there. And although there haven't been a ton of details released about Becca's new jewelry, it's pretty clear that she's in love with it, which is what matters most.
So far, no official photos have been released of Becca's ring, but there is good news. While the finale aired, ABC shared a GIF of it, so you can see all those sparkles in action, up close, as Neil Lane intended.
Those are all the pics out there for now, but there are sure to be more out there as Becca and Garrett make the rounds doing the requisite "engagement tour" on talk shows in the coming days. It's not an easy ring to miss, either. It's covered by diamonds in all sizes, and it's definitely unique — just like Becca. Most importantly, it's worlds different from the ring that Arie Luyendyk Jr. gave her on The Bachelor, because it would be a little surprising if she wanted a reminder of that period of her life now that she's staring a new chapter with someone else. A chapter that will, hopefully, be much longer than the one she shared with Arie.
It's also unique in the fact that it's yellow gold, when many Bach rings we've seen in recent seasons follow the white gold trend. But since when has Becca ever been the kind of woman to follow trends? And if Garrett knows her as well as you'd hope he would at the point where he's proposing to her, it seems like he knew she'd like a ring that's different than most of what you see these days.
On Twitter, People Had Mixed Feelings
However, it doesn't really matter what people think about Becca's ring, since, well, it's her ring. But those haters might have been letting their feelings about her fiancé cloud their judgement of this gorgeous piece of jewelry. Almost as soon as the finale began, Bachelor Nation was split right down the middle when it came to the final two suitors.
After some heart-wrenching conversations, though, Becca chose Garrett at the end, whether fans approve or not. And judging by the way they looked at each other on After the Final Rose, Becca would have said "yes" to Garrett no matter what kind of ring he showed up with. Though, this one was pretty breathtaking.