This Is What Bette Davis' Daughter Is Doing Now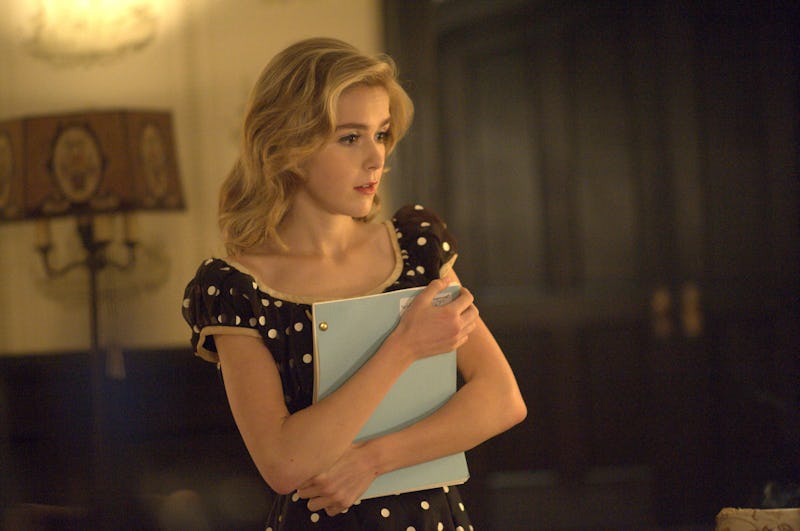 Suzanne Tenner/FX
Last week, FX's newest anthology series humanized its two central characters by looking beyond the characters they portrayed in What Happened To Baby Jane? and focusing on an entirely different role they each played: mother. "Mommie Dearest" was our biggest look yet at B.D. Merrill on Feud: Bette and Joan, and the young girl's relationship with her mother — two-time Oscar winning legend Bette Davis — proved to be one of the most fascinating aspects of the show so far. And given the fact that the most recent episode of Feud showed Davis' daughter taking on the role of the sexy neighbor girl after the original actress was fired, audiences may be wondering if B.D. Merrill ever acted in anything other than Baby Jane.
Generally, the world is more familiar with Christina Crawford, the daughter of Davis' Baby Jane co-star Joan Crawford, thanks to the autobiography she published in 1978 (from which last week's episode borrowed its name) and the 1981 feature film adaptation starring Faye Dunaway that followed. (Ironically enough, Mommie Dearest has since become a camp cult classic right up there with Baby Jane.) But, in fact, there are other credits on Merrill's résumé. Prior to Baby Jane, an infant B.D. appeared in an uncredited role in her mother's 1951 film Payment On Demand, which premiered when she was only three years old. Then, 11 years later, she played Liza Bates in Baby Jane… and that's it. The only other credits to her name are appearances as herself on the NBC documentary series This Is Your Life and the CBS talk show Hour Magazine.
So what happened to B.D.'s film career? Well, as Feud would like us to believe, it never went anywhere because she unfortunately didn't have the same acting chops as her mother. Whatever the reason, B.D. mostly stayed away from the limelight after her brief stint on Baby Jane; but that doesn't mean she didn't keep herself busy.
B.D. was actually born Barbara Davis Sherry in 1947 to Davis and her third husband, William Grant Sherry; she took the surname of her adoptive father, Davis' fourth and final husband Gary Merrill, as her stage name when filming Baby Jane. But she soon became known as B.D. Hyman once she married Jeremy Hyman — whom she met on a blind date at Baby Jane's Cannes premiere when she was 16 and he was 29, according to Vanity Fair.
Given that she decided not to follow in her mother's prodigious footsteps, what did B.D. end up doing with her life? Well, much like Crawford's own daughter, B.D. also ended up publishing a tell-all memoir about her strained relationship with her famous mom, 1985's My Mother's Keeper.
But B.D.'s longest career hasn't been as an actor or an author; rather, she works to this day as a pastor of a born-again Christian church in Virginia that she founded herself, called The B.D. Hyman Ministry. She has also self-published a handful of books about her religious teachings, briefly operated an art business where she sold her own paintings, and even overcame a battle with cancer.
The Davises may not have become a multi-generational family of actors like the Barrymores or the Baldwins — but it certainly seems like B.D.'s life has been no less interesting just because she lived it off the silver screen.