No, Hailey Baldwin Definitely Didn't Wear A Wedding Band — And Here's The Proof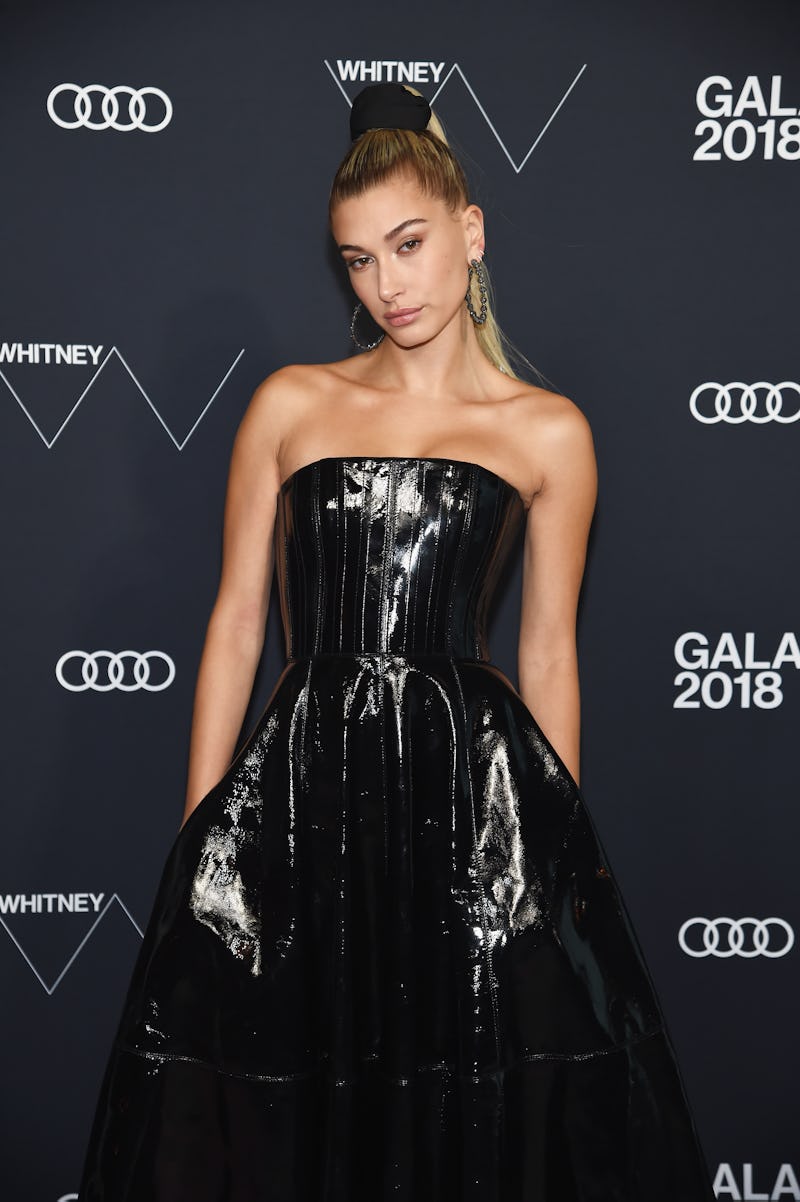 Dimitrios Kambouris/Getty Images Entertainment/Getty Images
A secret wedding might have happened underneath our noses, or at least that's what Hailey's Baldwin's ring finger was hinting. Baldwin may be wearing a wedding band now, which hints that her engagement just might be over and her marriage has started. Justin Bieber and Hailey Baldwin's whirlwind engagement after just a couple months of dating was cinched when Beiber bought her an engagement ring that reportedly cost half a million dollars (though some publications clocked it in at $250,000.) As you can imagine, that kind of rock is hard to miss on a finger, and Baldwin is no longer wearing it.
Bieber chose the ring at private New York City-based jeweler, Solow & Co., and ended up choosing an oval-cut diamond that seems to span the length of half of Baldwin's finger. According to People, Bieber actually custom designed the ring, and gave Solow only a few weeks to finish the piece before he went to Bermuda to propose. "He seemed really excited. He was looking inside the diamond with the loop, and said, 'I think I see Hailey's face,'" Solow told People.
Because so much thought and money went into the piece, people began to speculate when the engagement band came off of Baldwin's hand. On July 30, Baldwin stepped out with her fiance wearing two rings on her left hand, but neither were the expected diamond.
Instead, Baldwin wore one eternity band underneath a thicker gold ring, leaving her engagement ring behind. Because of this eternity band, people began to wonder if the two had tied the knot over the weekend when the paparazzi weren't looking.
These speculations were only fueled further when, as Cosmopolitan pointed out, Bieber was speaking to paparazzi on the 29th, and when they asked him what was next for him, he responded by saying "What's next? Getting married." He could have meant that literally.
However, one site has halted these rumors in their tracks, putting up pretty solid evidence that this might all just be fervent and off-base speculation.
According to gossip fact-checking site Gossip Cop, a source close to Baldwin confirmed that it was simply a ring she has previously owned. "It's a band that she has had and has worn a ton in the past," they told Gossip Cop. A source close to Beiber also confirmed that the two have not yet wed. The site pointed out that Baldwin was wearing the same diamond ring during a night out with Shawn Mendes in Feb. 2018, which publications at that time thought meant that she was engaged to the "In My Blood" singer after dating for two months. She also has been spotted wearing the same band in several other Instagram photos she posted onto her account the last couple of months, so it can't be a new wedding ring.
In the end, Baldwin owns a lot of diamond rings, and many of them could be mistaken for a wedding band. There's no confirmation yet as to why the engagement ring has been taken off, but there is still a Baldwin and Bieber wedding in our horizons.