How Hugh Hefner's Kids Will Be Carrying On His Legacy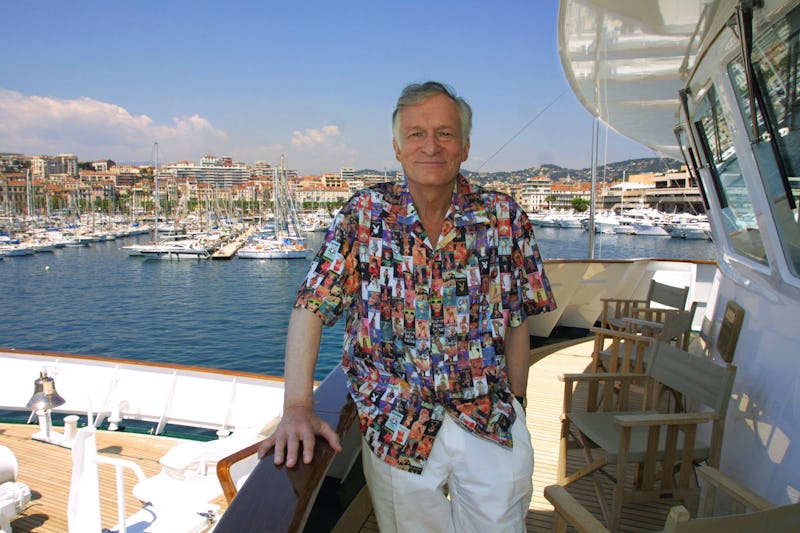 GERARD JULIEN/AFP/Getty Images
On Wednesday night, it was announced that Playboy founder Hugh Hefner has passed away at age 91. At the time, he was married to Crystal Harris, a Playboy model whom he wed in 2012. On top of that, of the four kids Hefner that had with two wives, some of them worked with the company. Hefner's first two children, Christie and David, were born in the 1950s. His later two, Marston and Cooper, were born in the 1990s. All four children survive their father, whose legacy is as wide as it is diverse.
At various points in its 60-plus year history, Playboy has been a flourishing print magazine, a website, a TV channel, a brand, a chain of high-end clubs, and multiple TV series. Through multiple lawsuits, the company has remained iconic since day one. The first-ever issue hit newsstands in 1953, which is nearly 40 years before its current CEO was born. Cooper, born in 1991, is perhaps the most infamous of the Hefner progeny. At 26, the Chapman College grad is the reigning Chief Creative Officer of Playboy Enterprise. He grew up at the Playboy mansion with his brother, Marston. Yes, he grew up at the Playboy mansion. To hear him explain it, though, it wasn't as prurient as one might think.
Despite the mansion's legacy, his mother Kimberley Conrad only threw black tie affairs when she lived in the house; Kimberley, Cooper, and Marston eventually moved next door. That's when "Hef," as the Playboy founder was commonly known, had security begin to "babysit" the premises, according to a Business Insider article. He was throwing the parties for which the mansion was known and couldn't have kids sneaking over to see that, understandably.
Cooper's brother, Marston, was born in 1990. It would appear that Marston's life is marked by more trouble than his brother's. As explained by Business Insider, Cooper attended college, founded a business, is engaged to an actress from Harry Potter, and remains an active member of the California State Military Reserves. Marston is less a part of the public eye, and was also sentenced to a 52-week domestic violence program for allegedly attacking his then-girlfriend, Playboy model Claire Sinclair, in 2012. (Marston plead "No Contest" to a misdemeanor charge.) Interestingly, he shares the same birthday as his late father.
Hef's older children, Christie and David, were born to his first wife. Mildred "Millie" Williams, who also survives Hef, divorced the mogul in 1959. Christie was born in 1952 and is the former chairman and chief executive officer of Playboy Enterprises. She left the company in 2009, and her departure, by all accounts, was a surprise; after all, she had worked for the company continuously since 1975 and announced that she would not be looking for another job. However, it does seem worth noting that 2009 was the same year in which younger half-brother Cooper turned 18 and could therefore legally take over the company. David Hefner, born three years after Christie, is the only Hefner heir entirely removed from the family business. While sister Christie essentially ran the company, David retreated to Northern California. He was last known to work as a computer programmer, and said to have visited the Hefner house "infrequently."
As of now, it is unclear how Hefner's wealth — reportedly more than half a billion dollars — will be distributed. He's survived by three spouses, four children, and a really big house that likely requires a hefty sum to maintain, even though it was purchased in 2016. Cooper will likely remain in control of Playboy Enterprises, and it's possible that half-sister Christie — nearly 40 years his senior — would return to help the millennial keep things ship-shape. And, in true Playboy style, Hugh Hefner will be laid to rest directly next to Marilyn Monroe. He purchased the mausoleum shelf next to hers in 1992, for a cool $75,000.