What 'Vanderpump's Jax & Faith Got Up To While He & Brittany Were Broken Up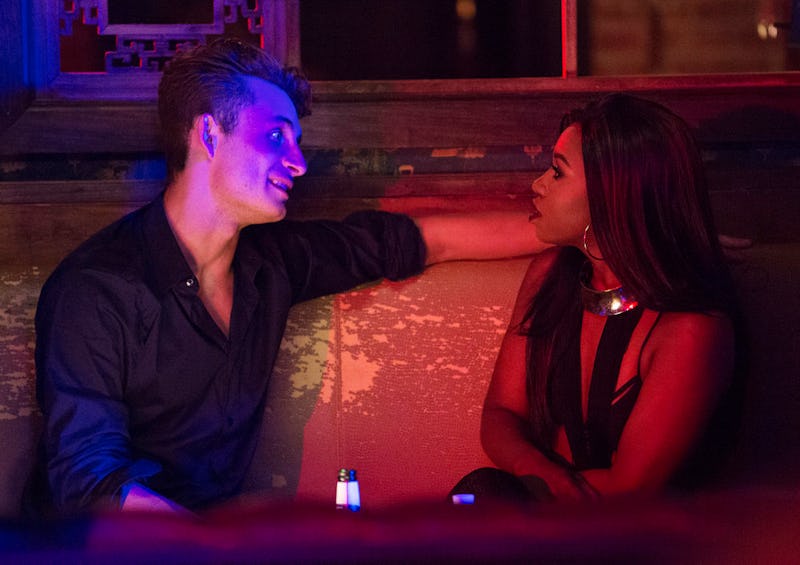 Isabella Vosmikova/Bravo
I have nine words for Jax Taylor: this is why we can't have nice things. It seemed like things were going really well for the Vanderpump Rules star and his girlfriend, Brittany Cartwright, and then he had to go and mess it all up (again, because he's done this before). Et tu, Jax? Jax cheated on Brittany and admitted it on Vanderpump Rules. Yes, he said that he did sleep with former SURver Faith Stowers, but only because he and Brittany were going through "a bad time." Oh, Jax. It led to a temporary breakup between Brittary and Jax, but was that where his affair with Faith started and ended? Did Jax and Faith date while he and Brittany were broken up?
Faith worked at SUR with Scheana, Stassi, Sandoval, Jax, and the rest of the gang, but she was never a featured player on Vanderpump Rules. But still, she'd pop in now and again. I remember one scene in particular where she makes the Toms carry her on her couch like the queen she is, and she was pretty good friends with Lala when Lala was around. That's why none of this seems out of left field — this isn't a random girl who Jax brought home. This is Faith, a friend of the group and a one-time colleague. And you know what? Sometimes, things happen. Sometimes, you get too close to someone and you realize you've caught feelings and it turns into a relationship. We saw it happen with Tom and Ariana, who kissed before he was really through with Kristen. But that doesn't seem to be the case here between Faith and Jax.
Faith said that he and Jax hooked up a few times (though Jax denies the multiple sessions, as seen in the preview for the Dec. 18 episode of Vanderpump Rules), but it seems like that was the extent of their relationship. Neither Jax nor Faith have any pics of the two of them together on their social media, and Jax has been tweeting up a storm about how good his relationship with Brittany is (they're back together, natch):
Faith hasn't said a thing about Jax on her Twitter — her only post directly referencing any of this drama is an Instagram post in which she said that she's been attacked more than Jax over this whole situation:
It's not like any of us can see all of the messages that both of them are getting, but there's every possibility that Faith is being slut-shamed more than Jax. But really, both Faith and Jax need to take responsibility for their actions. Jax cheated on his girlfriend, and Faith chose to have sex with a man with a long-time girlfriend. Both of them could have walked away at any point, and they didn't.
And while this is all on a television show for the world to see, this whole kerfuffle is the business of Jax, Faith, and Brittany. It's up to Brittany to figure out if she can be with Jax (she can, I assume) and be friends with Faith (there are no pics of Faith and Brittany together, either, so there's probably no love lost there). Also, Faith hasn't said anything about being pregnant after the scare she told her former co-workers about in the season premiere. (And Radar Online reported that Faith isn't pregnant with Jax's baby.) So hopefully, everyone can move on.
Right now, Jax and Brittany are working on their relationship, Faith is working on her career (she's also a television correspondent, apparently). When it comes to Faith and Jax, it seems like their relationship can be chalked up to a one-time (or a few-time) thing. Based on the available information, it seems that nothing more long-term went on between Faith and Jax, even while he and Brittany were on the outs.