Joan Crawford & Faye Dunaway Knew Each Other Before 'Mommie Dearest'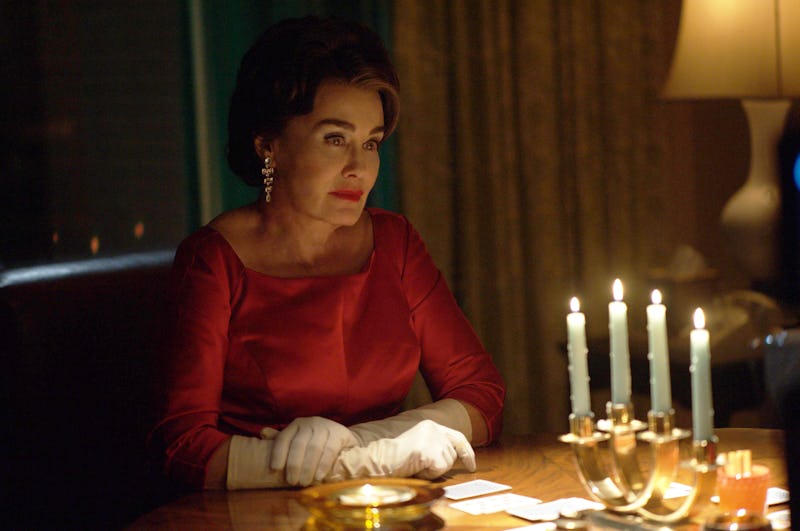 Suzanne Tenner/FX
Susan Sarandon's Bette Davis jokingly tells Dominic Burgess' Victor Buono in the finale of Feud: Bette and Joan that she should warn Joan Crawford about Faye Dunaway. Davis says that Joan Crawford wants Faye Dunaway to portray her in a movie and as any film fan knows (even before Feud notes it in the end of the April 23 episode), that desire came to fruition with 1981's Mommie Dearest. In a cruel twist of irony, Dunaway played Crawford in the movie based off Crawford's daughter Christina Crawford's memoir. So did Crawford really want Dunaway to portray her in a "picture"? That's how the Hollywood legend goes.
MovieFone noted in an article about Mommie Dearest that, Crawford said that the only actress who could portray her correctly was Dunaway. This statement is backed up by a 1981 New York Times article that stated, "Miss Crawford herself once described Miss Dunaway as the 'only one' she'd like to have play her." Before Crawford's death on May 10, 1977, Dunaway had already made a name for herself in films like Bonnie and Clyde, Chinatown, and Network, for which she won the Academy Award for Best Actress. Crawford was impressed with the young actress, but even though she knew about the existence of her daughter Christina's book (per Vanity Fair), she could have never anticipated that Dunaway would portray her in such an incredibly unflattering light in a movie that tarnished her reputation.
Knowing that Crawford had also complimented Dunaway's acting in one her books makes it all the worse. In her 1971 book, My Way of Life, Crawford had written, "Of all the actresses, to me, only Faye Dunaway has the talent and the class and the courage it takes to make a real star."
Besides Crawford most likely regretting her words from beyond the grave, Dunaway herself is not happy to what happened to her career after portraying Crawford. She told People magazine in 2016 that, "I think it turned my career in a direction where people would irretrievably have the wrong impression of me — and that's an awful hard thing to beat." Yet, while Dunaway regrets the campy way the film turned out, she did have compassion for the actress that she was portraying. In a 1981 article for People after Mommie Dearest had come out, Dunaway said of Crawford:
"She was getting older, had suffered a number of miscarriages, her career was sliding. She had to fight ... Christina may disagree, but I think Joan must have felt that Christina was undergenerous of heart. Crawford was born poor and grew up scrambling, Christina didn't."
Still, despite this empathy, Crawford's legacy has been marred by Mommie Dearest and in some ways, the 1981 film marred Dunaway's career too. Now, that's some real Hollywood irony for you — by portraying the woman who was once deemed "box office poison," Dunaway herself experienced her own career slide. And maybe knowing that would bring Crawford some satisfaction when it came to her choice of Dunaway to portray her.