Olivia De Havilland & Joan Fontaine's 'Feud' Was Epic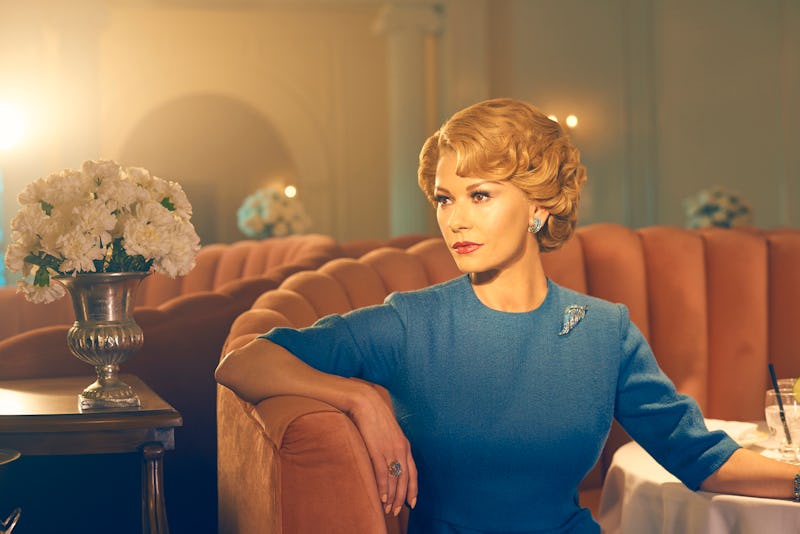 Kurt Iswarienko/FX
While the main feud in Season 1 of Feud belongs to Joan Crawford and Bette Davis, the April 2 episode introduced another feud into the mix — the one between Olivia de Havilland and her sister Joan Fontaine. Catherine Zeta-Jones has been portraying the two-time Oscar winner, who gives commentary on Davis and Crawford's relationship in a series of interviews in the 1970s, in Feud. Yet, while she has been more than happy to speak about Crawford and Davis, de Havilland didn't seem so keen to speak about her own relationship with her sister in "And the Winner Is ... (The Oscars of 1963)." So were de Havilland and Fontaine rivals? These two famous sisters allegedly had a much-longer running feud than Davis and Crawford.
As de Havilland says in Feud (and it's something she echoed in real life), "A feud implies continuing hostile conduct between two parties. I can't remember an instance where I initiated hostile behavior." You can find fault in de Havilland's definition of the word "feud," but this is the idea that she has continued to preach to the press for decades. While de Havilland did admit around her 100th birthday in 2016 to People that she was estranged from her younger sister at times, Fontaine was much more outspoken about their relationship during her lifetime. (Fontaine died in 2013 at the age of 96.)
De Havilland spent most her life not feeding into the rumors and drama that Fontaine herself helped to spread, particularly in Fontaine's 1978 memoir, No Bed of Roses. The sisters were born just 15 months apart in Tokyo, Japan, to British parents. They moved to California, where both sisters took up acting. De Havilland had success first under Warner Bros. and Fontaine took their stepfather's last name because "Two de Havillands on the marquee would be too many," Fontaine told Scott Feinberg of The Hollywood Reporter. But the animosity between the sisters started long before that, Fontaine claimed. Fontaine told People in 1978 that, "Olivia so hated the idea of having a sibling that she wouldn't go near my crib."
Once they both became Hollywood actors, this feud only intensified. Fontaine told Feinberg the story of how she had originally auditioned for the part of Melanie Wilkes in Gone with the Wind, which de Havilland earned a Best Supporting Actress nom for at the 1940 Oscars, and that Fontaine was responsible for her sister getting the part. The next year, Fontaine was nominated for Best Actress in Alfred Hitchcock's Rebecca and then both sisters were nominated for Best Actress in 1942. Fontaine won the prize for another Hitchcock film, Suspicion, and Vanity Fair wrote, "The moment launched global headlines about 'the war of the star sisters.'" Not to mention, Fontaine claimed her win was tainted by her sister's animosity toward her in her memoir.
When de Havilland was next nominated for an Oscar — and won — in 1947, she apparently ignored her sister's efforts to congratulate her. This moment was discussed in Feud and Zeta-Jones' de Havilland claimed to have simply not see Fontaine there.
As the sisters were famous for most of their very long lives, there are many more accounts of bitter moments between them, including when their mother died in 1975. Most of these stories were all fueled by Fontaine, while de Havilland remains notoriously reserved on the subject of her deceased sister, as was shown in Feud. Although, one can't help but wonder if what Fontaine said in her 1978 interview with People was true after she died in 2013. "Olivia has always said I was first at everything — I got married first, got an Academy Award first, had a child first," Fontaine said. "If I die, she'll be furious, because again I'll have got there first!"