Fans Are Saying Prince Hated Justin Timberlake — Here's The Real Story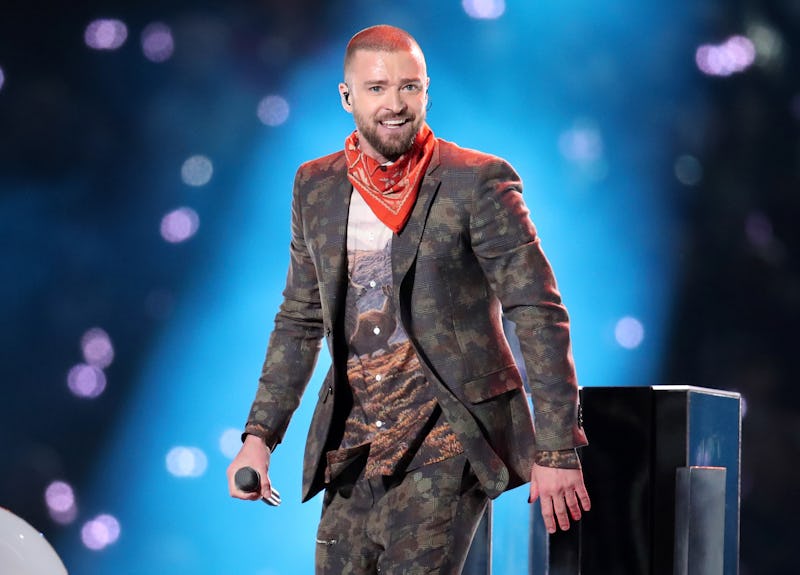 Christopher Polk/Getty Images Sport/Getty Images
Justin Timberlake didn't include a Prince hologram during his Super Bowl halftime performance, but he did cover Prince's "I Would Die 4 U" with a video of Prince projected on a large piece of fabric behind him. After the performance, many people took to Twitter to talk about Timberlake and Prince's connection, with a lot of people saying Prince hated Justin Timberlake.
It made sense that people were upset before the performance when they heard rumors that Timberlake was going to feature a Prince hologram. Unsurprisingly, many fans were against this idea, simply because holograms are weird, but also because Prince himself made clear in a 1998 interview with Guitar World that was he was not down with holograms. "That's the most demonic thing imaginable," he said. "Everything is as it is, and it should be. If I was meant to jam with Duke Ellington, we would have lived in the same age. That whole virtual reality thing... it really is demonic. And I am not a demon."
So, Timberlake not using a hologram was a good call. Still, some fans had issue with the singer including Prince at all, even if it was in honor of the game being held in Prince's hometown of Minneapolis. Why? Because, supposedly, Prince and Timberlake hated each other. But what's the real story?
Well, according to Genius, it all stems back to Timberlake's song "SexyBack." As Genius notes, and as reported by Contact Music, at an Emmys party in 2006, Prince said in reference to Timberlake's single, "For whoever is claiming that they are bringing sexy back, sexy never left!"
It then seemed that Timberlake referenced this in his song with Timbaland and Nelly Furtado called "Give It To Me". In that song Timberlake sings:
We missed you on the charts last week
Damn, that's right you wasn't there
Now if sexy never left, then why is everybody on my sh*t
Don't hate on me just because you didn't come up with it.
It seems that the only other known incident between Prince and Timberlake occurred at the 2007 Golden Globes when Timberlake accepted an award on Prince's behalf. This incident was also pointed out by fans on Twitter during the Super Bowl as support for their idea that Prince and Timberlake hate each other. As noted by The Grio, Prince was stuck in traffic and wasn't able to accept his Golden Globe for Best Original Song for "Song of the Heart" from Happy Feet. Timberlake, who was presenting the award, accepted on his behalf and make a joke about Prince's height.
"Well, I guess Prince couldn't be here," Timberlake said, but then stooped down to be shorter. "So, I'd like to accept this award on his behalf. Thank you."
These run-ins don't seem that serious, so it seems unlikely that Prince truly hated Timberlake the way he, say, hated holograms. Many fans took to Twitter to say that Prince "hated" the "Filthy" singer (and even that he messed up the sound mixing from beyond the grave), but these tweets might say more about how people are feeling about Timberlake these days.
I mean, Prince saying that sexy never left does sound exactly like something he would say.
It makes sense that people might be upset about Timberlake honoring Prince. Prince was incredibly beloved and his 2016 death still feels fresh. Then there's the fact that many people didn't feel great about Timberlake's performance overall, plus the mini-feud between them, and it's the perfect storm for pulling out the "Prince hates Justin" tweets. Prince maybe didn't hate Timberlake, but that doesn't mean that he was the biggest fan of him, either.