Robby Just Got Accused Of Cheating On Amanda After 'Bachelor In Paradise'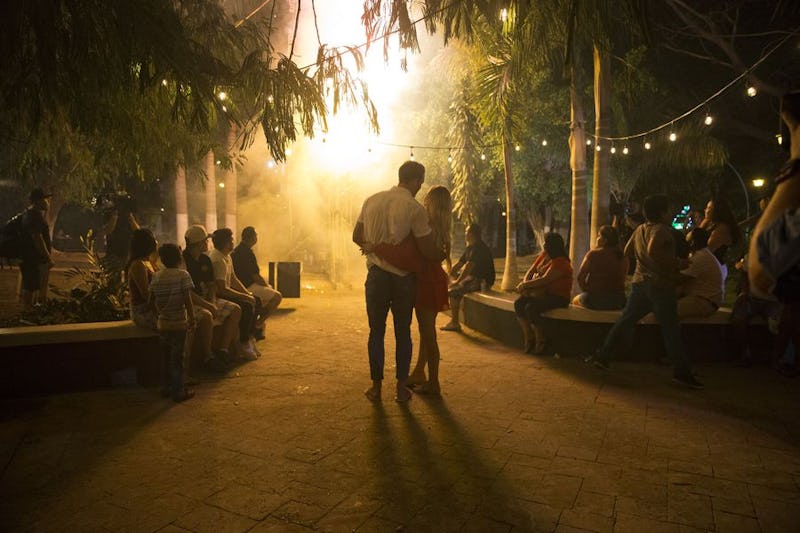 Paul Hebert/ABC
As if this season of Bachelor In Paradise wasn't dramatic enough, some serious accusations are being lobbed during the show's finale. The end of Bachelor In Paradise is supposed to be all celebrations and engagements, but I guess it's fitting for the most dramatic (that's not a Chris Harrison label — I mean it) season to have a dramatic ending. Did Robby cheat on Amanda after Bachelor In Paradise? The Ferguson twins lobbed the accusation his way in a promo for the finale, but he was quick to deny it. (Bustle reached out to Robby, Amanda, and the twins for further comment but has not yet received responses.)
Robby and Amanda had one of those Evan and Carly relationships on this season of Paradise — that is to say that Robby wore Amanda down after she decided she didn't like him that much. (I guess the potential for sponsored couple content was just too great.) In any case, Robby and Amanda seemed happy at the end of Bachelor In Paradise, but previews for the show's finale show things get dark fast — promos showed Emily and Haley Ferguson, Amanda's BFFs, confronting Robby with allegations of infidelity. The conversation started with one of the twins saying, "[Robby] did cheat on Amanda. There was pictures coming out," to which Chris Harrison asked, "Is that true?" Robby said, "That's false," and the other twin said, "What happened in Colorado then?"
Amanda wasn't shown saying anything about this in the promo, but she has been outspoken about Robby post-show. Before the show started airing, Amanda told Us Weekly that Robby was "sweet. He's really sweet." And, when the episodes where Robby was still trying to woo Amanda were airing, Robby told Extra that he would "bounce back" from his rejection. "Just stay tuned," he said. "This turnaround story is about to happen." There was some kind of a turning point for them, because they were spotted holding hands in late July after Paradise finished filming, but it's not known where they stand as of today.
This isn't the first time Robby has been faced with relationship drama on the franchise. Robby was also accused of dumping his ex-girlfriend to go on JoJo's season of The Bachelorette. Robby denied this when confronted about it on the show.
Robby and Amanda haven't said much of anything in the press since Paradise filming ended, and their respective social media accounts are pretty quiet, too. What the twins are saying is a serious accusation, and I'm sure we'll hear more about what they have to say during the finale. Until then, we'll just have to wait and see how it all shakes out.