The Last Song Of Taylor Swift's Album Answers That Major Fan Theory About Her Being Engaged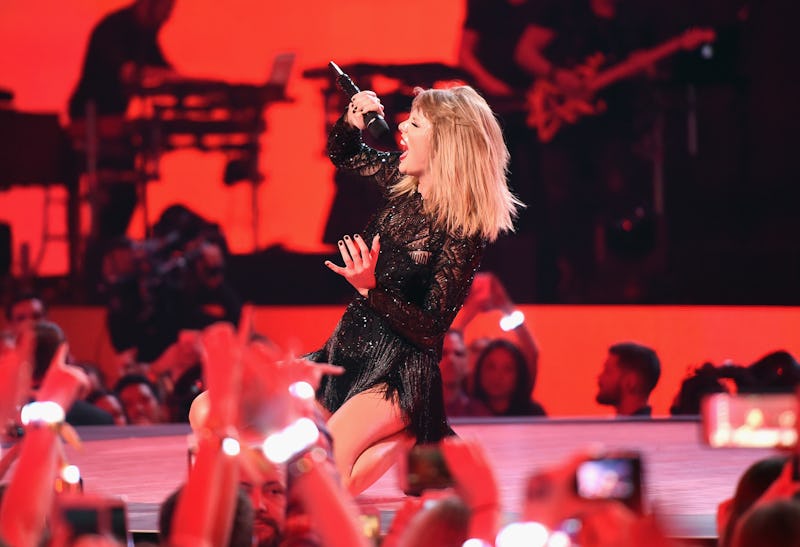 Kevin Winter/Getty Images Entertainment/Getty Images
Taylor Swift's reputation (and her album, Reputation) are going to be all anyone is talking about on Friday, since her long-anticipated album made its debut right before midnight. Her singles teased an album that tackles tabloid drama head on, and isn't shy about fighting back against her enemies (Kim and Kanye anyone?). But this drama has overshadowed a less publicized facet of T. Swift's life in the past year: her relationship with actor Joe Alwyn. Some fans thought that the ultra-private couple might have decided to take the next step in their relationship, and that Swift might share that decision with her fans with a song on the album. But did Taylor Swift announce her engagement at the end of Reputation?
Fans became convinced that an engagement announcement was forthcoming from Swift after she released her track list on Instagram. The 15th track, titled "New Year's Day", became the focus of this fan theory, although to be honest the exact reason seems unclear. Diehard fans were convinced that the album would end with a ballad announcing her decision to marry Alwyn. And honestly, I wouldn't put it past Swift to announce her engagement in song. It seems like the kind of romantic gesture the "Teardrops on My Guitar" singer would be all for.
Swifties took to Twitter to express their hope that the theory would come true:
Fuel was added to the track-15-engagement-theory-fire when it was announced on Good Morning America that Swift would be performing "New Year's Day" on the Thursday night before the album released.
The view shows Swift looking emotional at the piano, and further convinced fans that the song contained a big announcement for the popstar.
But unfortunately for diehard romantics, the fan theory was wrong— this time, anyway. "New Year's Day" doesn't announce Swift's engagement to Alwyn, though that doesn't necessarily mean he hasn't popped the question. But fans who might be disappointed in this outcome should find comfort in the fact that "New Year's Day" is one of the most beautiful songs Swift has ever written, and it's almost certainly about her current BF.
The song is ballad that almost solely features the piano, a rarity for Swift. The sound is almost reminiscent of her hit "Back to December" (RIP Taylor Squared). It opens with a description of the morning after New Year's Eve, when the party is over and everyone is heading home. Swift uses this as a metaphor for her love for Alwyn, singing in the chorus that "I want your midnights/But I'll be cleaning up bottles with you on New Year's Day." She then pleads "Please don't ever become a stranger whose laugh I could recognize anywhere." I'm not crying, you're crying.
Between "New Year's Day" and the single "Call It What You Want", which declares that her baby "loves me like I'm brand new", the songs on Swift's new album indicate that things are really getting serious between Swift and Alwyn. Compared to her other relationships with stars like Calvin Harris, Tom Hiddleston, and Harry Styles, the pop singer and the British star of Billy Lynn's Long Halftime Walk have been remarkably private. There is nothing about the relationship on any of Swift's social media accounts, and the couple have even avoided being photographed out in public together.
But with the release of Reputation and Swift's return to the spotlight, the couple may struggle to retain this level of privacy. US Weekly reports that Swift and Alwyn are preparing to go more public with their relationship. And it seems like with so many songs centering on Alwyn on her new album, Swift might be ready to take the relationship to the next level, even if it wasn't announced in "New Year's Day".
Sure, it's no secret that Swift loves to write about her loves, past and present. But "New Year's Day" represents the most adult love song Swift has ever written. She's come a long way from the adolescent romance of "Teardrops on My Guitar", and it shows in her lyrics. If "Dear John" lamented a love gone wrong, "Wildest Dreams" spoke of an spontaneous passion, and "All Too Well" spoke of breakup blues, "New Year's Day" is a song for the kind of love that endures.
Even if Swift isn't ready to announce it, it seems like she might have finally found the one.