These 'Reputation' Tracks Add Way More Fuel To Those Taylor Swift Cheating Rumors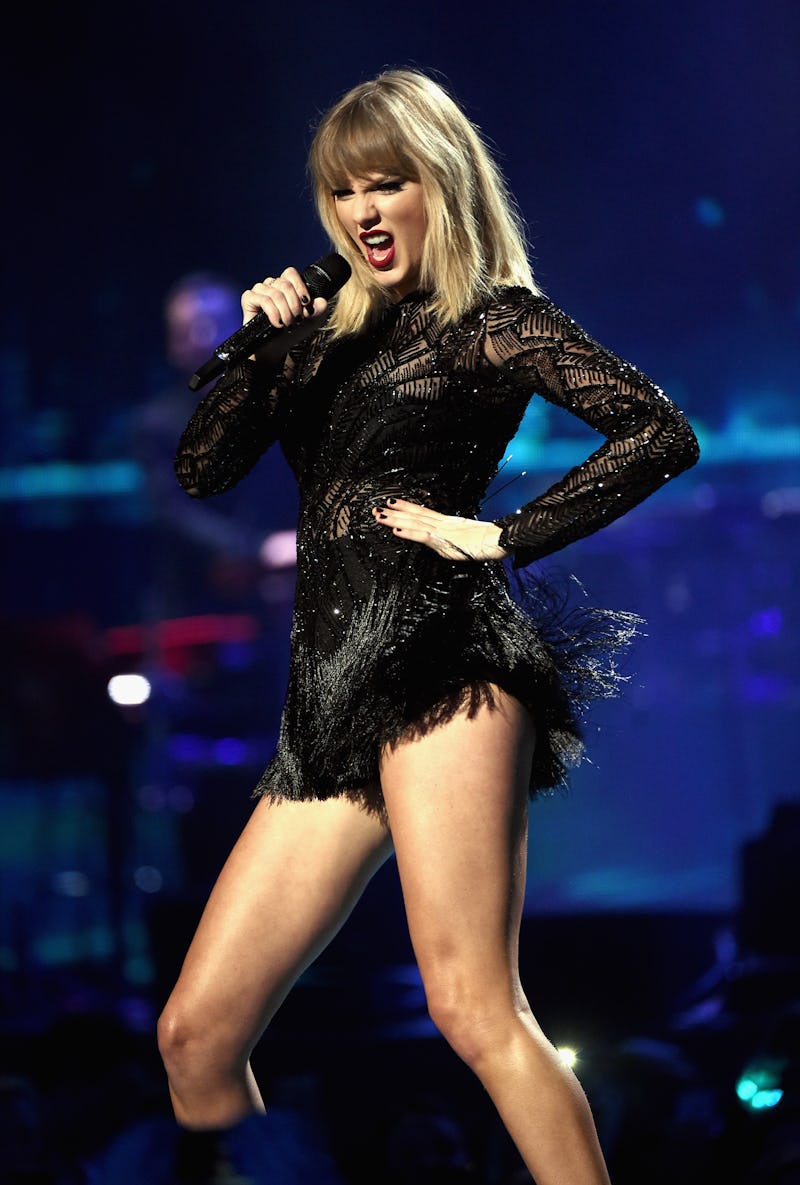 Kevin Winter/Getty Images Entertainment/Getty Images
There are certainly a lot of interpretations that can be taken from Taylor Swift's new album, Reputation. Among many inferences, some of the songs may add fuel to the fire of rumors that Swift cheated on Calvin Harris when they were together. Whether the chatter is true or not, Swift's Reputation lyrics openly point to some sort of wrongdoing on the singer's part with a song literally titled "I Did Something Bad." However, the extent of what she's talking about is unknown.
Fans of the superstar singer are well aware of the notion that most of Swift's music appears to be derived from real-life experiences, which have ranged from romantic relationships and breakups to the highly publicized feuds with fellow celebs such as Kanye West and Katy Perry that she's endured throughout her time in the spotlight. The speculation that life serves as inspiration for her art is certainly well-warranted, given the fact that Swift pens a large majority of the songs that she releases. So it makes total sense that Reputation would follow suit in continuing to narrate curious aspects of the "Bad Blood" entertainer's life.
Among the 15 songs on the new album, there are two that seem to insinuate that Swift may have been unfaithful to a past love. The third track on the album, "I Did Something Bad," most notably kicks off with Swift biting back at a former flame that she feels has wronged her. She sings,
"I never trust a narcissist
But they love me
So I play 'em like a violin
And I make it look oh so easy'
Cause for every lie I tell them
They tell me three
This is how the world works
Now all he thinks about is me"
Seemingly scorned over her lover's betrayals, Swift indicates that she's decided to fight fire with fire and begins playing with her guys' emotions in the same way he has in the past.
The whole situation seems to have shifted Swift into an extreme rage of vengeance, as she explains that she has no regrets behind the payback that she's begun to inflict upon him. Explaining that he's getting exactly what he deserves, Swift continues to sing:
"I can feel the flames on my skin
Crimson red paint on my lips
If a man talks sh*t, then I owe him nothing
I don't regret it one bit, 'cause he had it coming"
The chorus breaks down into serious "sorry, not sorry" moment as Swift takes pride in the havoc that she has begun to wreak on her former bae.
"They say I did something bad
Then why's it feel so good?
They say I did something bad
But why's it feel so good?
Most fun I ever had
And I'd do it over and over and over again if I could
It just felt so good, good"
While it's not immediately clear exactly who "I Did Something Bad" is aimed at, it is worth point out that Swift and Harris has a tumultuous breakup in June of 2016. After announcing that they had decided to call things off, Swift quickly rebounded with Tom Hiddleston (the two were spotted in Rhode Island together that same month), causing many to speculate that the two were hanging out behind Harris' back.
Another song on Swift's new album also points to this same theory. The lyrics from "Gorgeous," which is track number 8 on the body of work, provide other puzzling intricacies about Swift's romantic life — and perhaps, once again, sparks the rumor that she may have cheated on Harris, presumably with Hiddleston. (Bustle reached out to Swift's rep about the "Gorgeous" rumors, but did not receive an immediate response.) In the song's first verse, Swift sings:
"You should take it as a compliment
That I got drunk and made fun of the way you talk
You should think about the consequence
Of your magnetic field being a little too strong
And I got a boyfriend, he's older than us
He's in the club doing I don't know what
You're so cool, it makes me hate you so much
(I hate you so much)"
The lyrics seemingly fall right into line in terms of connecting the dots of Swift and Harris 15-month romance and subsequent breakup. Swift, who is currently 27, began seeing Hiddleston, who at 36, is nine years her senior. He's also older than Harris, 33, by three years.
Swift and Hiddleston were reportedly spotted having a dance off at the 2016 Met Gala in May — nearly a month before Swift and Harris announced that they had broken things off, lending more fuel to the rumor that Swift may have been cheating on Harris.
There's also a portion of the song's bridge that presumably confirms reports that Harris was the one who broke things off with Swift. She sings,
"You make me so happy it turns back to sad
There's nothing I hate more than what I can't have
And you are so gorgeous it makes me so mad
You make me so happy it turns back to sad, yeah
There's nothing I hate more than what I can't have
Guess I'll just stumble on home to my cats"
Interpret it as you will, of course, as Swift has yet to confirm if either sing has anything to do with Harris. Either way, the music and backstory make for good entertainment and publicity for Swift's new album and reemergence into the spotlight.