Did The Grammys Snub Beyonce?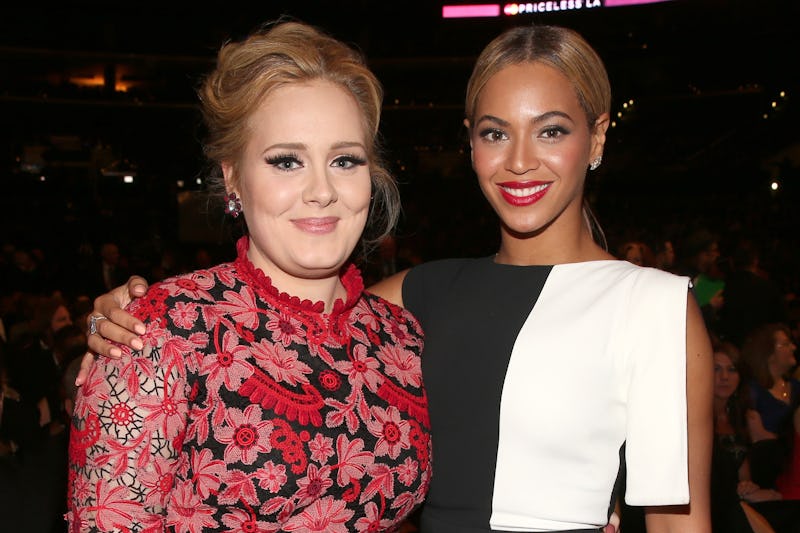 Christopher Polk/Getty Images Entertainment/Getty Images
Two of the most talented women in the music industry were recognized during Sunday night's Grammy Awards. Beyonce and Adele were both nominated in three major categories: Record of the Year, Album of the Year, and Song of the Year — and it's no surprise to anyone. Both women have had extremely successful careers thus far, and 2016 was a tremendous year for both Adele and Bey. But at the end of the night, Adele took home all three awards. And that's a big deal.
Adele released her highly anticipated album 25 which featured singles such as "Hello," "Send My Love (To Your New Lover)," and "When We Were Young." The album followed her similarly titled 21 and was certified Diamond by the Recording Industry Association of America — that means it sold more than 10 million copies.
No less impressive is Beyonce's album Lemonade, which went platinum (selling over a million copies) in the United States, and featured a gorgeous, 46-minute cinematic film incorporating the album's songs. The album was powerful, uplifting, and emotional. But for some reason, Adele was gifted all three major awards.
When accepting the award for Album of the Year, Adele said she "couldn't accept the award," because of how "monumental" Beyonce's Lemonade was. She went on to praise the singer for making her and her friends feel accepted and giving them the inspiration to stand up for themselves. Pretty powerful stuff.
While both women have produced iconic, historic albums, and have no beef with one another whatsoever — as Adele's speech itself proved — there is nevertheless an imagined feud between the two women. It's entirely sad that in 2017 we want to pit two successful women against one another. They are two women in otherwise male-dominated categories, so let's celebrate these mothers instead of tearing them down. Ryan Seacrest even asked "Are you team Adele or team Beyonce?" on the red carpet.
In my estimation both women deserve to take home Grammys for their work this year, but sadly, only one could win, and tonight that woman was Adele. Yet it's comforting to see that the British singer wanted to share the spotlight with Beyonce, and her sweet words will be remembered.
Beyonce may have been snubbed at the 2017 Grammys but her powerful songs and empowering messages will surely be remembered by generations of women to come.