Beyonce Is Already Slaying The Grammys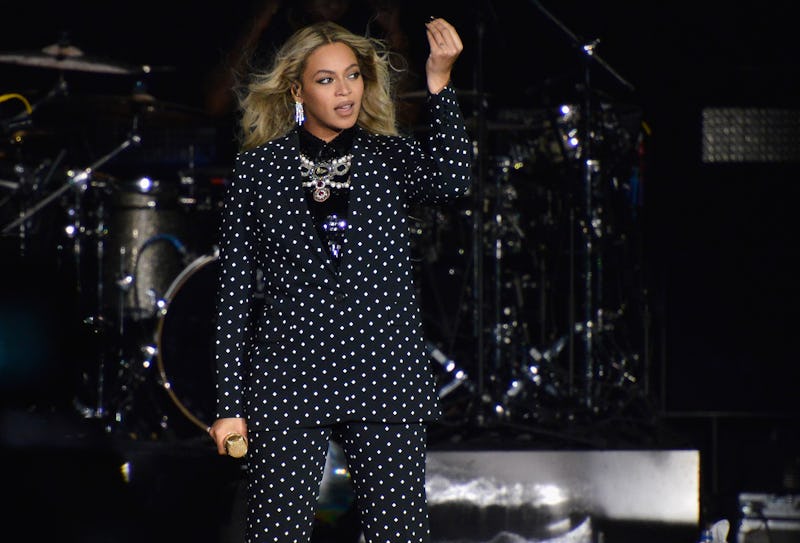 Duane Prokop/Getty Images Entertainment/Getty Images
You want to know the definition of slaying? Nabbing a Grammy before the ceremony has even officially started. According to Reuters, Beyoncé already won her first Grammy of the night. On Sunday afternoon, Queen Bey nabbed the award for Best Music Video of the year for her amazing work on "Formation," in a ceremony held before the main event.
Part of Beyonce's visual album, Lemonade, "Formation" was the song of 2016, and it introduced the term "slaying" into the popular lexicon. The Beyhive can expect their queen to take home more trophies as the night goes on, but the big question remains, will Beyoncé perform at the Grammys? Whether she's up on the stage winning awards or offering up another jaw-dropping performance, all eyes will be on the mom to be.
Queen Bey is nominated for a total of nine Grammys, and, according to The New York Times, if she wins eight out of nine of her nominations she will become the most awarded female artist ever in Grammy history. While she did lose out on winning Best Musical Film (Eight Days a Week took the win instead), she could still end up with eight Grammys by the end of the night, bringing her total number of wins to a whopping 28 over the course of her career so far.
One thing is certain, 2017 is shaping up to be an amazing year for Beyoncé. After totally dominating with Lemonade in 2016, and changing the way the world looks at music videos, she kicked the new year off by announcing she is expecting twins, and heading into the Grammys with the potential to make history. Bey is always front and center when it comes to music and pop culture, but now, more than ever before, her star power is undeniable.
With the main event still to come, Beyoncé is just getting started. Between her remaining seven nominations and the potential for a surprise performance, this night belongs to Bey. Go grab some lemonade and get settled in for music's biggest night of the year, because the "Bey slays the competition" party is just getting started.