Diego Luna's Cute Family Is Everything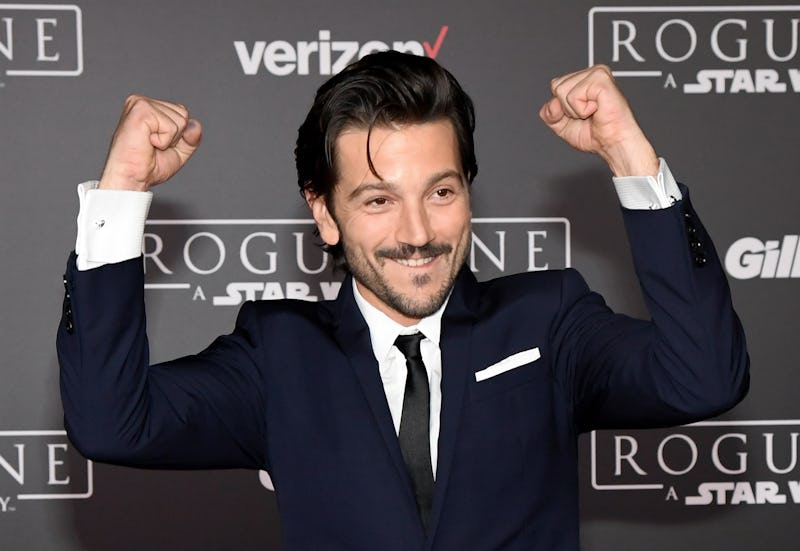 Ethan Miller/Getty Images Entertainment/Getty Images
If you haven't fallen in love with Diego Luna yet, you're going to want to sit down, because you're in for a mighty fall. Luna has been doing press for Rogue One, and, lucky for fans, he brought his family with him. Diego Luna's family is so cute on the red carpet, it feels like Luna has blessed us with them when we needed them most: at the end of this dreadful year, and the beginning of (hopefully) a much better one.
Luna, who is currently stealing scenes as Cassian in Rogue One: A Star Wars Story, has been talking quite a lot about his family while promoting the Star Wars film. The father of two kids, Jerónimo and Fiona, Luna has spoken at length about the joys of starring in a Star Wars movie and getting to share it with his children. Despite the secretive nature of the production, Luna brought both of his children to set. "It's the first time that I see that amount of interest in them about my work, so to me it feels great. I'm proud I can share this with them and they're excited," Luna said in an interview with Latin Times. I'm happy he could share this with them too, because Luna brought his two children and their mother, his ex-wife, Camila Sodi, to the premiere of Rogue One in Los Angeles, and I'll be damned if they weren't the cutest bunch to stroll down the red carpet.
As if this Star Wars family portrait weren't cute enough, Luna's countless interviews have revealed just how sweet sharing this experience with his kids has been. In an interview with Good Morning America, Luna revealed that his role in Rogue One actually helped improve his relationship with his kids, especially his relationship with his 8-year-old son. "Work normally used to separate us. He hated my job. He was like, 'Where are you going? Are you crazy? You're going to leave me here?'" Luna explained. "But now he's like, 'Dad, you've got to go!'"
Jerónimo made his excitement of his father's newest role very clear while walking the Rogue One red carpet — that double thumbs up says it all. And it's safe to say that Jerónimo and Fiona are already red carpet pros. After all, this isn't Jerónimo's first rodeo — his dad escorted him down the red carpet for Yo Gabba Gabba! Live! in 2010.
Alas, if you were hoping for more Luna family cuteness, you're about to be disappointed. Luna and Sodi appear pretty dedicated to keeping their young kids out of the public eye. Based on previous red carpet photos, it looks like Rogue One might have been a special treat. Though both Luna and Sodi, who is also an actor, have significant social media accounts, they rarely post personal photos of their family. And, on the rare occasions Sodi does post a family photo, she uses filters to blur out her children's faces or makes sure their faces are partially hidden, ensuring their privacy.
So, basically, we should be thankful we were blessed with Luna's cute showbiz family at all. Keep slaying in 2017, little Lunas.