You Can Drink Blue Sparkling Wine With Edible Glitter Minnie Mouse Ears At Disney Now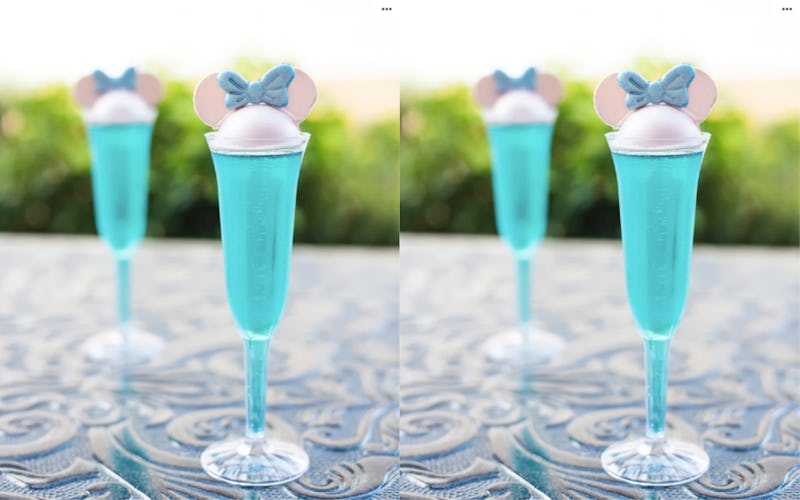 Disney Springs/Instagram
Disney World is well-known for creating some of the most magical and Instagrammable foods and drinks that one could only imagine. But recently, the folks over at Disney have taken their magical talents to new heights. I'm speechless — and rushing down to Orlando ASAP — because Disney World's new sparkling blue wine with edible Minnie Mouse ears may just be the cutest thing I've ever laid eyes on.
The beloved theme park recently introduced the world to its blue sparkling wine creation on the Disney Springs Instagram account, letting everyone know that they can find it at Disney Springs' Amorette's Patisserie restaurant, among other new desserts (I'm talking Unicorn Macaron Lollipops, friends). Frankly, the drink itself is a work of art, but the decadent topping is a true masterpiece. The sparkling drink just so happens to be topped with the most perfect (and edible, of course) white chocolate Minnie Mouse ears, which are then dusted to perfection in shimmery pale pink and blue dust. I feel like I'm living a real life Disney dream.
Disney is certainly on top of the colored wine trend: Blue wine is expected to be all the rage this fall, so kiss your pink rosés goodbye in favor of more fall-appropriate sips. With drinks as pretty as this, it won't be too hard of a transition to make.
Knowing that Disney World has literally made my dreams come true with this drink, I feel like my life is complete and now can live happily ever after. But alas, Disney has created even more Instagrammable drinks. Here are some of the other Instagrammable and unique cocktails you can find in Disney Parks — you can thank me later.