Disney Has A Timeshare Program & Here's How To Join ASAP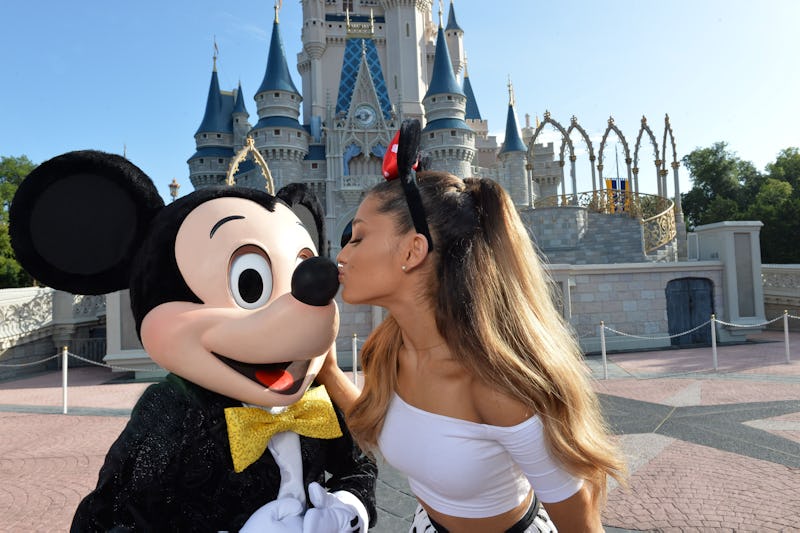 Handout/Getty Images Entertainment/Getty Images
Immersing yourself in everything Disney is — without a doubt — the ultimate break from reality. Enter the Disney Vacation Club, which lets members frolic in fantasyland IRL as often as they want. Because, vacation goals. If your idea of the ultimate getaway includes getting up close and personal with your favorite Disney characters, obtaining a membership to the Disney Vacation Club is an ideal way to get more Disney for less money — and it even includes a Disney timeshare program. Seriously, this is one club you're going to want to join ASAP.
Here's how it works. The Disney Vacation Club is a vacation ownership program, similar to a timeshare, according to the club's website. This timeshare gets you savings on Disney vacations so you can spend more time at the Magic Kingdom gaining exclusive access to members-only events like food and wine festivals.
"To become a Member, you purchase a real estate interest in a Disney Vacation Club Resort," the website explained. "This is your Home Resort. Your real estate interest is represented by an annual allotment of vacation points. You'll use your vacation points to reserve accommodations in one of the many vacation destinations available to members."
Disney Vacation Club memberships are currently available at Aulani Disney Vacation Club Villas in Ko Olina, Hawaii, and the new Copper Creek Villas & Cabins at Disney's Wilderness Lodge in Orlando, Fla. Once you become a member, you'll get an annual allotment of points that you can use to book your trips, which don't necessarily have to be at your home resort.
If this sounds like the fairytale ending you've been looking for, unfortunately Disney fairytales don't come cheap. The buy-in cost for the Disney Vacation Club is fairly expensive. However, if you have a group of Disney-loving besties, perhaps you can all go in on it together and sign up for a monthly financing plan.
An even better idea is convincing your parents that joining the Disney Vacation Club is the best way to ensure that you'll vacation with them for the rest of their lives. I'm not kidding — tell them that a Disney Vacation Club membership is the only thing you want from Santa this Christmas.
The lowest-priced tier gives you up to 124 points a year. Rooms that sleep four start at just 16 points per night, which means you can take a few short trips every year and also enjoy discounts on tons of other stuff like VIP perks, decadent desserts, members-only classes in subjects like photography, and more.
"We became members in 2013 and honestly wish we had done it earlier! Not only does it provide an opportunity to enjoy magical Disney vacations, DVC also provides its members various perks throughout the year," T.M. Brown wrote on the blog Footprints in Pixie Dust. "From special member nights at the parks to discounts at restaurants and shops, DVC does a lot to make its members feel the magic."
As a card-carrying member of the Disney Vacation Club you can live your best Disney life as often as you want. Members get deals on Disney cruises, VIP tours, animation and other Disney classes like painting and photography, wine tastings and seminars, Moonlight Magic events, fitness activities, chef demonstrations, sea turtle night walks, spa treatments, Disney shopping, hot air ballon flights, and more.
Think of the buy-in cost as a lifetime investment in your Disney education. It basically allows you to get an MFA in Disney for the cost of one year of graduate school. Or a down payment on a house. I don't know if you can actually get a master's degree in Disney, but the Disney Vacation Club will definitely make you an expert in everything Disney-related while also bringing some much needed joy into your life.
Because experiences — not things — induce feelings of joy, and this is a guaranteed way to feel joyful on the regular. Let's be honest. The world is an ongoing dumpster fire, which makes a good case for spending more time at the Magic Kingdom where teacups talk, mice throw the best parties, and Snow White mingles with the masses. You deserve it.