Disney Is Opening A Rapunzel Restaurant & The Themed Menu Is ON POINT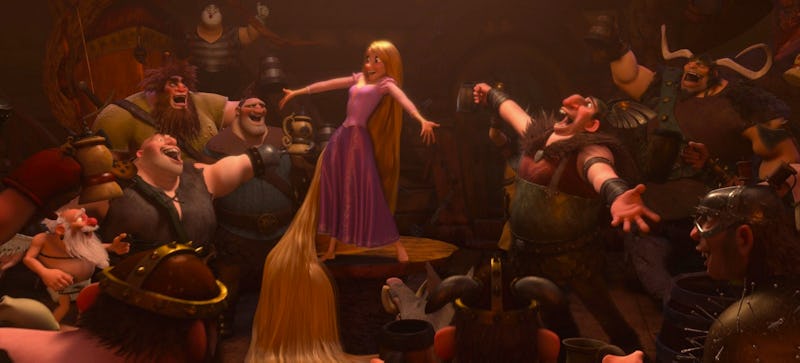 Disney
If there are two things I value most in this world, it is these: food, and deliberately ignoring the passage of time so that I can justify an unhealthy Disney princess obsession that has leaked well into my adulthood. As luck would have it, Disney's new Rapunzel-themed restaurant satisfies both; less fortunately, you'll only be able to partake in this glorious display of carb-laden nostalgia if you happen to be on board the Disney Magic cruise line. Hey, our girl 'Punzel was all about believing in the power of your dreams, right?
According to a post on the Disney Parks blog, the "Rapunzel's Royal Table" experience is already up and running, with more than a few of your faves thrown into the mix to boot. Not only is the food themed to the film, but guests will get to watch live performers during the meal, including Rapunzel, known smoldering champion Flynn Ryder (cough Eugene), and the Snuggly Duckling Thugs. Oh, and the best part? The entire meal is a celebration planned around Rapunzel's birthday, which you get to celebrate with the entire Kingdom of Corona. Your girl Rapunzel has come a long way from spending her b-days staring wistfully out of tower windows and singing cute little songs about being literally imprisoned for the first 18 years of her life, y'all.
The space will also be set up to look like you're entering a ballroom in Rapunzel's castle, all done up in lanterns and drawings as an homage to the ones that Rapunzel drew all over her tower. The night will end with a literal parade around the "ballroom," which obviously merits wearing your finest Disney princess gown (several of which I may or may not un-ironically own in adult sizes, don't @ me).
But the gem of this whole experience is, of course, the food, a ton of which is Rapunzel-themed and fit for a royal. There's a Snuggly Duckling charcuterie platter as a nod to the restaurant where Rapunzel wins the hearts of a merry band of thugs with #dreams; a Tangled Pasta with the noodles arranged reminiscent to Rapunzel's hair; a Flynn Ryder platter, which looks mouth-watering despite not being served on a frying pan (too soon?); a Gothel Black Forest Tower cake that will give you some delicious heebie-jeebies; and, of course, a Birthday Cupcake Sundae in celebration of Rapunzel's big day.
In case that doesn't already have you hyped up, there are plenty of other ways grown-up Disney fans can enjoy themselves on Disney Magic. Once you get all your princess-themed eating done, there's an adults-only Italian restaurant onboard, as well as adults-only massages, live piano music, and "night dancing," which I assume is going to be Future Me's excuse to get tipsy in a Rapunzel costume when I eventually go on this fated voyage. The Disney Magic cruise seems to be headed primarily to the Bahamas, the Mediterranean, and the Caribbean (although there does seem to be a Halloween cruise to Canada that leaves from New York, in which case, #bye, y'all) — so if you want to cross off any of those destinations, why not do it in style?
Alas, unfortunately, it seems that there won't be a land-bound version of this restaurant anytime soon (HINT HINT to the powers that be). In the meantime, if you find yourself too far in avocado debt to afford a full-on cruise like the most of your millennial brethren, you can always slap on a bathing suit, make your own Rapunzel pasta, and stick Tangled into the DVD player like the classy boss that you are.