Disney On Ice Reimagines What It Means To Be A Modern Princess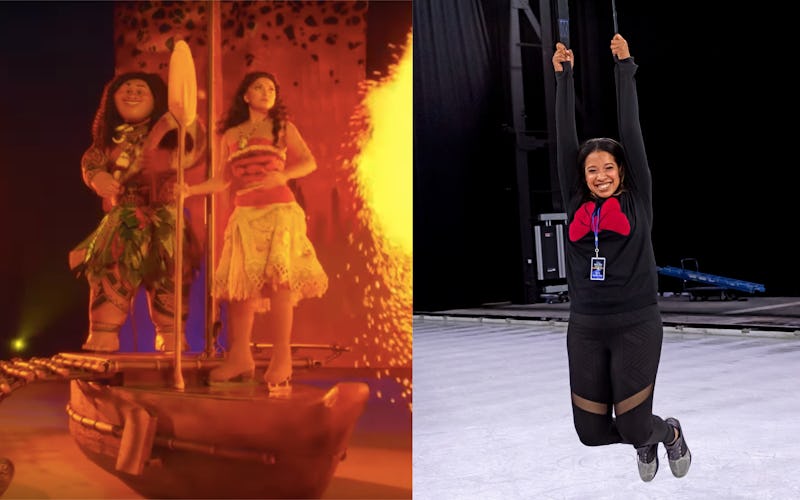 Disney On Ice/YouTube; Courtesy of Feld Entertainment
The glittery fairy tale magic of Disney has delighted me since I was a tiny curly-haired toddler with a love of fairies, princesses, and a good happily ever after. Needless to say, when I got the opportunity to spend a day with athletes putting the finishing touches on the new touring ensemble, Disney On Ice presents Mickey's Search Party, I was on a plane to Tampa, Florida faster than a flick of Tinkerbell's wand.
When I arrived at Feld Entertainment Studios, I was greeted with contagious smiles, and a sense of endless childhood wonder. Thanks to photos from Disney On Ice shows passed — and photos of Ringling Bros. elephants in their grand garb displayed all over the walls — I instantly felt like I had done right by the four-year-old version of myself. And once I stepped into the ice training facility, I was not only captured by the beauty of the athletic princesses, but by their full-on power and fierce command of the ice.
The four-year-old version of me was a shy kid who pushed through a group of kids so I could have Mickey Mouse sign my toothy Goofy hat on my first trip to Disney World. So I knew I could I let all of my introverted nerves go and fully enjoy the experience.
I was never the most coordinated kid in the world, but I related to princesses wishing for true love's kiss and saving all the animals... It wasn't until Princess Jasmine that I realized a princess could actually look like me, too.
Although audiences won't take on the ice themselves, executive producer Nicole Feld has made it her mission to make sure every child has a once in a lifetime experience, at every price point. "The ice is a perfect blank canvas where you can literally paint it. During the Moana scene, the ice looks like it's being parted, and she's walking through it to get to Te Ka, just like in the film. And so, if you're sitting a little bit higher up, you're getting that experience." For Disney dreamers sitting up higher in the stands, they'll also get to witness a pretty epic aerial kiss between Prince Eric and Ariel. But I personally will never forget the athletes dressed in their Day of the Dead best, flying over the crowd during the Coco medley, and giving Miguel a hand thanks to sway poles. Luckily, I was able to experience one of these epic high-fives backstage.
Can you even imagine? As we explored Feld Entertainment, I was able to try out a hoverboard on ice. My goal was to just not come back to New York in a boot, and thankfully, two choreographers were just within arm's reach whenever I felt a stumble coming on. Later that night, I'd get to see the hoverboards and even teeterboards in full action, as performers nailed tricks (and even some snowboard level stunts!) during a Frozen medley. When my confidence started to gain a little momentum, I joined the athletes who star as Prince Eric and Ariel on the ice, where I was suspended in the air, feeling like Baby during her famous lift in Dirty Dancing. During my visit, I witnessed firsthand the evolution of the franchise's leading women altogether. The production's creative director, Gen Cleary, shares her thoughts on the physical power of Disney's reimagined princess. "We have this great girl that does air track, and this show pushes the persona of those princesses in a way to showcase the talent of the women behind them," she says. "So it gives a different dimension to the princess as well."
I was never the most coordinated kid in the world — before my immersive visit, I mostly related to princesses wishing for true love's kiss and saving all the animals. I thought (and somehow still hope) that my wedding dress will change colors like Aurora's did during her Sleeping Beauty happily ever after. It wasn't until Princess Jasmine that I realized a princess could actually look like me, too. These days, there are so many princesses of color, from Elena of Avalor, to my literal mini-me, Moana. These recent characters represent oft-forgotten cultures, but they are also strong, brave and fearless in the face of battle.
Feld believes that every child deserves to see themselves represented on the ice. With dynamic athletes from from a multitude of nations, Disney On Ice's latest edition does just that. "Ariel is as strong as Eric," she says. "Miguel from Coco is a really powerful and dynamic skater. He commands the entire ice, and this is a really important and high energy visual representation of a part of Mexican culture."
Disney On Ice scored a 10 in my book, but there was just one more test for the cast and crew: critiques from Disney's tiniest fans. By night's end, we joined friends and family of Feld Entertainment for a special preview before opening night. As I watched the show come together magnificently and previously described, the children's reactions were honest and priceless. A little girl remained perched on her father's shoulders the entire show, while her baby brother pumped his fist every time Moana completed a jump in midair. They interacted with the characters who appeared next to them out of nowhere, and helped rub the genie's lamp to free up a little magic and save Tinkerbell. But nothing beats watching the impact of Frozen on a group of tots. As Elsa performed "Let It Go," the world's cutest moshpit broke out ringside, as young girls attempted their own flips and magical spins.
The little ones have spoken. Disney On Ice presents Mickey's Search Party is ready and spectacular when it hits your town this fall. Get tickets for your Disney lovers, and your fierce princesses (and princes) in training, here.