Disney Just Launched Princess Subscription Boxes — Here's What's Inside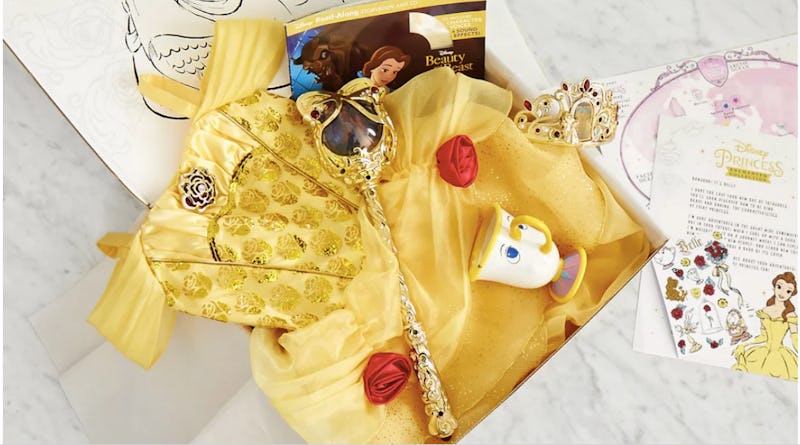 shopDisney
If you've got a Disney Princess lover in your life, good news: The perfect holiday gift for them just dropped into all of our laps. Disney Princess subscription boxes have just launched at Disney's online store, shopDisney — and they look truly, truly epic. My only regret is that they do not come in grownup editions. Orders are open for the first box, which will ship in December, now, so, uh… hello, holiday shopping!
The boxes, which are (of course) geared towards kids, exist under the overarching banner of the "Disney Princess Enchanted Collection"; shipping once every other month, each box is themed after a specific Disney Princess. The subscription comes in two varieties, neither of which is cheap — at their least expensive, they come out to either $49.99 or $74.99 per box — but for what it's worth, they do include a lot for those prices. According to shopDisney, the standard Disney Princess Enchanted Collection comes with "an authentic Disney store costume," a read-along storybook with CD, a selection of princess "stickers, surprises, and activities," and "an exclusive video greeting from the princess" around whom the box is themed. The Deluxe Disney Princess Enchanted Collection, meanwhile, includes all of that, plus an additional two to three Princess toys or accessories. Both boxes also include $10 your next purchase of $50 or more from shopDisney or Disney Stores.
Oh, just FYI, an "authentic Disney store costume" on its own typically costs around $45 — so if it's in your budget, paying about that for the costume plus a whole bunch of other fun stuff might be what some call "a steal."
Thank you for that demonstration, Donald.
The December boxes hit the shop on Nov. 6 — which means we also now know who that month's treasures are themed after: Belle of Beauty and the Beast. Images on the shopDisney website suggest that items that might arrive in the boxes include a child-sized version of Belle's iconic yellow ball gown, a tiara, a scepter, and a cup or figurine shaped like Chip. According to PopSugar, other Disney Princesses on tap for their own boxes include Moana, Ariel, and Jasmine; what's more, the shopDisney page dedicated to the subscription also features Aurora and Cinderella. If I've done the math right, that actually gives us our full roster of Disney Princesses for the upcoming year's boxes.
As is often the case with subscription boxes, you'll pay less per box if you subscribe for several months at a time; the tradeoff, of course, is that you'll have a larger upfront payment when you first place your order. With a yearly subscription for the Disney Princess Enchanted Collection, you're billed once for $299.94, with each of the six boxes coming out to about $49.99 a pop; a six-month subscription nets you three boxes for a total of $159.96, or $53.32 per box; or, you can just go month to month at a cost of $54.95 per box. The Deluxe Disney Princess Enchanted Collection, meanwhile, costs $449.94 billed once for one year's worth of boxes, with the six boxes costing $74.99 per box; for six months, you pay $239.94 upfront for three boxes, which comes out to $79.98 per box; and if you go month to month, it'll cost you $84.95 per box.
It's worth noting that even though the month-to-month subscriptions are more expensive per box, you can cancel anytime prior to the next billing cycle, which you can't do with the six month or year-long subscriptions. Also, no matter which subscription length you go for, the boxes are all valued at higher than even the month-to-month individual costs: According to shopDisney, the standard Disney Princess Enchanted Collection box has a value of at least $65, while the Deluxe Disney Princess Enchanted Collection box is valued at more than $100 per box.
Oh, and hey, just because these boxes are geared towards kids doesn't mean that Disney might not put out a grown-up version of them at some point in the future. After all, adult Disney Princess makeovers — a longtime favorite for kids at the Bibbidi Bobbidi Boutique at Walt Disney World — became a thing at Disney World's spas this year under the name "Character Couture." There's definitely an adult market for activities traditionally thought of as "kid stuff," so, uh… throw us a bone, eh, Disney?
Orders for the Bell box will ship in early December. Find out more about them, including how to order, online at shopDisney.