Disneyland Has Boozy Ice Cream Bar Floats Now In Flavors '90s Babies Will Love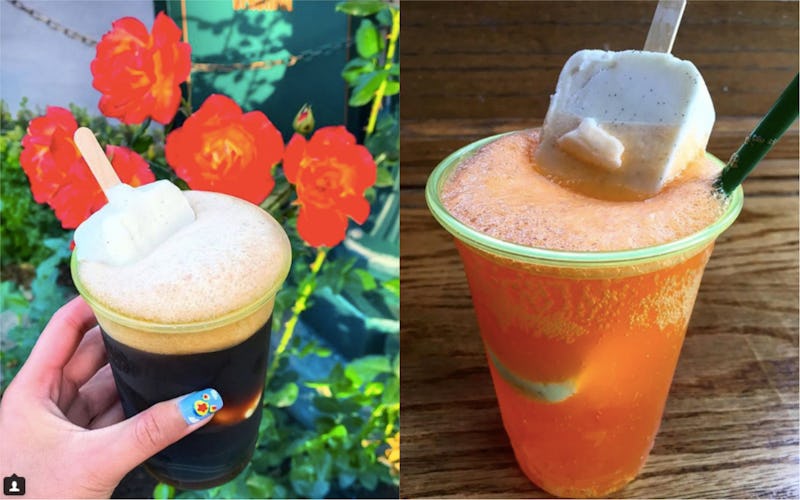 Courtesy of disneymuses/Instagram & disneylandwithus/Instagram
By now, it should come as no surprise that Disneyland's dessert menu is full of hidden depths; especially lately, it seems like we've been hearing about new and exciting treats and sweets nearly every day. Even so, though, the news that you can get boozy ice cream bar floats at the Disneyland dessert spot known as Clarabelle's Hand Scooped Ice Cream has made waves all the same — a phenomenon which is even more hilarious when you realize that neither Clarabelle's nor the floats themselves are new.
Clarabelle's, which is named after the Walt Disney and Ub Iwerks character Clarabelle Cow, opened at Disney's California Adventure park in Anaheim, Calif. in 2012. (Clarabelle herself is much older than that, of course — her screen debut occurred in 1929.) According to reviews published at the time, the boozy floats weren't on the menu yet back then; the ice cream parlor did, however, boast an extensive menu of frozen treats all the same — and in the years since, the menu has only continued to expand.
A highlight includes an item cheekily called the Kitchen Sink — as in, everything but — which consists of the sundae of your choice served in a "souvenir kitchen sink" (yes, really). The "sink" in question is actually a large bowl shaped like Mickey's shorts; it's also got a faucet and Mickey glove-shaped taps for decoration, although as far as I know, they're not actually functional. Here's what it looks like; the sundae inside this one is the Oswald, which consists of scoops of vanilla and chocolate ice cream with whipped cream, hot fudge, chocolate morsels, cherries, and two chocolate-dipped frozen bananas:
For the curious, Oswald the Lucky Rabbit was Walt Disney and Ub Iwerk's precursor to Mickey Mouse; the character made his debut in the 1927 cartoon Trolley Trouble, about a year prior to Mickey's first appearance in 1928's Steamboat Willie. The bananas are meant to resemble Oswald's ears.
Get it?
But as spectacular as the sundaes are, what Clarabelle's has really become known for is its hand-dipped ice cream bars. They're not just yanked out of a freezer and handed to you when you order one; you get to customize your treat: First, choose between three flavors for the bar itself (vanilla bean, chocolate, or — for the non-dairy folks in the crowd — mixed berry sorbet); then, choose whether you want it dipped in milk or dark chocolate; and finally, choose your topping (chocolate chip morsels, confetti Mickeys, "blue raspberry bursts," rainbow sprinkles," or something called "the whole herd," which seems to be literally all the toppings). Voila! Your very own ice cream bar, designed to your specifications by the Clarabelle's team.
I bring all this up because the boozy floats available at Clarabelle's don't just feature a scoop of Clarabelle's ice cream; they feature an entire ice cream bar (minus the chocolate and toppings) floating in the adult beverage of your choice.
I have never had a Clarabelle's float. However, I have had a cocktail with a killer handmade popsicle floating in it (ask me about my recent trip to Montreal). And that was incredible, so I can only assume that Clarabelle's boozy floats are similarly astonishing.
Heck, and yes.
According to various Instagrammers, the floats are made with three different beverages: You can choose from Henry's Hard Orange Soda or Coney Island Hard Root Beer if you want to dish up something a little more classic (ice cream floats were invented by accident in 1874 and have traditionally been served with soda pop), or Guinness Extra Stout if you'd rather mix things up and go for a beer float. Then, you get to pick one of Clarabelle's three existing ice cream bar flavors. The drink is served up cold with the ice cream bar floating upside down in the cup.
.... And if you get really creative, you can even do what this Twitter user did an ask for a side of some sort of sundae sauce along with your float for an extra dose of sweetness:
Sounds like a good time to me.
But here is the most amazing part of this whole story: The boozy floats are not recent additions. The earliest mentions I've been able to find of them online date back to the summer of 2017 — which means that somehow, both the internet in general and social media in particular managed to go almost an entire year without freaking out about these things to the degree that they are now.
Given how quickly things go viral (and are often then forgotten again)… that's pretty incredible.
In any event, now that you know about Clarabelle's boozy ice cream bar floats, you can go get one for yourself if you happen to be in the Anaheim area. The treats aren't exactly cheap — a "Hard Float," as they're called, will set you back around $10.50, according to Clarabelle's online menu — but given that the ice cream bar alone is $5.69 and a beer at other Disneyland spots like Bayside Brews usually costs between $9 and $10, I'd actually classify it as a steal (by theme park standards, at least).
Find out more about Clarabelle's here. Happy snacking!