Disney Just Launched Haunted Mansion-Themed Items For Every Single Room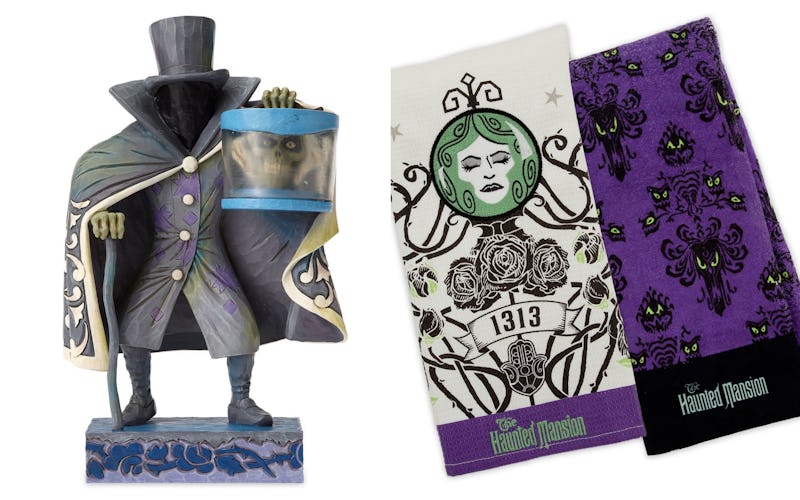 shopDisney
If you've been trying to figure out how to get a little Disneyana into your Halloween décor and haven't yet come up with an acceptable solution, good news: Disney has a whole Haunted Mansion houseware collection that's chock full of everything you need to turn your very own home into the spitting image of Gracey Manor. From a set of grim, grinning bookends to a ceramic plate bearing Madame Leota's likeness, this line of goods is everything your goth little soul never knew it wanted.
The very first incarnation of the now classic Disney dark ride known as the Haunted Mansion officially opened in the New Orleans Square section of Disneyland in 1969 after more than a decade of planning and construction. It then made its way to the East Coast as one of the Magic Kingdom's opening day attractions at Walt Disney World in 1971 — and despite its seemingly incompatible mix of humor and fearsomeness, it has gone on to become one of the most beloved theme park attractions of all time. Although a few scenes — namely the Attic — have undergone a few light revisions over the years, the overall tenor of the ride and the loose storyline it follows have gone relatively unchanged throughout the many long decades of its existence; after all, if it ain't broke, don't fix it, right?
Haunted Mansion merch has always been some of the most entertainingly-themed mech you can get at the Disney parks — but happily, much of it is available online now through the shopDisney site. And hey, wouldn't you know it? That includes tons of items from Disney's Haunted Mansion collection. In addition to the housewares, there are also plenty of wardrobe items and accessories — but, I mean, let's face it: I'll take a faithful reproduction of the Mansion's grandfather clock over a t-shirt any day of the week.
Check out some of the best pieces below:
1. The Haunted Mansion Dish Towel Set
2. The Haunted Mansion Dynamite "Stretch Painting" Figure
3. The Haunted Mansion Travel Mug
4. The Haunted Mansion Appetizer Plate
5. The Haunted Mansion Quicksand "Stretch Painting" Figure
6. The Haunted Mansion Mini Glass
7. The Haunted Mansion Coaster Set
8. Madame Leota Light Up Ornament
9. The Haunted Mansion "Room For One More" Deluxe Print
10. The Haunted Mansion Bookends
11. Hitchhiking Ghosts Gallery Of Light
12. Madame Leota Memento Mori Sign
13. Hatbox Ghost Figure
14. The Haunted Mansion Clock
To check out the full Haunted Mansion collection at shopDisney, including a dress that looks like the Haunted Mansion ride attendant uniform and those Haunted Mansion mouse ears everyone can't get enough of, head here. Happy hauntings!