Disney Just Dropped Haunted Mansion Ears & The Instagrams Are Spooky Chic
by Callie Tansill-Suddath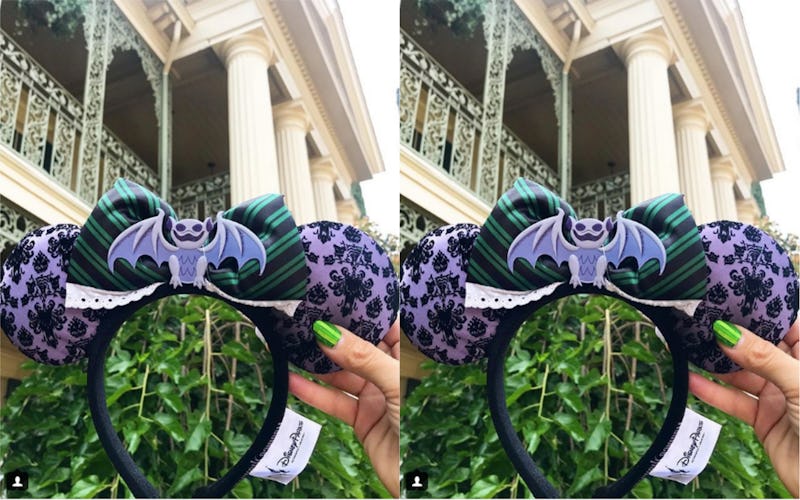 Disney theme parks get a whole lot of notoriety for their enchanted attractions. It makes sense; where else can you casually see a flock of princesses walking down the street in ballgowns? The horizon is accented by the top of Cinderella's Castle, and everywhere you go people are upbeat. But what about the spookier side of Disney? That's right: The Haunted Mansion. The Haunted Mansion sits in a category of its own at Disneyland, but and now you can show the world your affinity for the dark side with Disney's new Haunted Mansion ears. No rose gold on this accessory.
Per PopSugar, the Haunted Mansion Ears are a gothic take on the iconic Mickey Mouse headgear. Rather than the classic back one might expect in a gothic set of ears, the Haunted Mansion ears are made of a purple satin-like fabric with a black brocade print. A lace-accented black and green striped satin bow sits in front of the ears. Completing the piece is a spooky little character positioned front-and-center of the headband. It looks like a little but like a gargoyle-bat-skeleton. But, a cute one. Altogether the ears are a lovely, perhaps edgier take on the most essential Disney accessory. Now you can embrace your inner which while still displaying your love of the mouse.
With less than 80 days until the spookiest day of the year, it stands to reason that Disney is already preparing for Halloween. Each year, the parks host a celebration intended for younger (and young-at-heart) visitors. Mickey's Not-So-Scary Halloween Party is an annual celebration of all things cute and mildly spooky. Guests can trick-or-treat around the park, attend an exceptional Halloween-themed fireworks spectacular, and even attend a Scream-O-Ween Dance Party. Costumes are optional, but obviously encouraged.
In fact, just last week Disney announced its forthcoming line of Halloween merchandise. Be warned: it is DEFINITELY going to give you some killer nostalgia.
Notable features of the line include a premium popcorn bucket modeled after Oogie Boogie, the iconic villain from The Best Disney Film: The Nightmare Before Christmas. You can find the item at the Disney California Adventure park Popcorn Carts and the New Orleans Popcorn Cart at Disneyland park, or at the Mickey's Not-So-Scary Halloween Party if you're lucky enough to be spending Hallow's Eve in Orlando. You can also pay tribute to the Evil Queen from Disney's first-ever animated movie Snow White with a green poison apple stein. It may look like a poison apple, but it won't hurt you if you fill it with something yummy and autumnal like some warm apple cider. Or, opt for the Headless Horseman Straw Clip. With blood red eyes set in the black figuring, this item is perhaps the spookiest on the entire list. Plus, with reusable straws now the hottest trend, you'll be using it all the time to add some pizazz to your drink.
Since you can't wear any of these things, though, you may want to just stick with the ears. Disney's new Haunted Mansion ears are the perfect subtle Halloween accessory, and according to PopSugar, retail for only $24.99. Spook on!