Millennial Pink Minnie Mouse Ears Now Exist & Disney Fans Couldn't Be More Excited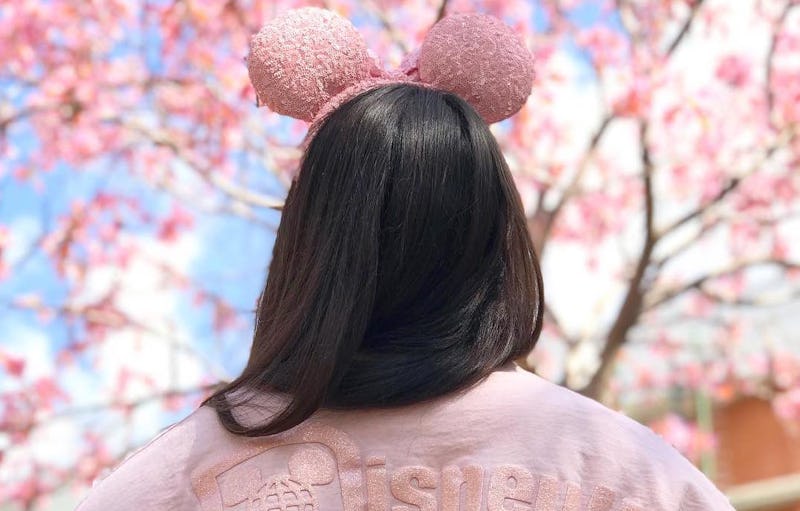 Disney Style/Instagram
There is arguably no better time than the present to be a Disney super fan. Not only do you have an abundance of merch collaborations to shop, from adorable bath bombs at Hot Topic to vintage-inspired sweaters and Letterman jackets from Opening Ceremony, you also have what seems like an endless selection of stylish Disney Mickey and Minnie ears to choose from, too. The latest? The perfect millennial pink pair of Minnie ears that every Disney fan will want to add to their collection ASAP.
Disney Style broke the exciting news on their Instagram account on Monday evening. They shared a super cute photo of a woman dressed in a pink Disney spirit jersey standing in front of a pink cherry blossom tree with a pair of sparkly millennial pink Minnie ears on top of her head. The caption read: "HELLO millennial pink everything 😍✨😍✨ allow us to introduce y'all to our newest obsession, millennial pink ears & spirit jerseys! our story has all the deets! 💕✨."
Fans were clearly excited about the announcement. "Shut up Disney and just take my money 😭😭😭😭," commented @monidelossantos. Another fan shared her sentiment. "WHEN WILL THE MADNESS STOP MY BANK ACCOUNT CANT HANDLE THIS ANYMORE," @kendallmariec commented in all caps.
But can you blame them for their enthusiasm? Just look at those ears!
Disney Style shared more photos of the precious millennial pink Minnie ears on their Instagram stories, as well as information for when fans will be able to purchase them.
According to Disney Style's Instagram story, you will be able to get your hands on the sequined headband come April, both at Disneyland and Disney World parks.
These ears complete the millennial pink collection, which also includes a millennial pink spirit jersey with the words "Disneyland resort" emblazoned on the back in pink glitter. Of course, Disney fans know that this is not the first spirit jersey and Minnie ear combination that has nearly broken the internet. Last year, Disney Style announced the launch of their rose gold spirit jerseys and rose gold Minnie ears, which basically sent Disney fans into a frenzy. But Disney did not stop there. In January, Disney-goers discovered Disney princess spirit jerseys, which came in different colors, had the name of the park on the back, and a symbol of a princess on the front.
As cute as the Disney princess spirit jerseys and rose gold collection are, there's something about millennial pink. While some people would argue that it has overstayed its welcome as the color of our generation, others cannot get enough of the soft rosy hue, especially when combined with all things Disney.
There is no official word on how much the millennial pink ears will cost, but the other Minnie ears are currently going for $24.99. According to the Disney online store, adult spirit jerseys cost $59.99, so you can probably expect the same for the millennial pink top.
If April cannot come soon enough or you do not have a Disneyland or Disney World trip planned in your near future, there are a bunch of other sparkly Minnie ears you can currently purchase online until you can get your hands on the millennial pink pair.