Disney's Sock Advent Calendars Are Back & All Your Favorite Characters Are Included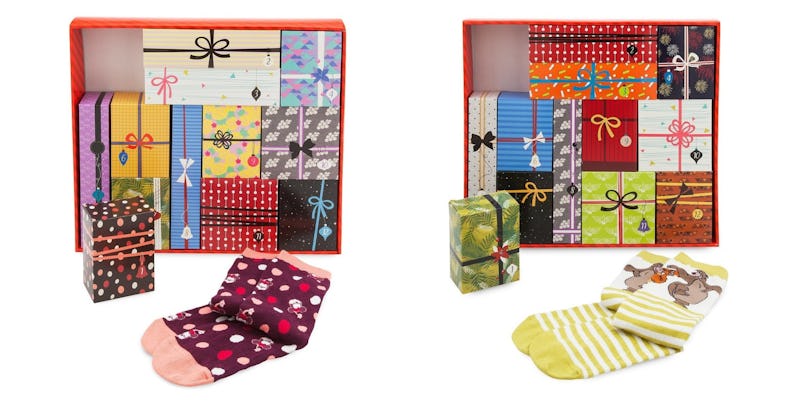 shopDisney
I have long had a deep and abiding love for creative (and frequently tacky) socks — so it is with great joy that I inform you that Disney socks advent calendars have returned for 2018. Available in two styles, the 12 Days of Disney Socks advent calendars recently hit Disney's online store, shopDisney. After last year's hugely successful Disney-themed 12 Days of Socks advent calendars had collectors of Disneyana leaping for joy, it's perhaps to be expected that something similar would arrive this year — and, happily, Disney did not disappoint. The sock calendars are available now, so, y'know, if you're still in the market for an advent calendar, this one might be exactly what you've been waiting for.
Now, it's worth noting that these calendars may not be exactly the same calendars as last year's big hits. The Disney sock advent calendars that made such huge waves in 2017 came from Target; priced at $15, they included four pairs of crew socks and eight pairs of no-show socks. These calendars are still occasionally available on Amazon — usually for anywhere between $25 and $35 — although it's a "sold by third-party sellers and fulfilled by Amazon" product, rather than one sold directly by Amazon itself.
By contrast, these new calendars carry a higher price tag — almost $40 — and the socks are all crew-style. They're also available at shopDisney, as opposed to Target. Each pair of socks, 12 in all, comes packaged in a cute little box numbered one through 12; if you use the calendar as an actual Advent countdown, that'll take you from Dec. 13 through Dec. 24. (You could also use it to mark the 12 Days of Christmas, too, which run from Dec. 25 through Jan. 5 — or you could use it for any other purpose you feel like, too, whether secular or religious. Just because it's marketed as an advent calendar doesn't mean you have to use it as such.)
Oh, and the designs this year are incredibly detailed. Take a look:
Not only that, but the detail involved with each pair becomes even more apparent when you look at the backs of them:
The Belle socks have a magic rose on the back. The Ursula ones have "Poor unfortunate souls" written across them in huge, capital letters. And the Scar socks bear the immortal legend, "I'm surrounded by idiots." I feel very Seen right now.
The calendars are gendered, which I don't love; the two styles are listed as "Disney Socks Advent Calendar Gift Set For Women" and "Disney Socks Advent Calendar Gift Set For Men." However, the main difference between socks "meant for women" and socks "meant for men" has to do with the sizing — the "women's" calendar fits folks with U.S. women's shoe sizes 4 to 10, while the "men's" calendar is geared towards those with feet that line up with U.S. men's shoe sizes 6 to 12 — so, I mean, just go ahead and get whichever calendar contains the socks most likely to fit the intended recipient. (And yes, the intended recipient can absolutely be yourself.)
Most of the designs are unique to each calendar — not going to lie: I desperately wish those Oswald socks came in the calendar made for smaller feet — but there are a couple of overlaps between them; both, for example, have the '90s-style throwback Mickey socks, the Baymax socks, the UP grape soda cap socks, the Genie socks, and the Jungle Book socks. The calendars also complement each other, though, which is kind of a nice detail; one of them has Woody socks, while the other has Buzz Lightyear socks, for example, with another similar pairing consisting of WALL-E and Eve.
Both calendars are just as cute as can be, though. Want 'em? Snap 'em up at shopDisney. Or, if calendars aren't your thing, check out these cute little Mickey-shaped holiday baubles stuffed with a pair of Disney socks each. There's a little something for everyone!