Here Are All The Boozy Drinks You Can Get At Disney's New Star Wars Park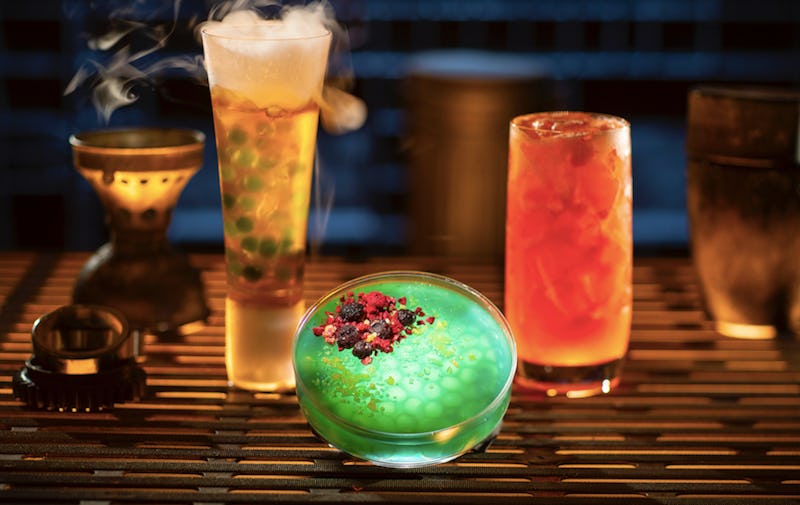 Disney Parks Blog
There's a lot to look forward to about the upcoming openings of Star Wars: Galaxy's Edge at both Disneyland and Disney World: The theming… the rides… the space-age food… and, of course, the spectacularly weird-looking drinks. What's more, many of these delightful beverages will be of the, uh, high-test variety — and if you're curious about which alcoholic drinks available at Star Wars: Galaxy's Edge at the Disney parks, good news: Disney has just revealed all of them in a recent post on the Disney Parks Blog. What a time to be alive! Especially when that time is a long, long time ago in a galaxy far, far away!
Within Galaxy's Edge, which opens at Disneyland on May 31 and Disney World on Aug. 29, alcoholic drinks will only be available at one spot: Oga's Cantina, the land's "notorious local watering hole" which tends to "[attract] some of the most interesting and disreputable characters in the galaxy," according to the Disney Parks Blog. You probably won't see Oga herself — per Disney, "she's not usually at the Cantina, preferring to collect payments remotely." Indeed, it's said that even most of the locals "have never laid eyes on her before." Still, though, you're likely to find a lively atmosphere, complete with beats spun by DJ R-3X — who you'll no doubt recognize if you ever rode the original Star Tours before its major 2011 overhaul — and perhaps a few… tense encounters. (Watch out for those Storm Troopers.)
The OC Register reports that the serving area at Oga's will largely consist of a "standing room-only U-shaped bar," with just a couple of additional tables and booth seats. You also won't be able to make reservations, so it'll likely fill up fast — although if you really wanted to get a jump on the crowds, you could head to the restaurant right when it opens at 8 a.m. Two of Oga's boozy picks — a spiked coffee and a galactic twist on the classic Bloody Mary — will be available that early; they're morning drinks. Meanwhile, a more expansive cocktail, wine, and beer menu will open up in the afternoon and evening.
For many a decade, many of the Disney parks were famously dry. A result of Walt Disney's own proclamation — in 1956, he famously told Pete Martin of the Saturday Evening Post that his parks would have "no liquor, no beer, nothing. Because that brings in a rowdy element. That brings people that we don't want, and I feel they don't need it" — both Disneyland Park in Anaheim and the Magic Kingdom in Orlando were alcohol-free, unless you were lucky enough to get into the exclusive Club 33.
Things began to change, bit by bit, starting in the '80s; when Epcot opened, the global adult beverages for which the World Showcase is now famous were already on offer. When California Adventure opened in Anaheim in 2001, it, too, offered alcohol — after all, the park is themed after the entire state of California, which is has long been known for its wine-making regions, among other boozy pursuits — and when the Be Our Guest restaurant began welcoming guests at Disney World in 2012, it became the first spot within the Magic Kingdom to make alcoholic drinks available.
With alcoholic drinks also long on the menu at Disney's Hollywood Studios and Animal Kingdom, Disneyland Park — the very first, OG Disney park — has remained for some time the only Disney park in the United States not to offer adult beverages to its 21-and-over guests. But with the imminent arrival of Oga's Cantina, that's about to change, too. Here are all the boozy picks you'll be able to choose from while you're off on your galactic adventure: