'Disobedience' Is A Lesbian Romance With An Ending That's Different From So Many Others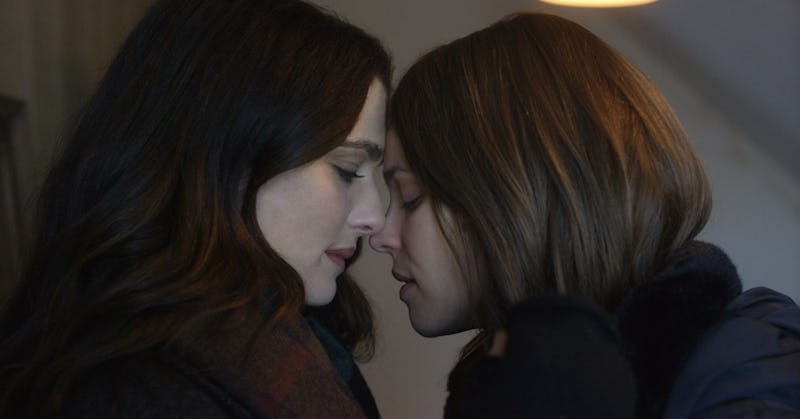 Bleecker Street
Spoilers ahead. There's no denying that film and television have a major "Bury Your Gays" problem. The trope that sees many film and TV LGBTQ+ couples thrown into tragic ends like murder or accidental death shortly after they unite has been criticized repeatedly over the past few years, and rightly so. Recent film and TV seasons have seen a record number of lesbians and queer women dying on screen, from Atomic Blonde to Cloud Atlas, and as GLAAD stated in a 2016 report, killing off these characters "sends a dangerous message to audiences that LGBTQ+ people are secondary and disposable." Thankfully, though, Disobedience, a new film out now, is the rare lesbian love story that doesn't end in tragedy.
It can't be stressed enough how unusual this is. As the GLADD report noted, "Over 25 lesbian and bisexual female-identifying characters have died on scripted broadcast and cable television and streaming series since the beginning of 2016." The 2018 report, meanwhile, said, "Broadcast television (and television as a whole) has yet to recover from the past two seasons, which included the deaths of an overwhelming number of lesbian and bisexual women characters."
The "Bury Your Gays" trope, which suggests that LGBTQ+ people aren't allowed happy endings and that they are destined for tragedy, unfortunately exists with a problematic frequency in film as well. Usually, one-half of an LGBTQ+ couple meets their demise in a tragic way, shortly after the couple first gets together after a long period of flirtation and "will they, won't they" suspense. That the couple finally collides in happiness provides for some euphoria within the movie or TV show — right before a crushing tragedy such as death via accident or intentional murder occurs. From Boys Don't Cry to Brokeback Mountain to Milk, far too many movies have made use of this disturbing trope.
But Disobedience doesn't. The movie, based on the 2006 novel of the same name, follows Ronit Krushka (Rachel Weisz), an English photographer who returns to the ultra-conservative Jewish community from which she fled years earlier. Upon learning of the death of her father, the community's most highly-ranked rabbi, Ronit must revisit the people who shunned her in order to pay her respects to her family. She connects with her childhood friend, Dovid, her father's protege and the next in line to lead the congregation. But tension ignites when Ronit reunites with Esti (Rachel McAdams), Dovid's wife, with whom she had a relationship as a teenager. The forbidden affair and her peers' harsh reaction was the basis for Ronit's abandonment of the faith, Esti, and the community itself. Meanwhile, Esti, the more assertive of the duo, married Dovid and repressed her actual orientation.
Knowing how common "Bury Your Gays" is, you'd be forgiven for thinking that Esti and Ronit were due some sort of terrible conclusion upon their reunion. But Disobedience defies this trope, and Ronit and Esti's rekindling of their desires makes for a truly sensual movie-going experience. As they try to fight off their initial attraction and the memories of their teenage encounters, the tension only grows, as is, of course, common when trying to fight or repress sexual or romantic feelings. But the women's relationship blossoms, culminating in a hotel room sex scene that many in the LGBTQ+ community are applauding for its rejection of the male gaze, embrace of female desires, and realistic portrayal of a sexual encounter featuring two women.
At one point, Disobedience hints at a possible tragic ending for its lovers; when Esti finds herself pregnant with Dovid's child, the traditionalism of the sect would suggest that Dovid would become oppressively controlling of his offspring. But instead, the film turns on its heel and gives its heroines a second chance. Dovid "allows" Esti her freedom, and the three of them embrace in a hug as old friends, as current friends, and, since Dovid isn't supposed to touch a woman other than his wife, in a rejection of their religion's restrictive views. Esti and Ronit part at the end of the film, but it's suggested that they're going to keeps tabs on one another, and possibly reunite again in the future. It's not a happy ending per se, but it's not the tragic outcome so often seen in LGBTQ+ stories.
Getting to see people who embody your sexual identity on-screen is important, but just as important is that not all of these characters are killed off or meet tragic ends. Thankfully, that message seems to be getting to showrunners, film producers, and writers. In addition to Disobedience, TV shows like Star Trek: Discovery and movies like Call Me By Your Name and Love, Simon are ignoring the trope, showing that it's possible LGBTQ+ people to be able to watch themselves on screen without expecting the worst. And we're all the better for it.