What's Next For Christian & Ana In '50 Shades'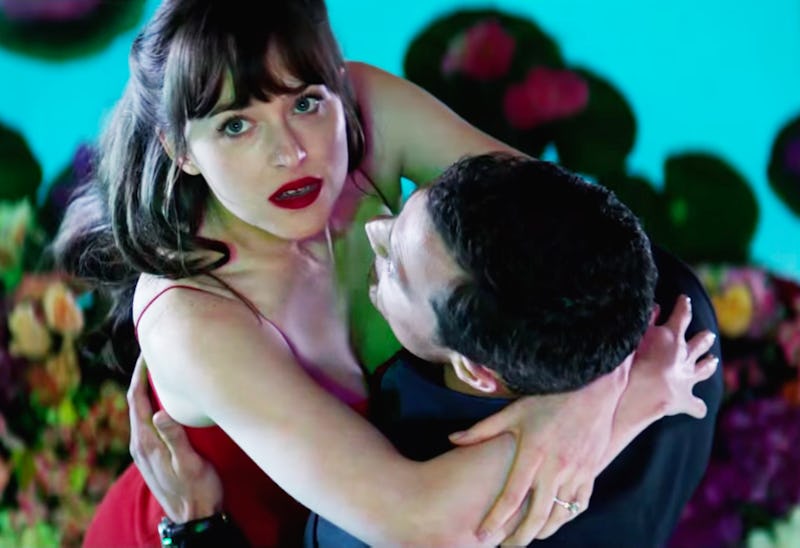 Universal Pictures
Obviously, there are spoilers ahead. With the highly anticipated premiere of Fifty Shades Darker set to continue the steamy love story of Christian Grey and Anastasia Steele, fans are on the edge of their seats. Maybe you've read the book, maybe you've seen the trailers, or maybe you've already seen the film early. No matter what, I'm sure you're curious if Christian and Ana will get married in Fifty Shades Freed, the third installment of the E. L. James trilogy.
Christian and Ana do get engaged at the end of the Darker saga, which you may have seen the start of in one trailer or other, and it's pretty evident that marriage is on the horizon in the final installment of Freed. If nothing else, the fact that images of the actual "wedding" have already leaked online could give you a clue. Filming for the last two movies took place simultaneously, and unfortunately, that's just what happens these days; things leak and immediately hit the internet, spoiling all suspense.
Anyway, leading up to the couple's engagement in the Darker film, we'll get see Ana rekindle her romance with Christian Grey after splitting amidst feelings that she and the wealthy entrepreneur were incompatible due to his excessive BDSM fetish. (The way BDSM is portrayed in the books, and thus the films, has been noted by many, many people to be wildly inaccurate, but just go with it.) In the new film release, Christian will convince Ana to give him a second chance under new conditions: no contract and no rules. However, it appears that Christian's past will resurface and continue to cause major issues within their relationship.
So now onto Fifty Shades Freed. It appears from the novels that Ana may have a pretty hard time attempting to adjust to married life; you know, with her now-husband's sex dungeon and controlling nature possibly remaining a factor. And, if the movie is to channel the book in any way, the newly-minted Mrs. Grey will have a lot more to contend with once the honeymoon is over, as she and Christian prepare to make additions to their growing family.
Unfortunately, FSF doesn't hit theaters until Feb. 2018, so, we'll have to wait to catch a glimpse of the millionaires' full wedding. I simply can't wait to watch the Grey's tie the knot on the big screen. Until then, I guess I'll just revel in their engagement when Fifty Shades Darker makes its big debut.