Yes, Christopher Wray & James Comey Do Know Each Other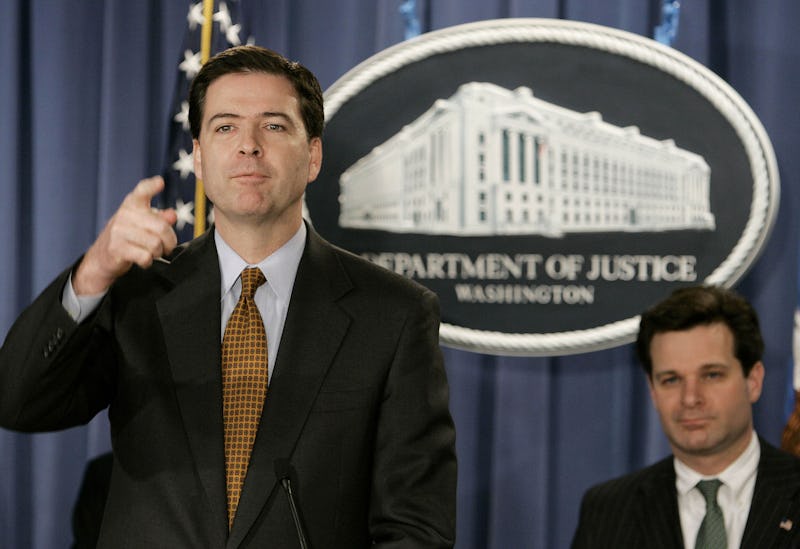 Mark Wilson/Getty Images News/Getty Images
On Wednesday morning, President Trump announced on Twitter that Christopher Wray was his pick to lead the FBI. The nomination seems to have bipartisan approval. Moreover, Wray's history with former FBI director James Comey from their time in the Justice Department together could further reassure those concerned about Trump's alleged efforts to impede the investigation into his campaign's Russia ties.
Wray and Comey worked together in 2003-2005 during President George W. Bush's first term, when Comey was the deputy attorney general and Wray, the assistant attorney general in charge of criminal affairs, reported to him. Wray had some some high-profile responsibilities at that time, including dealing with the fraud prosecutions of those associated with the Enron Group. He also told Comey that he would resign along with him in 2004, when Comey and then-FBI director Robert Mueller were facing a major disagreement with the Bush administration over their NSA surveillance program. Ultimately, though, Comey and Mueller convinced Bush that the program was illegal and needed to be changed. Wray wasn't as directly involved as Comey and Mueller, but he was at least present in the department.
That dedication to the law certainly speaks highly in Wray's favor, but he's done a lot since 2005, and now the most important questions will hinge on the issue of whether he will adequately help to finish what Comey started in terms of the Trump-Russia investigation. Most recently, Wray has worked at the King & Spaulding law firm, handling the government investigations section at the practice. Wray also represented Trump ally Chris Christie in the "Bridgegate" scandal, when Christie was being accused of closing lanes on the George Washington Bridge as an act of political payback. Christie was never charged with any wrongdoing, although three of his aides were found guilty.
While Wray's background at the Department of Justice and in private law make him a good fit for the position, his resumé doesn't quite answer questions about why Trump saw fit to nominate him. Trump, after all, is the president who fired his last FBI director and then admitted to doing so because he wanted the investigation over his campaign's connection with Russia to stop. He also reportedly asked Comey for a declaration of loyalty, an allegation that the White House denies, but which aides close to Comey insist is true. These issues and more — probably including Wray's history of working with Comey — are sure to be scrutinized in Wray's upcoming confirmation hearing.