Clare & Benoit Are Moving So Fast After 'Bachelor Winter Games' & It's Sweet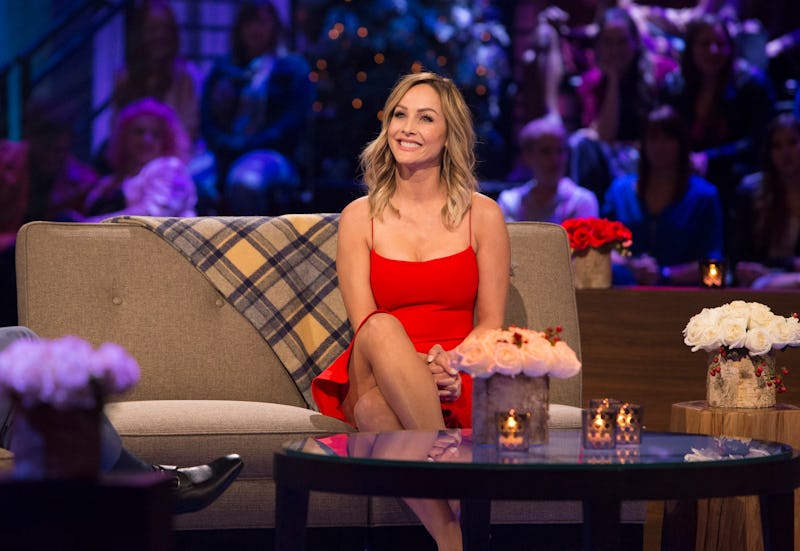 Paul Hebert/ABC
Despite the fact that The Bachelor Winter Games was only four episodes long, somehow, it managed to get a few fairytale endings anyway. Against all odds, Clare and Benoit got engaged after Bachelor Winter Games — even though they broke up very early on. But what is their life as a couple like now that filming is over? Do Clare and Benoit live together?
After Benoit surprised us all (including Clare) by popping the question on the Winter Games after show, sadly, this unexpected yet adorable couple didn't get to join Chris Harrison in the hot seat to discuss their relationship. There's so much to think about when it comes to what the future will hold for these two, and for now, all we can do is wonder. First of all, they live in two different countries, so if they're not going to move in together, they're going to have to do the long distance thing between America and Canada, which can't be easy. It has to suck so much to be so far apart from the person you love.
So what are they planning to do now that they're going to tie the knot? Are they going to move in together, and if so, how are they going to decide whether they want to settle down in America or America's hat?
Unfortunately, we don't have the answers to any of these questions just yet, because the after show ended with their sweet engagement. There was no time to hear from the couple directly, but that's OK — all fans needed to know was right there in Benoit's proposal speech and in what Clare had to say before she revealed that the "mystery man" she had been seeing since filming ended was actually him.
Even so, we can still make some guesses about what might happen next for these two. Being that Benoit felt the need to talk to Clare as soon as he got home from his Winter Games departure and how serious their relationship is already (they are engaged very soon after they first met, after all), it would make sense that they'd also start cohabiting soon. Clare is ready to settle down with the right guy — something she's been talking about forever — and Benoit is obviously very serious about her. Don't be surprised if a moving truck starts showing up on Instagram very soon.
Now, we just have to wait for Clare and Benoit to open up about what's happening. America or Canada? When are you getting married? Can you please raise French speaking children? They are obviously going to be adorable. Just look at their parents.
It's a little mind blowing to think that, in an episode that aired last week, Clare let Benoit go because she didn't see a future with him, and now, she's planning to spend the rest of her life with him. But isn't that how it always happens? Life and love surprise you where you least expect it, and fortunately, it seems to have been the best surprise ever for these two. Like Clare said, at times, she felt like she should give up holding out for someone who may or may not exist, but it's a really good thing that she didn't.
Now that Clare and Benoit have everything out in the open, it's going to be so much fun to witness their relationship. Fingers crossed they both keep fans updated often on Instagram and Twitter. It's so exciting to see them both getting that happily ever after they've been searching for, especially when their feelings for each other seem so genuine.