Clare & Benoit Could Be The Next Great 'Bachelor' Couple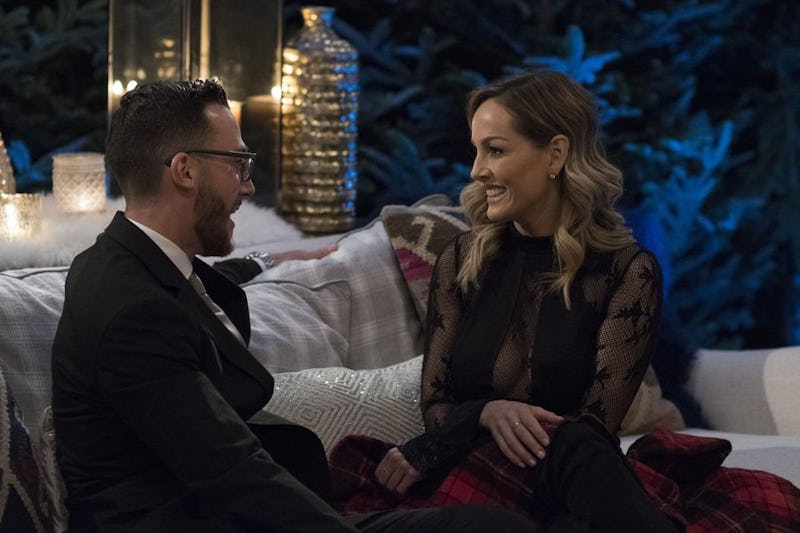 Lorenzo Bevilaqua/ABC
The Bachelor Winter Games is going to be such a reviver for the franchise – it's like Bachelor In Paradise, but the people on the show actually have stuff to do besides sit on the beach and eat pizza all day (if you're Josh Murray, that is). It's an international cast with international stars, and there will be plenty of international hookups. Like, say, for instance, Clare and Benoit. These two hit it off during the premiere, but are Clare and Benoit still dating after Bachelor Winter Games? Fans are rooting for her to find her true love after all the heartache she's suffered on these shows.
Clare Crawley you may know if you're a big Bachelor Nation fan, because she's been on a Bachelor show three times — the first time was on Juan Pablo Galavis' season of The Bachelor, and the other two times were on Bachelor In Paradise. Things didn't go so well for her in the love department on the show, so now she's back for just one more try. Benoit Beauséjour-Savard is French-Canadian, and he joins The Bachelor Winter Games from the Great White North. Benoit finished fourth on the inaugural season of The Bachelorette: Canada (it was only last year, so Canadians have really been missing out on this franchise). Benoit didn't find love, either, so he's giving it another go on American television.
The promos for The Bachelor Winter Games show Benoit and Clare in some heavy lip-locking. But, there's some drama there, because Benoit isn't the only guy that is into Clare. — Christian Rauch from Bachelor Germany is also way into her, too. But even in the first episode, Clare seems to like Benoit just that much more.
Given the ironclad grip that ABC and The Bachelor must have over contestants' social channels, I can't tell if Clare and Benoit are still locking lips like that. Clare's Instagram is a lot of shots of her in the outdoors and her with her dog, along with a few sponsored posts for good measure (a gal has to make some money, of course).
Benoit's Instagram is him posting Bachelor-related images and pics of his family.
In fact, Benoit and Clare's social media channels are so sanitized that it makes me think that they have to be together, and if they're not together, that they had to have found love on The Bachelor Winter Games with someone else. Things are a little too polished, and it's a little too easy to be like, "Oh, wow, Clare is still single!" That's just what they all want you to think! It's better than accidentally revealing the winner of your season on Snapchat like Bachelorette Kaitlyn Bristowe did. Whatever The Bachelor Winter Games brings, it's clear that Clare and Benoit have a real connection and they could very well still be hanging out.
The Bachelor Winter Games is certainly going to be interesting, and the inspiration for the show didn't come from very far. ABC executive Rob Mills told The Hollywood Reporter that someone wanted to know what a winter Bachelor In Paradise would look like, and here we are. He continued:
"At the end of the day, it's going to be about finding love again. It will have some of the Bachelor Pad DNA in that there is going to be a competition element. And the other thing we're excited about is having contestants form the international formats of The Bachelor. So you have somebody from Bachelor Japan, Bachelor Australia, Bachelor Canada and Bachelor U.K.... We're really excited to see if we can have some international romances as well as the competition in U.S. vs. the world."
Oh, I think it will be safe to say that The Bachelor Winter Games will increase border crossings, Clare and Benoit included.