This Tweet Is A New Twist In Colton & Tia's Story On 'The Bachelorette'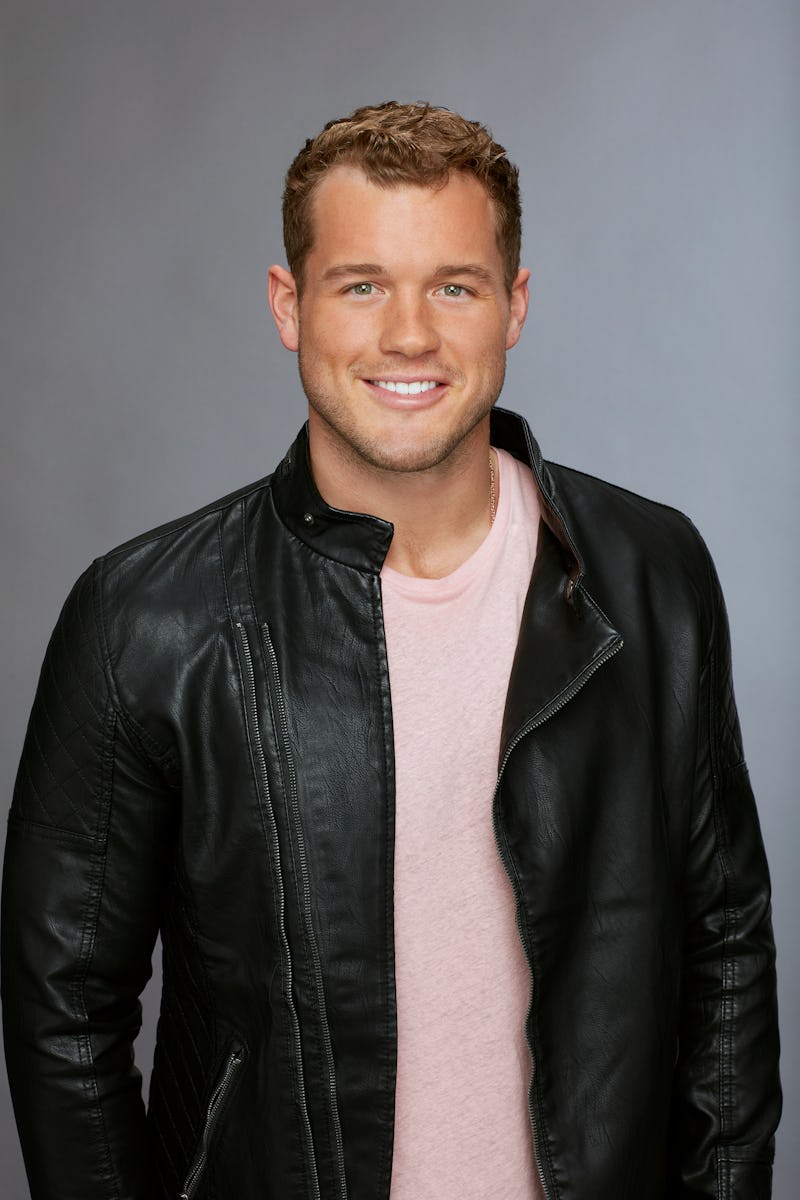 Craig Sjodin/ABC
This season of The Bachelorette is supposed to be all about Becca's journey to find love, but Colton pulled his own dating history into the mix when he revealed that he'd previously dated Becca's good friend Tia Booth, who was a contestant with Becca on Arie's season of The Bachelor. Colton and Tia have already cleared up plenty of questions about their brief time together, but at least one question remains unanswered: Do Colton and Tia still talk after The Bachelorette? The answer could give a clue as to where things currently stand between them.
Bachelor Nation is big on social media, but Tia has made it clear that even if she and Colton are talking, she's not keeping up with his tweets. One Twitter user noticed that Tia had posted an Instagram caption that was almost a word-for-word match for an earlier tweet by Colton, to which Tia replied on Sunday, "I don't follow him." She even included a shrug emoji. To make things even more interesting, the original screenshot of Tia's Instagram post showed a "like" from Colton, but he appears to no longer be listed in the likes. Tia does still appear to be following Colton on Instagram though, and it's mutual.
But are they doing more than just double-tapping each other's pics? Consider this your Bachelorette spoiler warning: Turn back if you do not want to accept this information rose! Thanks to the detective work of Bachelor blogger Reality Steve, who recently posted photos of Colton and Tia on a date on Bachelor in Paradise, it seems likely that things won't end up working out between Colton and Becca on The Bachelorette. It also seems Colton will reconnect with Tia during Paradise's fifth season. So yes, this duo does appear to still be talking — and perhaps doing a little more than that.
After Reality Steve posted the photos, Bekah Martinez — who was a contestant on Arie Luyendyk Jr.'s season of The Bachelor alongside Tia and Becca — tweeted some of her thoughts on the matter, which she called a "manufactured narrative." This escalated into a Twitter feud with Raven Gates, another fellow contestant from Arie's season and a close friend of Tia's. (Many of Raven's tweets from this altercation have since been deleted.)
Bekah has since apologized for her remarks on the matter, writing:
"I guess what I'm saying is I'm sorry. I got heated and caught up in what I was feeling and wanted people to hate on them cause I felt like the situation was unjust. It's really not my place to be the justice police, as much as I wish it was."
Putting aside that unexpected drama, it's not all that surprising that Colton and Tia are giving it another go. Details about what originally went down between the two are still a little murky, but Tia admitted when she stopped by The Bachelorette that there was a chance Colton applied for the show because he thought Tia would be the one handing out the roses.
Tia's appearance on the show was definitely awkward all around — seeing your ex in front of your current love interest isn't an ideal scenario even when it's not being filmed for national television. But while their interactions on the show were limited, Tia made sure to tell Becca that Colton was a good guy, which means their brief time together probably didn't raise any major red flags. Perhaps that's what allows her to give their relationship another chance on Paradise.
Neither Tia nor Colton has given any indication on their social media accounts as to whether or not they're currently an item, but if the reports are true and they did go on a date in Paradise, then perhaps they're just keeping their relationship secret. Or maybe they walked away from the whole thing as friends. Either way, these two definitely still have more story to tell.