There May Be Hope For Flaurel Fans On 'HTGAWM'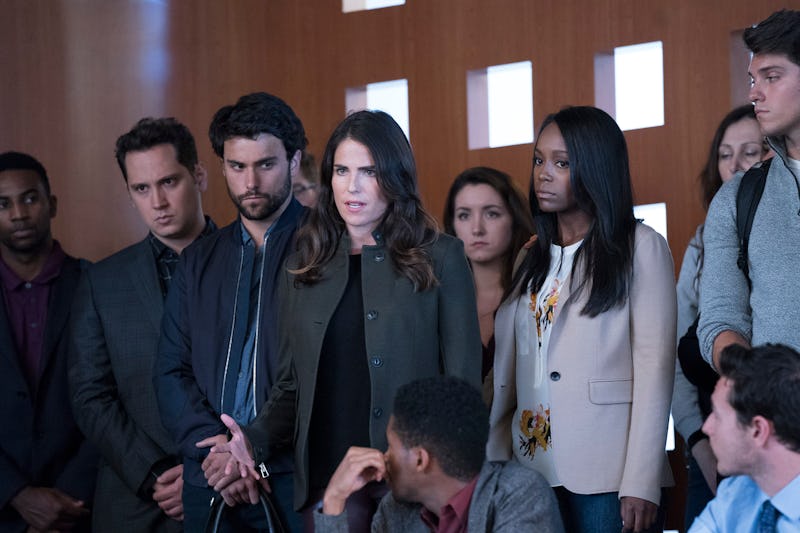 Mitch Haaseth/ABC
While the "Coliver" wedding on How To Get Away With Murder started off Season 5 in an uncharacteristically joyous way, they may not be the only two characters walking down the aisle this season. Do Laurel and Frank get married on How To Get Away With Murder? After all, Frank proposed to Lauren in the Season 5 premiere, and the future is, as always, full of clues.
"I said 'marry me,' dammit" — was Frank's official proposal, lest we forget. Trés romantic. Laurel refused him in the moment. She's still mourning Wes, doesn't think she has feelings for Frank beyond the physical anymore, and is focusing on raising Christopher right now. Also, you know, she has law school to finish. Laurel doesn't want to use Frank or feel like she's taking advantage of him, no matter his feelings about their relationship. So not only are they not engaged, their casual arrangement is broken as well after the Season 5 premiere. But Laurel could be at the center of the murder this season.
In the flash forward, when Frank tells Annalise that someone is dead, he can barely speak. He's in shock, and Frank doesn't spook easily. Is Laurel dead? Are they back together at this point, and possibly even married? Baby Christopher is crying on the scene, alone in the snow. There's blood. Bonnie approaches the unseen, already suffering person and attempts to strangle whoever it is. The muffled sounds that the unseen bleeding person makes sound vaguely female, but it could really be anyone. Bonnie and Laurel have been at odds many times before, and if Frank and Laurel were married or even just officially engaged at the time, that could contribute to her motive if she is in fact the killer.
Romance could still be kindled between Frank and Laurel, according Charlie Weber, who plays Frank. He told TVGuide in September, "I can never tell if we're together or apart, which I think is great. It sort of lends itself to what that relationship is. You have two people who are just fire and gasoline, and they can't quite figure out how to make this thing work. They always have an excuse, there's always a reason to not be together, but they always still kind of are." In the interview, Weber also talks about how attached Frank is to Christopher.
Laurel and Frank can be impulsive. It's possible that they eloped before Oliver and Connor tied the knot. Just the fact that the proposal is on the table could be an indication of what's to come in the future. On the other hand, Frank is Christopher's godfather and he loves Laurel no matter their relationship status. On the other other hand, it might not even be Laurel dying in the snow.
Whether you 'ship it personally or not, Frank and Laurel will never be a normal couple as long as they are in Annalise Keating's circle — and even then, escaping that circle and their respective paths will be difficult. Still, the fact that he proposes is a huge piece of the puzzle in How To Get Away With Murder Season 5, so keep watching for more clues.