Prisons Lack Tampons IRL, Just Like In 'OITNB'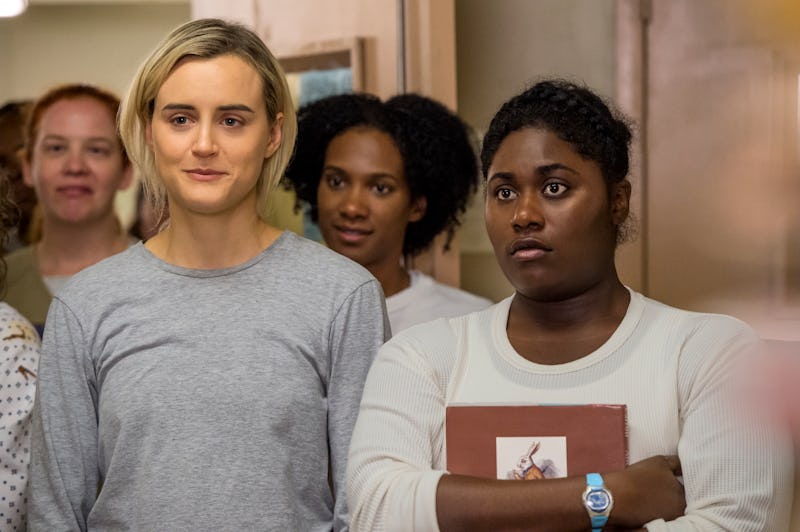 JoJo Whilden/Netflix
Being able to go to the store and buy tampons and other feminine hygiene products is something we often take for granted. In Orange is the New Black Season 5, the difficulty of obtaining tampons is further explored. So in real life, do prisons provide tampons? According to many sources, the item is available, but it is often expensive and hard to get, if available at all. So even though Piper used maxi pads as shower shoes in Season 1, supplies for a woman's period can be scarce in prisons — including the fictional Litchfield in Orange is the New Black.
Through out the Litchfield uprising in Season 5, many different OITNB characters suggest free tampons as something for which they need to fight from the management. In Episode 6, the governor provides free snacks and tampons to the inmates in order to curry favor and bribe the inmates to stop the uprising, to which they take offense. Soon, Taystee decides to collect and burn what the inmates received from the politician in protest.
Former Rikers Island inmate BettyAnn Whaley told the New York Times in April that tampons were harder to get than pads during her sentence. "They were only given to certain housing units," Ms. Whaley claimed to the Times. "They were only dispensed to certain individuals — you had to be sort of chummy-chummy in order to receive them." According to Ms. magazine, tampons tend to be more expensive at prison commissaries than pads, costing $5 per box at Danbury Federal Medium Security Prison, while pads were priced at $3.20 per box. The New York Times reported that Rikers Island sold name-brand tampons at $4 per box. While they may seem affordable, it's not for a prison inmate, most of whom earn about 75 cents a day, according to The Guardian.
Because tampons are expensive and hard to obtain, they become a valuable commodity in prisons — former inmate Frances McMurry told the New York Times that tampons were "a higher currency than sugar, coffee and cigarettes" at Taconic Correctional Facility.
Some facilities supply inmates with sanitary napkins for free — but not many. In the same article above from The Guardian, Chandra Bozelko wrote in 2015 that during her time in York Correctional Institution, each cell (which houses two inmates) allegedly would receive five free pads to split, adding up to 10 per woman per month. But the quality was often sub par, claimed Bozelko, and the distribution (or denial) of the product was allegedly seen as a way to wield power over the inmates, claimed Bozelko. A representative for The York Correctional Institution gave this statement to Bustle regarding Bozelko's claims:
York Correctional Institution ensures that female offenders have immediate access to necessary sanitary products. I take issue with the statement that our staff utilize the distribution of products "as a way to wield power over the inmates." This is just not true.
It's unfortunate to see feminine hygiene products being treated like a luxury or a power play, when access to tampons, pads, and menstrual cups should be a basic human right. And access to feminine hygiene products in prisons has been an issue for quite a while. So the use of tampons as a bribe to quell the Litchfield rebellion is totally on target in Orange is the New Black.
Editor's Note: This post has been updated to include York Correctional Institution's statement and to correct an error which said that Piper orchestrated the collection of free snacks and tampons, when it was actually Taystee.