I Tried The Ta Ta Towel & It Actually Worked Way Better Than I Expected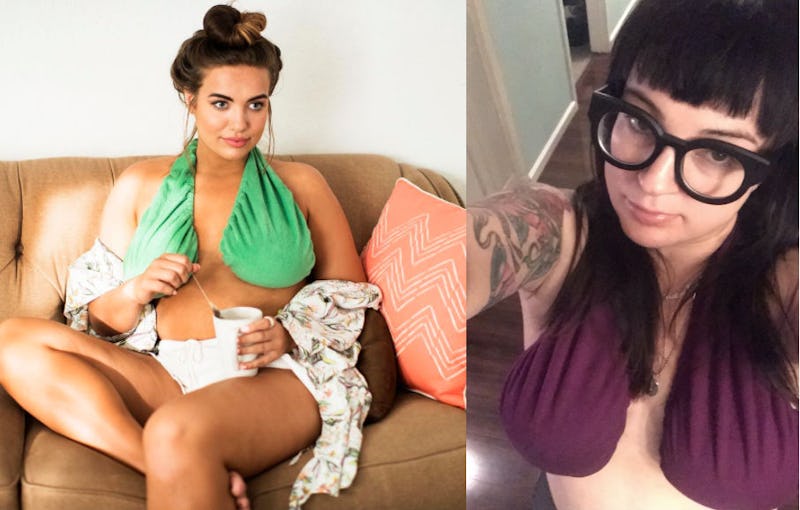 Ta-Ta Towel/Instagram, Amy Sciarretto
The infamous Ta-Ta Towel is an intriguing innovation to say the least. Its job is to hold your boobs up and absorb any underboob sweat you may experience during hot and humid times. Yes, the Ta-Ta Towel wages war on boob sweat, which is a very real thing for big-breasted girls such as myself, regardless of the season.
It's perfect for when you get perspirational — a double-sided halter top that acts as a sweat-absorbing boob hammock. It goes over your neck and then you slip the towel-like fabric cups over each breast. There is an adjustable strap on the back of the neck to make the strange contraption fit just right.
The Ta-Ta Towel is meant to be worn on its own while lounging around or engaging in certain household activities (cooking, putting on makeup, washing dishes, anything really) that may cause you to work up an underboob sweat. And, as silly as it may sound, boob sweat is a serious issue that can lead to rashes, irritation, or boob breakouts, especially during the summer. The Ta-Ta Towel is also a great tool for nursing mothers.
I put the genius and practical Ta-Ta Towel to the test while doing a mundane chores and again while blowdrying my hair, which are two instances during which I find myself perspiring under my breasts.
The Ta-Ta Towel fits like a bikini top, made out of the same cotton blend fabric as my favorite beach towels. The "cups" are elastic and stretchy, and pulling the tab in the back of the neck allows for varying and customizable levels of lift and support. But the Ta-Ta Towel is not here to replace a bra. It's not designed to be worn underneath a shirt when going out, although you can slip into a tank or tee while wearing it at home. It's role is to keep you comfy, covered up, and, most importantly, dry!
In fact, the Ta-Ta Towel motto is "Keep Them High. Keep Them Dry," and I found the first statement to be especially true when I put it on and adjusted the over-the-neck strap. As a 36 DD, I needed and wanted extra support so my boobs would not fall out of the Towel, so I pulled tight.
I wore it with my Old Navy sleep sweats while mopping the floor of my condo on a rainy and unseasonably humid fall Sunday evening. The conditions were ripe for below-the-breast sweat.
My girls were swinging just a touch, but they did not pop out of the towel once. They were nicely secured inside the cups. After mopping once and following with a dry, polishing cloth over the entire surface of the floor, I slipped my fingers beneath my Ta-Ta Towel and the real estate under my boobs was dry as a bone.
It appeared that the Ta-Ta Towel was proving to hold up to both of its marketing claims. But the real test would be wearing it while blowdrying my hair. I have 28 inches of hair and I like washing, conditioning, and blowdrying my hair every morning.
I always feel like I need another shower almost immediately afterwards, since my neck, back, and underneath my boobs get sticky and sweaty from the continuous blasts of hot blowdryer air. It doesn't matter if I lower the air conditioning to a chilly 68 degrees in the summer or if it's the dead of winter with the windows cracked. I always battle bodily sweat when blowdrying.
How did the Ta-Ta Towel fare when going up against blowdryer-generated sweat? I am pleased to report that it fulfilled its promise. While the back of my neck and my back itself were moist with post-blowdry sweat, the region underneath my boobs was dry and fresh, courtesy of the Ta-Ta Towel.
In this situation, the Ta-Ta Towel certainly kept 'em high and dry. While the towel won't throw your usual bra into exile, it's a worthwhile substitute during at-home scenarios. I will definitely use it when getting ready for a date or a formal event, like a wedding, to reduce any sub-boob sweat before getting dressed. Even if I look a little silly along the way.