The Chainsmokers' Band Name Doesn't Mean What You Think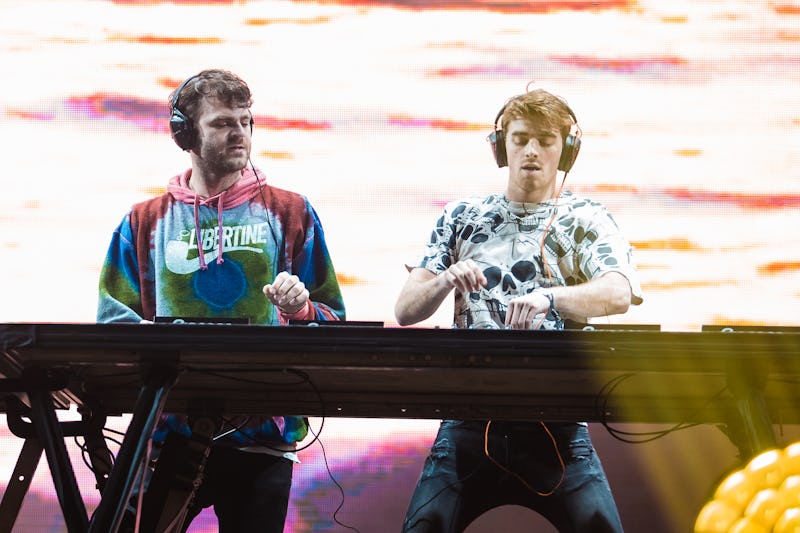 Mauricio Santana/Getty Images Entertainment/Getty Images
At this year's Billboard Music Awards, The Chainsmokers tied Drake with the most nominations — 22, to be exact. And while only time will tell whether they take home any trophies, you might as well learn all you can about the band in the meantime. First and foremost, if you've ever wondered whether The Chainsmokers actually smoke, I've found a definitive answer about their band name's backstory, and you guys, it involves Hugh Grant.
In a 2013 interview with Twelv magazine, the band said,
"There is a story, but we hate it, so we aren't going to tell it… but it has nothing to do with smoking, we don't smoke, and everything to do with Hugh Grant…."
It sounds like they may have had some band name regret, but given how popular they are now, their smoke-fueled moniker is clearly working. What's up with the Grant influence, though? Perhaps, The Chainsmokers really loved the 2002 film About a Boy, which featured Grant doing quite a bit of smoking. Interestingly, the actor's character, Will, lived a life of luxury after writing a single hit song. (I'll take "Things That Make You Go Hmm," for $500, Alex.)
During a Reddit Q&A, the band offered up an alternative answer. It seems Alex used to smoke, and the domain name was free. So, one of your favorite band's name came about through the weird combination of a free domain name, a former smoking habit, and the influence of British national treasure, Grant.
If there's more to the story, the guys aren't telling, which only makes me more curious. For now, at least we know the two-man band isn't compromising those beautiful voices with a pack-a-day habit, and that their name — even if they don't seem to love it — is so full of mystery. Maybe one of these days The Chainsmokers will reveal the whole story, until then, have fun theorizing about the Grant connection.