Everything You Need To Know About How April's 'Grey's Anatomy' Exit Happened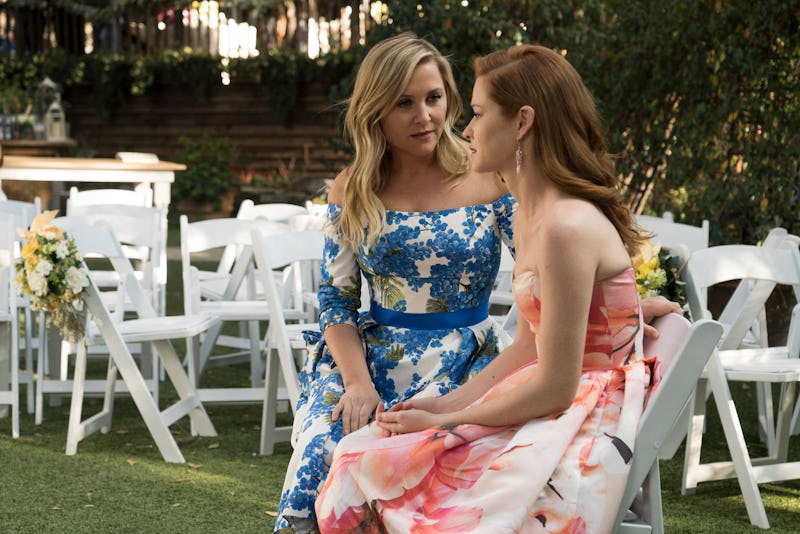 Eric McCandless/ABC
SPOILERS ahead for the Grey's Anatomy Season 14 finale. You know when you're just not ready for something to happen, but you've resigned yourself to the pain and sorrow anyway? That's what millions of Grey's Anatomy viewers are doing tonight while watching the Season 14 finale on ABC. Why? It's because April Kepner is no longer coming back to Grey Sloan, and it's a travesty. A travesty! And how April left in the Grey's Anatom finale is just like April — quiet, unassuming, and still strong.
When Deadline broke the news that Arizona Robbins and April Kepner would be written off Grey's Anatomy at the end of Season 14, many fans were upset. Some blamed Ellen Pompeo, who had just received a major raise and a contract extension, for the show not having money to keep Sarah Drew (who plays April) and Jessica Capshaw (who plays Arizona) on the show. Pompeo and showrunner Krista Vernoff denied this, as well they should — Pompeo shouldn't be punished for negotiating, and there's no reason why the network can't keep all the ladies! Anyway, by the time we all found out April was leaving, there was nothing left to do but wait and see what Shonda Rhimes and company would do to depart the show.
If April just walked off, she had the chance of coming back. But if she died, the only way April could cameo is through some sort of weird Denny-esque ghost thing, and no one wants that. We didn't even want that the first time.
Grey's Anatomy faked April fans out, because originally, it seemed like they were going to kill off the former pig farmer. April and Matthew (her ex-fiancé, whom she's been secretly dating for a few months) were in a bad car accident, and April fell down a ravine and was gravely injured. That is, until the magical doctors at Grey Sloan brought her back. Though it was touch-and-go there for a while, April made a recovery, and she made Alex and Jo's nuptials a (mostly) smashing success. Oh, and she and Matthew got married, with Jackson looking on. What a modern family.
After her accident, April realized that her place was no longer at Grey Sloan, so she quit her job and vowed to lend herself to doing "God's work." That includes lending a hand with the local homeless population, whom, according to April, are wildly underserved. April is a world-class surgeon, but she realized that, while she was doing great work at Grey Sloan, there were so many more people out there that could use even the most basic medical care. We saw a little bit of this a few seasons ago when she went and did Doctors Without Borders after Samuel, her son, died. April's been through a lot since then — a divorce, another baby, a loss of her faith, a finding of her faith — but at her core, she's always been the same. She just wants to help people.
And, considering that Catherine Avery invited her and her daughter over for dinner some time, it seems that April hasn't even left Seattle. She's just there, chilling out and helping people, adjacent to the hospital — but not actually on the show. So, OK. If they ever do want to bring her back, though, since she's co-parent to a main character's kid — fans wouldn't complain. She is right there in the city, after all.
Maybe that's why April's exit from Grey's Anatomy feels so strange. Most characters on Grey's Anatomy who leave get some sort of big, splashy goodbye — they get hit by a bus and have to pal "007" into Meredith's hand, or they tell Meredith that she is the sun and then traipse off to Switzerland — but in April's case, her goodbye was understated. Uneventful, in the best possible way. That's a lot like April, the unassuming, wildly naive pig farmer that showed up in Seattle and grew. She grew so much that she lost and found herself multiple times. April fell in love, found her voice, and found a career, and now, it's time for her to continue to her journey.