Trump Is Probably Rooting For This Football Team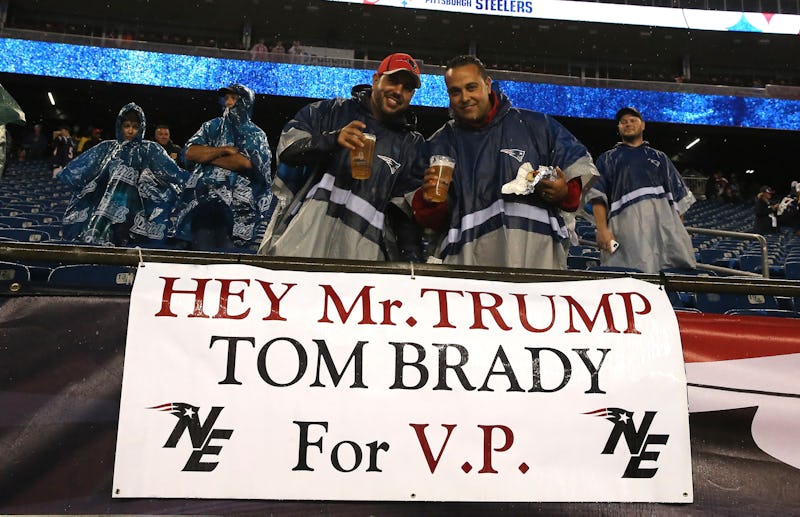 Jim Rogash/Getty Images Sport/Getty Images
Though there may be a tradition of sticking to sports during the Super Bowl weekend, it won't be politics as usual during this week's Big Game. As protests emerge around the country following a wave of President Donald Trump's recent executive orders, viewers of the 51st Super Bowl will likely be in for some political talk, whether they like it or not. Which team the president supports may throw some heavier weight with fans this time around. So it may not be hard to guess: Does Trump support the Patriots?
Trump and New England Patriots quarterback Tom Brady are friends, after all. But Brady has been careful to craft this friendship as just that, becoming ever more cautious throughout Trump's candidacy to not prescribe to a political affiliation. As reporters peppered him with questions this week regarding his relationship with Trump, the New York Times reported that he preferred to deflect the questions, saying only that he was "just a positive person."
It seemed that most, if not all, of the players competing in this week's Big Game have chosen to largely stay out of the political arena, instead promising to focus only on football. This also goes for the Patriots' opponents, the Atlanta Falcons.
But never one to be bashful, Trump has repeatedly reminded just anyone who will listen about his friendship with Brady. His desire to "win so much that you'll get bored of winning all the time" has also neatly been reflected in the New England team's victory streak.
During his appearance on The Dr. Oz Show last September, Trump used his friendship with Brady to convince viewers of his own alleged stamina. The 70-year-old said of the 39-year-old quarterback:
You know, Tom Brady is a friend of mine. We play golf together. Great quarterback. He's a phenomenal guy and a great athlete. I'm with him, and I feel the same age as him. It's crazy.
For Brady's part, he has kept up a 14-year friendship with the former reality television star. When asked about a "Make America Great Again" hat found in his locker room last year and whether he believed Trump would become president, Brady replied: "I hope so. That would be great. There'd be a putting green on the White House lawn. I know that."
Now I'm from Atlanta, so I'll be rooting for the Falcons regardless (during the one time-out of the year that I sort of care about football). But really, Trump's support of the Patriots — whether the team is wild about it or not — has made my choice that much easier.