Why Josh Probably Won't Ever Become Father Chan On 'Crazy Ex-Girlfriend'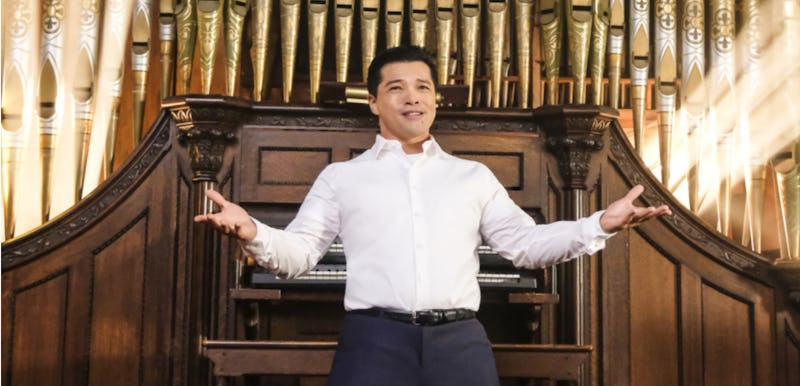 Scott Everett White/The CW
Included in the twist-heavy Season 2 finale of Crazy Ex-Girlfriend was the end-of-episode shocker that Josh had left Rebecca at the altar, sworn off women altogether, and joined the priesthood. The decision was ostensibly to help him avoid repeating past mistakes — he has a tendency to jump into relationships — but it also seemed misguided. So when the show returned on Oct. 13, the question remained: will Josh really become a priest on Crazy Ex-Girlfriend, or was it just a desperate attempt to run away from his problems?
According to star Vincent Rodriguez III, who plays the runaway groom, it's more than likely the latter. "Josh is really lost right now. Josh thinks he's doing the best thing — the best thing meaning [that] he doesn't want to make the same mistake again, and he thinks this is the ultimate way to not do that. And it's a higher power; his mentor Father Brah is a priest; 'I want the t-shirt, this is going to be so awesome, God's great, he's good to me, we're bros. Or maybe God's a girl, who knows?'" Rodriguez says, speaking to Bustle at the CW Upfronts red carpet. "But with this choice, he's so lost. And it's unfortunate, but Josh is still trying to find his way. He's really just using the priesthood as a way to just kind of avoid this issue that he has."
Still, that doesn't necessarily mean he'll immediately throw in the towel and return to his regular life, or even that he'll leave the priesthood all. Josh may move from relationship to relationship, but it's clear his faith is important to him, and he frequently turns to Father Brah for spiritual guidance. Perhaps "the calling" will prove to be his guiding light, even if he did join on a whim.
On the other hand, Josh's biggest character flaw is that he often overcommits; In his relationships, he acts on impulse and leaps into things without thinking, only to backtrack later. And he's done the same thing here — this time without considering what it actually means to commit to a life of divinity and religion. As showrunner Aline Brosh McKenna told TV Line in a recent interview:
"He has a very romantic idea of what being a priest is, [but] it's not something where you run off and join the Land of Unicorns. It's something where you do hard work, and you get a Master's in Divinity. It can take six years, eight years. So Josh is going to be confronted with the reality of what it actually takes to be a priest."
Josh is, for the most part, a well-intentioned guy, but he's not the most ambitious or dedicated person, and quite frankly, he doesn't seem up to the task of putting in that kind of work unless he has some kind of drastic come-to-Jesus moment — in his case, quite literally. It's possible he'll pursue the idea for a while.
In the Season 3 premiere, he's nowhere to be found, and Rebecca admits she hasn't seen or heard from him since their wedding went off the rails, which could be an indicator that he's still seeing things through at the seminary. But he'll eventually have to face facts and decide whether or not this is truly what he wants, and based on Rodriguez and Mckenna's comments, his priesthood stint seems more like a brief detour and less like a definitive choice.
What he'll do next isn't yet clear, but one thing is for sure: Rebecca is out for blood, and at some point, her revenge plot will inevitably bring her face to face with the man who broke her heart. And Josh will have to face his problems too, one way or another.
Additional reporting by Sage Young