Kendall Jenner's Answer About Wanting Kids Will Make You Stop Comparing Her To Her Sisters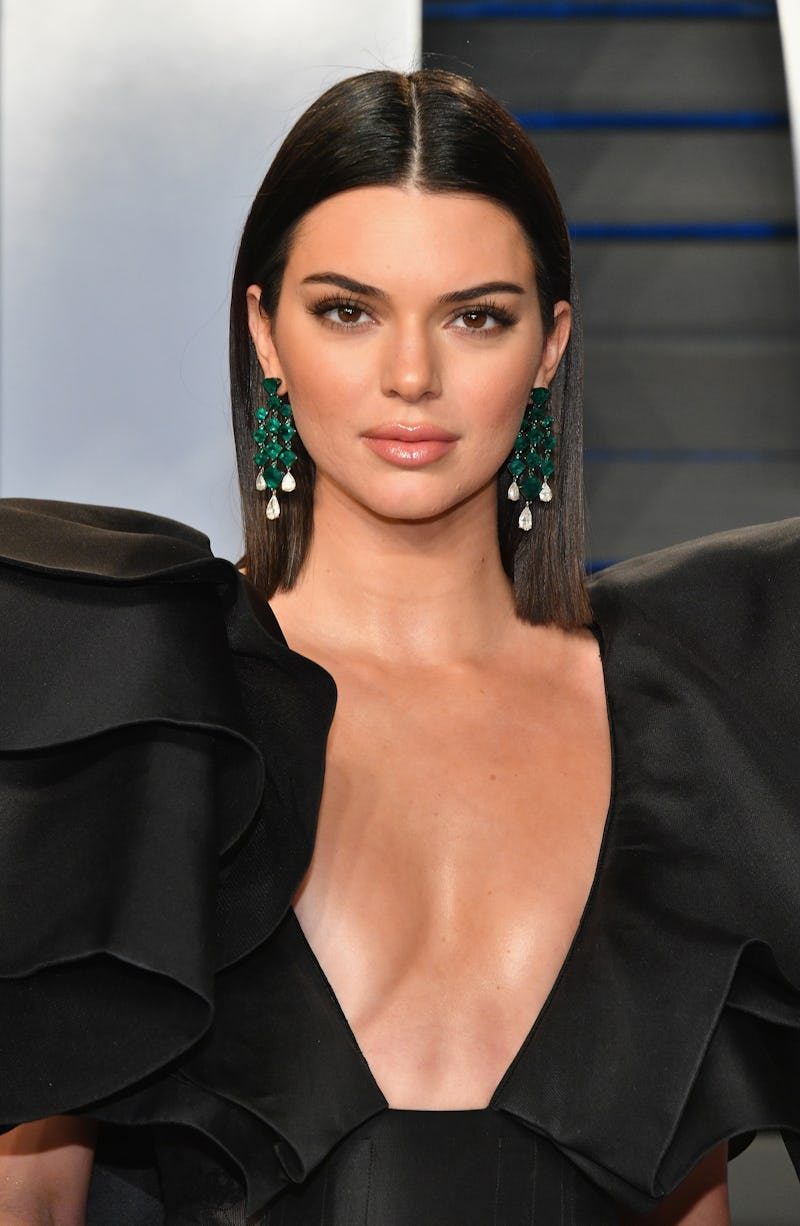 Dia Dipasupil/Getty Images Entertainment/Getty Images
The Kardashian-Jenner family continues to expand, but Kendall Jenner doesn't want kids anytime soon. The 22-year-old model made that very clear while appearing on The Ellen DeGeneres Show Thursday. Some might think because she's the only sibling who doesn't have a child, Jenner will want to give birth immediately, but that isn't the case — and it's an unfair assumption.
As Ellen DeGeneres pointed out to the Keeping Up With the Kardashians star, "You're different than all of your sisters. I mean, you don't have a baby." Jenner echoed DeGeneres, "I don't have a baby." The daytime talk show host continued, "You're the only one. Does that make you, when you see that everybody's got babies, does that make you want one or realize, 'No, I don't'?"
The reality star isn't ruling out babies altogether, but at this point in her life, she isn't ready. "No, I mean, I have moments where I'm like, 'Do I have baby fever? Like, do I want a baby right now?' But I don't. I don't." She added, "But I'm good. I can wait for a little while longer."
As Vogue's April 2018 cover star, Jenner also discussed having kids and, once again, made it crystal clear that she has zero plans on popping out a baby anytime soon. "I am ready to wait," she told the magazine after being asked if she wants kids. She continued, "I want to have kids, but at, like, 28 or 29." That's a good six or seven years in the future.
Now that Jenner's clarified her stance on becoming a mom, it's time to move forward and to stop expecting she'll get pregnant soon simply because her sisters and her brothers are parents. It's no secret that Jenner is different from her family. Yes, she's on a reality show (and one that has a massive following and has been on for 10 years), but she lives a much more private life compared to the rest of her famous family. For example, she doesn't post as often on social media. And, whenever asked about her personal life, well, she can be extremely coy.
During her interview with Vogue, Jenner responded to a question about whether she has a boyfriend as follows: "I like my private life." According to Vogue, she paused"before adding, "Yeah . . . no. I'm happy. He's very nice. I have someone being very nice to me."
So, her not wanting to follow in her siblings' footsteps right away by having a baby isn't that surprising. Jenner is choosing to live somewhat of a different life than her family — and that's OK. She's still so young and has a long journey ahead. If she wants to wait to be a mom, that's her choice. Plus, it's important to remember not all of her siblings had babies in their early 20s, even if they all do have siblings now, including 20-year-old Kylie Jenner. Kim Kardashian gave birth to North West when she was 33. Kourtney Kardashian welcomed Mason Disick when she was 30. And, Khloé Kardashian is pregnant with her first child at 33.
Right now, she's also enjoying being an aunt to her nieces and nephews. Soon, she'll even have another niece, courtesy of Khloé and Tristan Thompson, to gush over. "It's awesome because I have all these little babies to play with, so I can play with them and then give them back," she told DeGeneres. "And they're all really cute. It adds a lot of pressure."
She's also overjoyed for Kylie becoming a mom to Stormi Webster. "It's not that it's more exciting than any other births in the family — it's different exciting, because she's my baby sister who I grew up with." She further explained, "We all grew up in twos: Kourtney and Kim grew up together; Rob and Khloé; Brandon and Brody; Burton and Casey, and then Kylie and I. So to see my best friend growing up have a baby? It's already made us even closer."
Well, whenever Jenner decides to have a baby, there's no doubt they'll be as cute as the rest of the Kardashian-Jenner kiddos. And seeing as Jenner's already had so much practice with babies, she'll definitely make an amazing mom.