These Meghan Markle Quotes About Ivanka Trump Just Popped Up & Are SUPER Awkward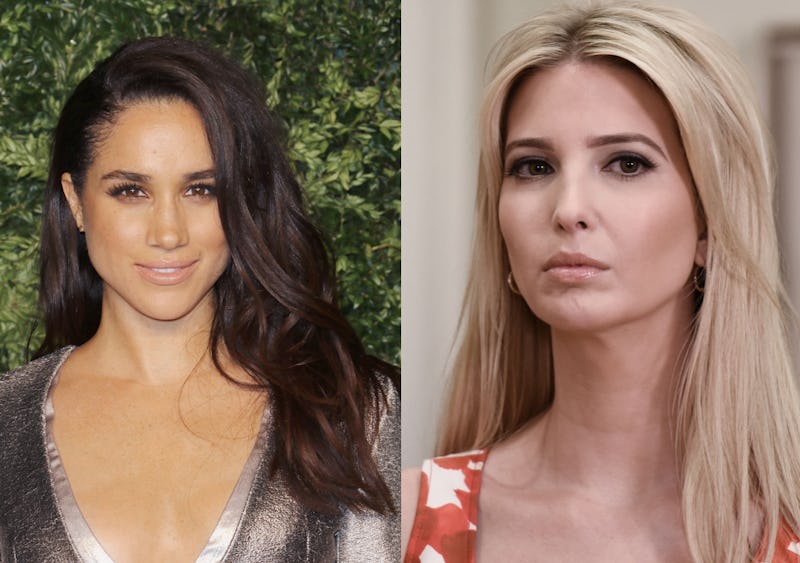 Jim Spellman/WireImage; Pool/Getty Images News/Getty Images
A lot can happen in the span of just three years. If you're a certain American actress, for example, you can go from not even knowing Prince Harry to being engaged to him. Or, as Town and Country recently found, from gushing about a now divisive public figure to, well, not. You see, long before her royal engagement Meghan Markle once interviewed Ivanka Trump, and some are saying her thoughts about the now first daughter appear a tad cringe-worthy in retrospect.
In 2014, Markle had a recurring role on Suits and a lifestyle blog known as The Tig, which was shut down earlier this year as Markle's relationship with Prince Harry got serious. However, nothing on the internet is ever gone for good; thanks to the Internet Archive Wayback Machine, Town and Country recently uncovered a TIG Talk Markle conducted with Trump in September 2014. A TIG Talk is essentially a short Q&A with people Markle felt to be "influencers." And Markle certainly had a lot of gushing praise for the oldest Trump daughter.
"Staggeringly beautiful, no question, but so incredibly savvy and intelligent that she's not just carved a niche for herself under her father's famed Trump notoriety, she has undoubtedly created her own empire," Markle wrote of Trump at the time. "It's so easy to knock the girls who come from privilege – to assume they rested on their laurels and garnered accolades simply by being fancy from the womb. But I always remember Ivanka being different."
So just how different was Trump? In the piece, Markle praises her for not swearing, getting DUIs, "dancing on tables as a teenager," or diving into a career as a pop star. Instead, Trump was graduating from college, expanding her father's company, and building her own brand. "She does it all," Markle concluded.
Markle went on to heap praise on Trump's various collections, claiming to have done a lot of late-night virtual "window shopping." At one point, the actress and lifestyle blogger excitedly noted that reaching out to Trump for a TIG Talk appeared to have spurred a budding new friendship.
"When I sent an email asking to do a TIG Talk, not only did she get back to me immediately with such honest responses, but we also began planning drinks and dinner for the next time I was in NY," Markle wrote. "This much I know – when we have drinks, I will make sure I order whatever she does – because this woman seems to have the formula for success (and happiness) down pat."
The actual Q&A Markle conducted with Trump is short and doesn't touch on what her formula for success might be. Instead, Trump revealed she can't live without her husband, children, and chapstick, that her morning routine includes meditation, and that she'd head to Patagonia if she had a week off.
To be clear, Markle's quick TIG Talk with Trump took place well before her father announced his 2016 presidential campaign or got caught making vulgar comments about grabbing women without their consent. In fact, back in 2014, Trump was far from being the controversial figure she is today.
While we don't know how, or if, Markle's feelings about Trump changed over the years, the actress was clear about her criticism of Donald Trump during the 2016 election. "Yes, of course Trump is divisive. Think about just female voters alone," Markle said during an appearance on The Nightly Show with Larry Wilmore in May 2016. She went on to call the then-presidential candidate "misogynistic," noting he was "so vocal" about being so. "You don't really want that kind of world that he's painting," she said.
But Markle may not be the only member (or soon-to-be member, that is) of the royal family that's put off by the U.S. president. According to Town and Country, the royal family has good reason to be leery of President Trump. In the mid-'90s, long before his move to the White House, President Trump reportedly tried to court Princess Diana following her separation from Prince Charles. And shortly after Princess Diana's death, he reportedly told radio host Howard Stern he thought he could have slept with her.
Then, in 2012, the real estate mogul publicly blamed the Duchess of Cambridge, Kate Middleton, after the paparazzi took photos of her sunbathing topless while on vacation.
"Kate Middleton is great--but she shouldn't be sunbathing in the nude--only herself to blame," he wrote in a tweet. "Who wouldn't take Kate's picture and make lots of money if she does the nude sunbathing thing."
However, given Markle's forthcoming nuptials to Prince Harry and protocol which dictates the royal family appear impartial on political matters, we may never hear what the actress thinks of the first family.