How The Midterms Could Change Your Access To Birth Control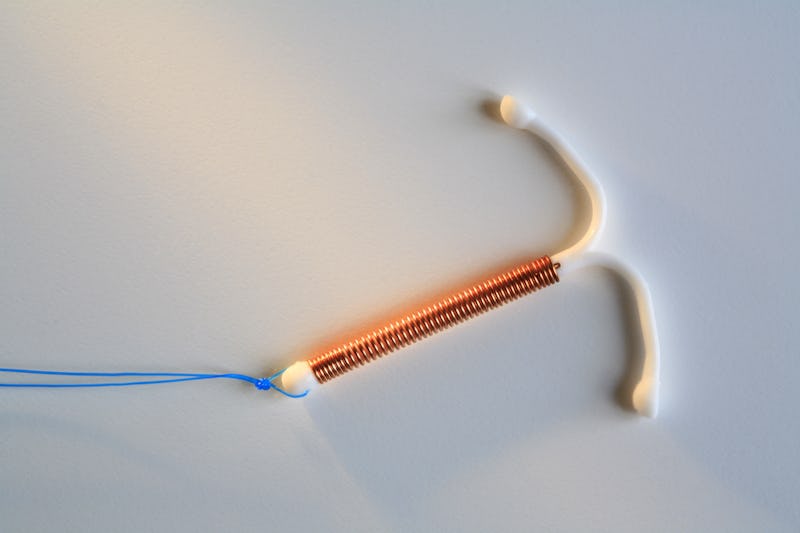 imageBROKER/Shutterstock
After the 2016 election, the number of people seeking prescriptions and procedures related to IUDs increased dramatically, according to health researchers. Access to birth control isn't just a hot-button issue for politicians — it's one of the first things some people think about when faced with political change.
Right now, there are a lot of factors at play as to whether the midterm elections will affect your access to contraception. The ultimate answer is that the midterms will have the same impact on birth control that they'll have on any political issue: It depends on who gets elected and what they believe on the subject. You won't wake up on Nov. 6 wearing a red handmaid's cloak and a white bonnet, but the debate over contraception isn't going anywhere.
In October 2017, President Trump's administration issued new rules that would have allowed many more employers and insurers to not cover contraception because of religious or moral objections. A federal judge blocked those rules in December 2017, but that wasn't the last time the Trump administration acted to roll back access to contraception. In May, the White House and the Department of Health and Human Services (HHS) announced a proposal to block clinics that provide abortion services or referrals from receiving federal family planning funding. Many of those clinics, like Planned Parenthood, also provide contraceptive services and information.
In a survey published in June 2017, the non-partisan Kaiser Family Foundation found that 68 percent of American adults support the Obamacare requirement that private insurance plans cover the full cost of contraception.
Some organizations are using the Trump administration's positions on contraception to turn voters out at the polls in November. For example, EMILY's List, a political action committee that works to elect Democratic women who are pro-abortion rights, has latched onto those policy changes. "Defunding Planned Parenthood, rolling back the birth-control mandate — we will continue to amplify those issues and draw voters' attention to them for the next year," Julie McClain Downey, director of campaign communications for Emily's List, told The Washington Post.
Meanwhile, Marjorie Dannenfelser, the president of the Susan B. Anthony List — an organization whose website states that its "mission is to end abortion" — called the Trump administration's rollback of mandatory contraception coverage "a huge victory for conscience rights and religious liberty in America."
How do candidates feel about birth control?
Many candidates who will be on the ballot in November highlight access to contraception as a key issue in their campaign platforms. For example, Sen. Claire McCaskill (D-MO) said in a statement that the "best way" to reduce the number of unplanned pregnancies and abortions "is to expand access to birth control, not restrict it."
And Rep. Jacky Rosen (D-NV), who is running for Senate in Nevada, tweeted in October 2017 that the Trump administration rollback "puts basic, fundamental health care at risk for 62 million women."
Republicans have taken equally strong positions. Rep. Kristi Noem (R-SD), who is running to be the governor of South Dakota, supported Trump's rollback of access to free birth control. "I am thrilled to see President Trump uphold our constitutional rights and give family-owned businesses the freedom to live out their moral and religious beliefs," she said at the time.
Rep. Marsha Blackburn (R-TN), who is running for a Senate seat, led a congressional investigation into Planned Parenthood that was sparked by heavily edited videos claiming to show the organization illegally sells fetal tissue. A few years ago in a speech, Blackburn said, "What women want is not free contraceptives. We want opportunity."
Looking at what candidates have said about birth control is a good way to tell how drastically the midterm elections could affect your access, so try using a tool like Vote411's personal ballot to find out how the candidates in your district feel about it.