Taylor Swift Has Made Her Thoughts On Tattoos Very Clear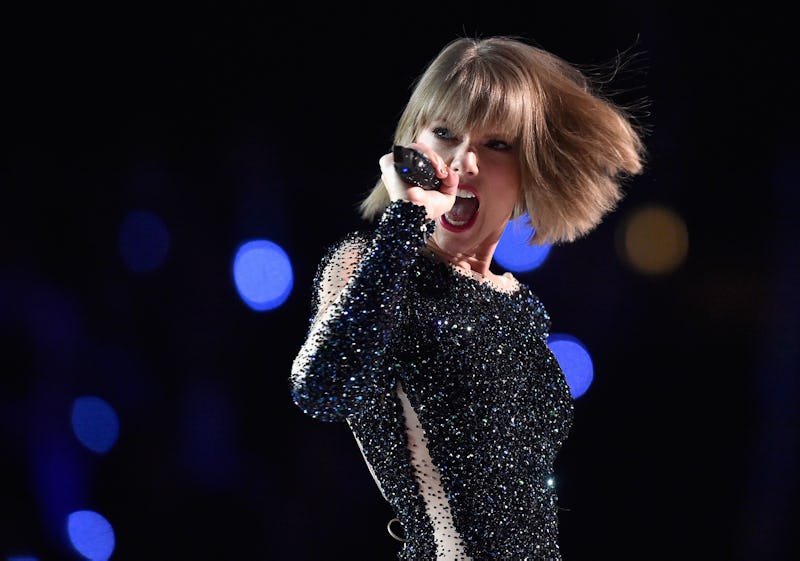 Kevork Djansezian/Getty Images Entertainment/Getty Images
Taylor Swift's Reputation is finally here and with it comes a new crop of catchy songs to sing along to. One track, "Dress", includes an interesting lyric about a certain "golden tattoo". This begs the question: Does Taylor Swift have tattoos? The singer has made comments about getting some ink before.
In Swift's song, "Dress", she sings, "There is an indentation in the shape of you, made your mark on me, a golden tattoo." Did the singer possibly get the "golden tattoo" in question? Well, the 27-year-old hasn't revealed if she's gotten any tats. So, no, Swift probably doesn't have any tattoos, especially not any golden ones.
She has talked about getting a tattoo in the past, though, and even said what permanent marking she'd get. Swift spoke to Taste of Country back in 2012 and talked about how she wrote the lyrics to some of her songs on her arm. But, she then said that she would never make the plunge to get a tattoo, even though people would always ask if she would get one. She said, "I just... I don't think I could ever commit. I don't think I could ever commit to something permanent."
But she did know what she would get if she were to get one. "If I was going to get something, it would be a 13", which isn't surprising to fans who know it's the singer's lucky number. She then said more definitively, "I don't want to get a tattoo."
Those comments came after Swift talked about getting a tattoo in 2008. In an interview with MTV, the singer said, "I may get one." She then talked about a pact with herself that if she sold 2 million records, then she'd get tatted up (but said in the same interview that she "can back out of it"). Still, the singer doesn't have any tattoos (that we know of), hasn't wanted any tattoos for a while, and probably wasn't referring to getting a permanent one in "Dress".
Swift did make these comments years ago and her feelings on the matter could have changed, but she hasn't said anything otherwise and hasn't shown off any ink. Although, she did sport some fun, non-permanent ink at a party in 2016.
According to Teen Vogue, Swift attended Drake's birthday party in October 2016 and added some flash tats to her party-ready look. While this tattoo is definitely not permanent, it's interesting to note here that the flash tattoo that the singer is wearing is the "golden" color that she references in the lyrics of "Dress". Maybe this was the tattoo that inspired the reference in the song.
There's also another rumor related to the lyrics in "Dress" and this one involves Swift's bestie, Ed Sheeran. Some fans are saying that the song is all about Sheeran because of a certain lyric. Again, in "Dress" she sings, "There is an indentation in the shape of you, make your mark on me, a golden tattoo". One fan asked other Swifties if she was singing about her relationship with Sheeran in the song, and left hashtags of some telling lyrics as evidence:
Another fan was convinced that "Dress" is about a Swift/Sheeran relationship, no question:
Some fans think that it's a reference to her friend because of one of the lyric's connection Sheeran's own song "Shape of You" and because Swift later croons, "I don't want you like a best friend". It's well-known that Sheeran is one of the singer's best friends. Is this song alluding to her wanting to be something more than friends with him? Since Sheeran's stated before in Rolling Stone that the two have never dated, and because the rest of the song is blatantly romantic, "Dress" almost certainly doesn't have to do with Sheeran.
Considering the lyrics, it's more likely that "Dress" is about someone Swift actually dated or her current boyfriend, Joe Alwyn — and that the tattoo thing is just a metaphor.