Fans Think Taylor Swift's "Dress" Is About Ed Sheeran — No Really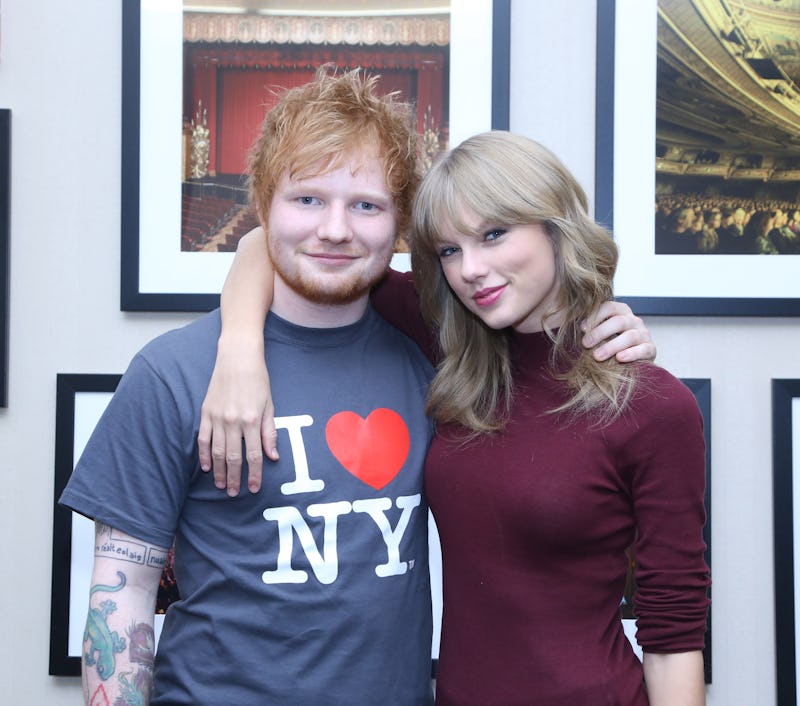 Anna Webber/Getty Images Entertainment/Getty Images
Now that Taylor Swift's Reputation is here for your listening pleasure, there are a lot of theories circulating. However, there is one in particular that just might blow your mind. So, let's just ask the question many people are wondering: Is Swift's "Dress" about Ed Sheeran? Whoa, what's that now? Believe it or not, but there is speculation that the sexy track is actually about Swift's BFF, Sheeran.
This may be a bit too much for anyone to process, especially Swifties, but it actually kind of, sort of, makes sense. If you haven't listened to "Dress" yet, it's basically about the 27-year-old artist buying a dress for a specific person just so they can take it off of her. As Swift sings, "Only bought this dress so you could take it off." Oh, yeah, it's a steamy song, to say the least.
It's probably hard for her followers to imagine Sheeran removing Swift's dress in an intimate way, since they've always seemed to have a purely platonic relationship, but let's take a further look at the song. There are actually a few lyrics that seem point to the Divide musician. First, Swift sings,
Our secret moments in a crowded room
They got no idea about me and you
There is an indentation in the shape of you
Made your mark on me, a golden tattoo
Stop right there, did she just sing "in the shape of you"? Hmm... doesn't Sheeran have a song titled "Shape of You"? This could be total coincidence, but it's almost too obvious not to point out — or to wonder if she really is singing about her close friend. Furthermore, the fact that "a golden tattoo" is mentioned could also be her way of referring to all of Sheeran's tats.
The possible hints this song is about Sheeran don't stop here. Swift also sings, "Say my name and everything just stops/I don't want you like a best friend." Um, she and Sheeran are best friends, so, yeah. Then, there is this lyric: "Everyone thinks that they know us/But they know nothing," which could be her way of saying that the public thinks they know all there is regarding their relationship, but there is more than meets the eye.
Lastly, Swift sings the following, which is super deep:
Even in my worst times, you could see the best of me
Flashback to my mistakes
My rebounds, my earthquakes
Even in my worst light, you saw the truth in me
Who knows Swift better than Sheeran? He's probably been there for her through her "worst times" and continues to see the "best" of her, despite everything she's endured. Yeah, this theory that "Dress" could be about Sheeran makes sense — and the following fans agree.
It Has To Be About Him
You Can't Ignore The Lyrics
It's Basically A Hidden Message
Some Can't Believe Their Ears
Check The Evidence
And There Are More Connections
But "Shape Of You" Is The Strongest
Seriously, Some Fans Cannot Handle It
Now, it's impossible to definitively say that "Dress" is about Sheeran (unless Swift confirms or denies it), when the pop star could easily be singing about any of her exes, like Tom Hiddleston, or her current love, Joe Alwyn.
Plus, there is also that Karlie Kloss theory. Seeing as Swift and Kloss are also besties, there are some fans who think the song could also be about the Victoria's Secret model. There were rumors back in 2014 that the two were dating after a photo of them at The 1975 concert surfaced. At the time, Swift's rep called the rumors "hilarious" and told New York Daily News, "It's sad that on the day it's announced Taylor has three Grammy nominations for 'Shake It Off,' I have to shake off this crap."
Whoever "Dress" is about, it has fans' talking. And, knowing how tight-lipped Swift usually is, they'll probably never find out who she's really singing about.