Yes, Tom MacArthur, The AHCA Will Definitely Hurt Medicaid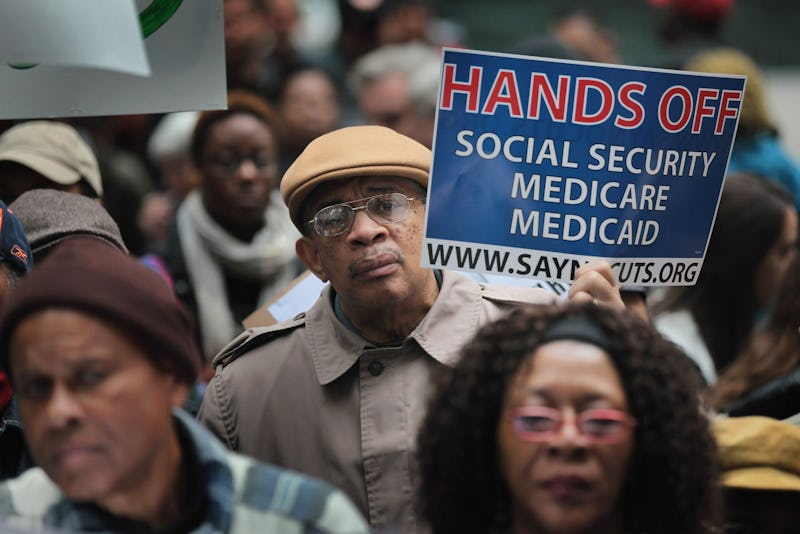 Scott Olson/Getty Images News/Getty Images
In yet another emotionally-charged exchange to come out of his first town hall meeting since the House voted to pass the GOP's American Health Care Act, New Jersey Rep. Tom MacArthur claimed the AHCA won't cut Medicaid benefits multiple times, before insisting the confirmed "reductions" of funding are only meant to push states to contribute more to the program. However, his explanation is a tad misleading.
The Congressional Budget Office (CBO) already confirmed that there would be cuts to the Medicaid program, and MacArthur wasn't the only one standing up for them. Health and Human Services Secretary Tom Price also defended those cuts earlier in the week. But the congressman's verbal gymnastics displayed are not a particularly good look for a person whose hands are already all over the controversial House Bill — not to mention the fact that his name is on its most controversial amendment.
MacArthur's comments come after constituents opened up about how the Medicaid program was essential for treating illnesses like addiction or keeping their loved ones alive. Still, referring to the more than $800 billion proposed to be cut from the program over a period of 10 years, MacArthur defended the proposed "reductions" and lifetime caps on total Medicaid expenses:
Twenty-five percent of the U.S. population is on Medicaid and it's on its way to being a $1 trillion expense ... [The reduction] says to states "you're not going to get an open checkbook."
Although some senators have already promised that they would be "starting from scratch" on their own bill, rather than building upon the skeleton of the House Bill, GOP senators' views on Medicaid aren't all that different from those expressed by MacArthur. And, ultimately, they boil down to trying to put more pressure on states to contribute more money to the program rather than relying on the federal government. The government will attempt to achieve this by putting a cap on the amount of money they reimburse, or match, per enrollee.
The CBO's analysis reports that most of the reduction in Medicaid funding would also "stem primarily from lower enrollment... culminating in 14 million fewer Medicaid enrollees by 2026." It also states that it would affect some of the people currently eligible for Medicaid benefits as well as those who would've been made eligible by the ACA's optional expansion of Medicaid.
While the language used by MacArthur and others who support the reductions to Medicaid might be confusing, it is far from accurate to say (as many times as he did) that there would be "no cuts" to the program.