Does The College You Attended Matter When It Comes To Student Loan Debt?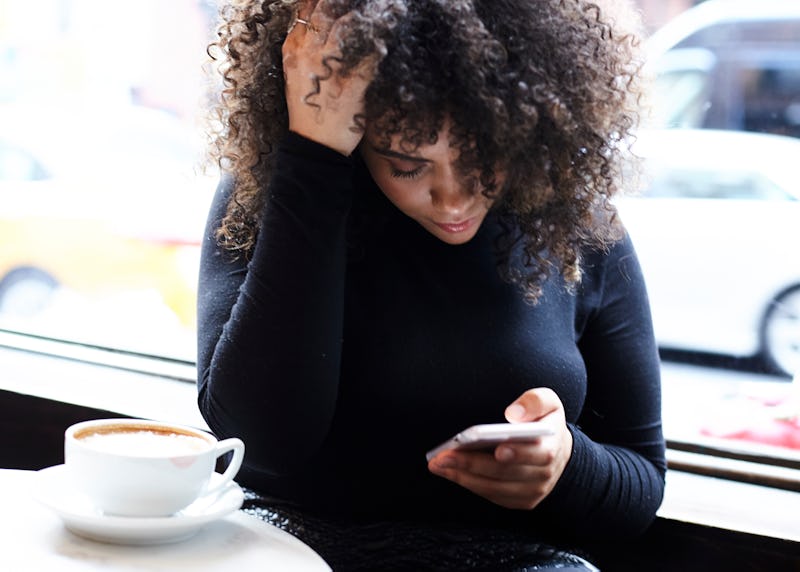 Hannah Burton/Bustle
Money is a feminist issue — and yet, women are still reluctant to talk about it. According to a recent Bustle survey of more than 1,000 Millennial women, more than 50 percent of people said they never discuss personal finances with friends, even though 28 percent reported feeling stressed out about money every single day. Bustle's Get Money series gets real about what Millennial women are doing with their money, and why — because managing your finances should feel empowering, not intimidating.
If you're curious what schools' graduates pay off their undergrad student loans the fastest, that's a great question. Now, CommonBond has the answer. They created it in March and called it "March Debtness." How? They calculated the total time it takes for each school's graduates to pay off their loans based on their average debt at graduation, as well as their starting salary. Hint: They found that a public education ~isn't~ always more affordable in the long run. Plus, a larger initial investment could turn into larger salaries down the road, according to CommonBond.
"The results of our bracket show that student debt is a two-sided equation," David Klein, CommonBond's CEO and co-founder, tells Bustle. "One variable — which is the one most people think about — is your total debt when you graduate. The other — which can get overlooked — is your starting salary. It's that second variable when combined with the first, that will help you estimate how quickly you'll be debt free."
Makes a lot of sense, right?! And here's the ~super clever~ March Debtness bracket that CommonBond created.
As you know, student loan debt is nothing new. In fact, seven in 10 seniors (68 percent) who graduated from public and nonprofit colleges in 2015 had student loan debt, with an average of $30,100 per borrower, according to The Institute for College Access & Success. This went up four percent from the average debt of 2014 graduates.
OK, So You Have A Lot Of Student Loan Debt — But What Do You Do About It?
First of all, climbing out of student loan debt ~is~ possible. "While college tuition is likely going to remain high for the foreseeable future, actually paying for college doesn't have to be stressful as long as you have the right approach," Klein says. Below, he offers some advice on student loan debt factors you may be missing.
1. More Loans Doesn't Have To Mean More Time In Debt
I know, it may seem like the more loans you have, the longer you'll be indebted to them — literally and figuratively. However, that doesn't have to be the case. "Two big variables determine how quickly you can be debt-free after graduation: the total amount of debt you take on, and your income after you graduate," Klein says. "Many students first focus on their financial aid packages as to what determines their long-term college costs. However, the second variable is just as important. A school's track record when it comes to job placement and starting salary could mean that you'll be able to pay down your debt faster. This shifts the conversation from cost to value. Only 'value' — the combination of cost at entry and expected income at exit — will help you truly determine the payoff-ability of a loan after graduation." When you look at things that way, it has the potential to change everything!
2. Learn How Your School Can Help You
If you don't think your school has a career development office, think again. Chances are, there is someone in the alumni relations department who can speak to you if not an official guidance counselor. Perhaps you have some ideas of career paths you'd like to explore after graduation, or perhaps you don't. Or maybe you have too many potential career interests. The career development office can help you create a game plan, so to speak, per the above, for financial readiness after you graduate.
But when? "Early summer is an ideal time to reach out to your school's career development office," Klein says. "Get advice for how to position your career, understand what strategies you can employ to get your ideal internship or job, and learn about the full spectrum of resources that are available to you."
3. Investigate What Alumni In Your Field Are Doing
While internships are a great way to explore your potential future career, so, too, are seeing what alumni in your field are up to these days. "This will give you the best indication of what career paths you could take upon graduation," Klein says. "Most schools will publish statistics on which graduates went into what fields. You may even be able to find statistics on different career paths broken down by major. Visualize whether you see yourself embarking on a career in any of these fields, and what specific courses or guidance you might need to get there. What paths seem to have the highest job placement success, and how do these fit with your interests?" OK, where was Klein when I was in college?!
4. Use The Alumni Network
Alumni networks are sooo underrated, I feel. But, they can be the career lifesaver you need. "A strong alumni base can help you throughout your career by providing introductions, hosting networking programs, and even posting jobs on social media that might be a good fit," Klein says. "Do alumni tend to return to campus for reunions? Consider working at the reunion to network. Use LinkedIn to reach out to recent alums working in a field you think sounds interesting. Ask them how they got that job, and how your school prepared them. Fortune favors the bold!" True that, as I'm sure you've seen for yourself or via your friends.
5. Don't Panic
Above all else, don't panic. "It's completely normal not to know where you'll be in five or 10 years," Klein says. "But whether you have your career mapped out or are still exploring your options, it's important to take proactive steps toward finding the path you want." And, as Klein said earlier, the career path you take can make a ~huge~ difference when it comes to paying off your student loan debt.
What about if you have a job you love, but it's low-paying? At the same time, you want to pay off your student debt faster. These days, it's all about the side hustle. Many Millennials take on a side job and allocate that money to everything from student loan debt to an Emergency (or Fun) Fund. Like Klein says, your college debt will be a combo of your average debt when you graduate, plus your starting salary. However, since you'll likely change jobs more than once, the latter is more variable. Annnd, don't be deterred to attend a high-priced school, since you can later reap the rewards — a higher paying job, which could mean paying off your debt faster.
In any case, one thing's for sure: Klein definitely gives everyone #StudentLoanGoals, right?!
Check out the "Get Money" stream in the Bustle App for more tips and tricks on how to save and spend your money.