Here's Definitive Proof That The 'Vanderpump Rules' Cast Actually Works At SUR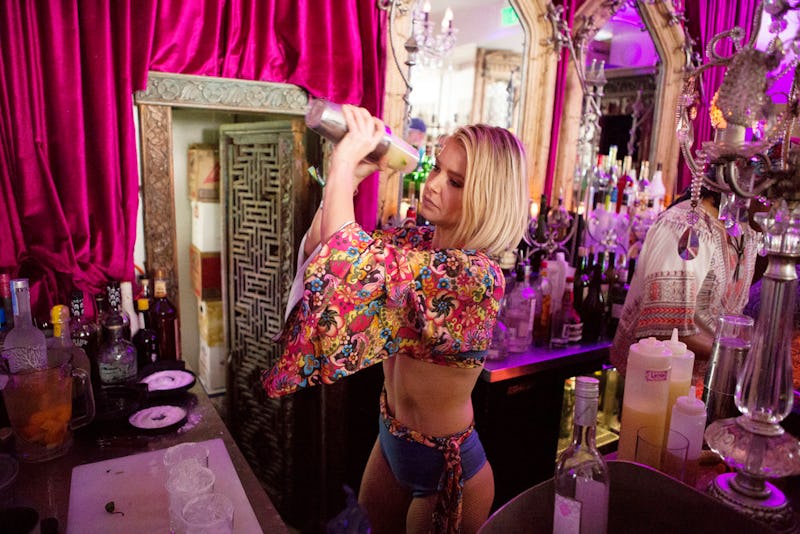 Bravo Media/Isabella Vosmikova
At this point, it's tough not to question the reality of reality television. That's why viewers of the show probably wonder whether the Vanderpump Rules cast members actually work at SUR or if they just "work" at SUR while the show films. Vanderpump Rules is currently in its sixth season, so the cast have to be making decent money as reality stars (even if we've seen their financial woes on the show). Plus, they have sponsored social media posts and get paid to make appearances, so they surely don't really need to work at the restaurant to support themselves.
Then again, the whole premise of the show is based on a group of close friends (and occasional frenemies) who are waiters, bartenders, and hosts at the same restaurant. Sure, the show has plenty of drama to go on without footage of Lala Kent seating customers and Jax Taylor serving Pumptinis, but all roads do lead back to SUR. They are shown working at boss Lisa Vanderpump's events at the restaurant, they celebrate milestone occasions of their own at SUR, and James Kennedy has been shown begging for Lisa to rehire him as a DJ (several times over).
SUR has always served as the backdrop for this show and has driven many storylines, but do the cast members really work there? Long story short, yes, they do work there... for the most part. Lisa fired Kristen Doute after she yelled at a manager, and Stassi Schroeder admitted that she just stopped showing up for serving shifts during the Season 3 reunion. But even so, the other cast members do work at the restaurant and there's plenty of evidence.
Lisa Won't Let Them Pretend To Be Employees
In a 2016 interview with Thrillist, Lisa explained, "Part of the deal is if they're working at the restaurant on the show, they have to work there legitimately." So, how does filming and promoting the show factor in? Lisa said, "They work about three days a week while we're filming, and that's five months of the year. They get a month or two off to do press and appearances promoting the show while it's airing, because they do a lot of promotion." And just for good measure, Lisa was asked "Are they really working, or is it for the show?" She responded, "I don't think that's any different. If they're behind the bar, they have to really work."
Lala Confirmed That She Can't Be On The Show Unless She Works At SUR
During the January 12 episode of The Tomorrow Show, Lala confessed that she has to work at SUR in order to be on the show. She explained, "I can't be a part of the show if I don't have a job at SUR where I'm going in at least once a week working for two hours as a hostess each time." That is not the case for all of the cast members, though. Lala said, "Kristen and Stassi don't work there ... I just know that they're still a part of the show and don't work there. I don't know if there's a difference ... I don't know what [their contracts] read."
Lala Said That Stassi Really Did Plan Her Showcase
During the same podcast episode, Lala confirmed that Stassi's return to SUR as a party planner actually is legitimate. She said that Stassi really did plan her music showcase: "She put the whole thing together, besides the music part where I got the speakers and stage because that's my forte, I guess. But, the rest of it she did all of it. She killed it — flowers, framing, organizing tables. She's great."
James Promotes His DJ Gigs Every Tuesday
This season, James pitched an event to Lisa called See You Next Tuesday, which, as the name suggests, involves him DJing at SUR on Tuesday nights and promoting his own event. It turns out that wasn't just a plot point for Vanderpump Rules since anyone who follows James on social media is well aware that he promotes his set once a week and shares photos from the gig and live footage in Instagram stories.
They Are Consistently Featured On The SUR Instagram
Yes, the SUR Instagram does show a lot of photos from the show and the cast members at non-work events, but there are also plenty of candid photos of them without perfect hair and makeup hard at work. Just scroll through the page to see Scheana Marie grabbing drinks for customers from the bar, Tom Sandoval making margaritas, James spinning on a Tuesday, Jax behind the bar, or Brittany Cartwright and Katie Maloney on shift.
Cast Members Confirm Their Shifts On Social Media
If you want to see the cast members working at SUR, just check out their social media pages to see if they're there. Chances are, there's probably a fresh selfie indicating their presence at the restaurant that night. Sandoval consistently shares photos when he's behind the bar, and Jax has shared photos and videos of himself and Brittany on shift.
They also respond to fans asking when they'll be at the restaurant and even just announce their next shifts via tweet like Ariana and Scheana often do.
Fans Share Photos Of Them Working At SUR
For skeptics who refuse to believe the interview quotes and social media posts from the cast members and the restaurant itself, one of the biggest pieces of evidence are the consistent photos from SUR customers with the cast members at work. Check out these photos of Tom and Ariana, Scheana, James, and Brittany posing with customers during their shifts.
The truth of the matter is that Vanderpump Rules is a wildly popular show. It makes perfect sense that the cast members would want to ditch the restaurant work and just be professional reality stars, but with the show based on them working at the restaurant, they're still working there... for now.