Here's What Trump's Traditional "Bow" To The Queen Might Actually Look Like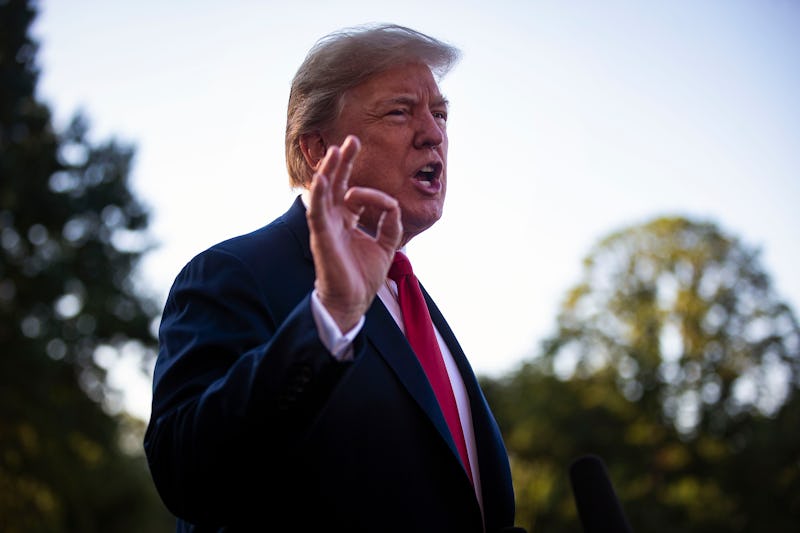 Al Drago/Getty Images News/Getty Images
President Donald Trump and First Lady Melania Trump are set to meet the Queen of England at Windsor Castle during their visit to the United Kingdom. Trump doesn't exactly have a history of abiding to traditional etiquette, which is why a lot of people are wondering whether Trump has to bow to the Queen. That's one of a few traditional customs that Trump will have to learn, unless he chooses to forgo it entirely.
In truth, there's no requirement by the royal family to greet the Queen a certain way, though the official website of the royal family does suggest that many people tend to follow "traditional" forms of British etiquette. The official site reads, "For men this is a neck bow (from the head only) whilst women do a small curtsy. Other people prefer simply to shake hands in the usual way."
So no, Trump doesn't have to bow if he doesn't want to, and Melania Trump doesn't have to curtsy. But if they want to observe traditional British customs, then they probably will.
There are surprisingly few official traditions for people to follow when meeting the royal family, even beyond the initial greeting. Rupert Wesson, academy director at Debrett's, a British coaching and publishing company on etiquette, told NBC News, "It's a great myth that there are lots and lots of rules and formalities" about meeting a king or queen...[there are] surprisingly few.
If Trump does choose to bow, Wesson adds, it will be a pretty subtle gesture. "It wouldn't be a huge sort of sweeping bow," Wesson said to NBC News. "It's more a nod of the head. It's pretty subtle."
On the royal website, the only other tradition that's noted is the correct way to formally address the queen, for both men and women. The site explains that the first address should be "Your Majesty", while all other addresses after that would simply be "Ma'am."
In addition to nailing the greeting, there are certain traditions around dining that Trump might want to brush up on before meeting the queen. For example, the act of holding a fork ... in your left hand.
"There are little differences between American dining and British dining," Wesson explains to NBC News. "In British dining, the fork remains in the left hand and the knife remains in the right hand, assuming you're right-handed."
Though the purpose of the trip to Britain is not solely to visit the Queen, it's one of the consistent longstanding traditions of a President to meet the Queen. USA Today notes that all Presidents but one (Lyndon B. Johnson) have met the Queen.
In conversation with USA Today, U.S. Ambassador Wood Johnson said of the meeting, "He has to see the head of state. Putting his foot on British soil, it's Job 1, it's very important, very symbolic. ... Meeting Her Majesty is the most important thing, because she's the head of state, and from then on, it'll be what the president wants to do."
It's also worth noting that though Trump is one of the more controversial presidents in recent history, it's not that hard to break the supposedly simple protocol of meeting the queen. When Barack and Michelle Obama met the Queen during Obama's first term, Michelle drew some flack for wearing a skirt and cardigan (arguably too casual), as well as for touching the Queen's back at one point, which is another large no-no.
Given that it's Trump, though, there's a chance that he will defy tradition in the name of doing something more original. On the other hand, some argue that Trump will be working extra hard to put his best food forward for this interaction.
Camilla Tominey, a royal expert and the political editor of The Sunday Express newspaper, told NBC News, "He's a massive Anglophile and he'll want to impress ... I don't think he's going to want to put a foot wrong."
Visiting the Queen isn't the only part of Trump's itinerary while out in London. He also is set to meet with Prime Minister Theresa May on the same day, prior to jetting off Scotland shortly after to visit two of the golf courses he helped to create.