A HUGE New Study Says Literally Just Walking Can Help Give Your Mental Health A Boost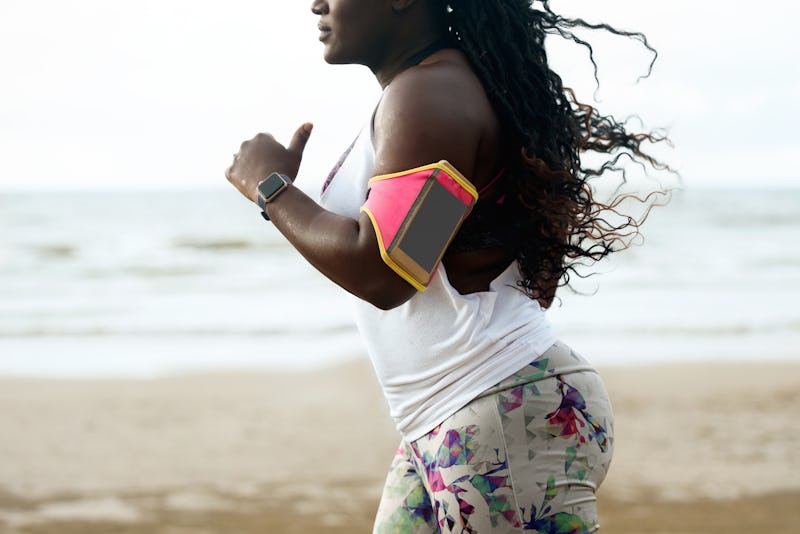 len4foto/Fotolia
It's a common, if not always super welcome, piece of advice: that exercise is pretty good for your mental health. Studies consistently confirm the link between even small amounts of physical activity and better mental health, though exercise isn't necessarily a replacement for therapy or medication when it comes to treating mental illness. But now, a huge study being published in the journal The Lancet Psychiatry has found that literally just walking can improve your mental health.
The study looked at data from over a million people over four years, and found that people who exercised had 43 percent fewer self-reported "bad" mental health days, compared to people who didn't exercise at all, according to the study's abstract. Though the biggest reduction in bad mental health days were seen for people who participated in team sports, cycling, and aerobic exercise, even people who walked found that their bad mental health days reduced by over 10 percent. This is pretty cool news, because it shows that the mental health benefits of exercise are accessible to people who aren't able, or don't want to sustain a super high-intensity workout.
"It's really important for us to think about strategies for helping as many people as possible — if exercise was only beneficial in high or extreme doses, this wouldn't be as helpful from a public health perspective, as a lot of people aren't physically capable of doing that level of activity," Dr. Adam M. Chekroud, PhD, one of the study's authors and Spring Health's Chief Scientist and cofounder, tells Bustle via email.
The study found that the people who saw the greatest mental health benefits from exercise worked out for around 45 minutes a time, three to five days a week, which is consistent with other findings about how much you should exercise for your mood. And, interestingly, "more exercise wasn't always better," Dr. Chekroud says — the benefits dropped off after five workout sessions per week. The study also found that this effect occurred similarly across a wide range of demographics, taking into account age, race, gender, and socioeconomic factors.
The findings also showed that mindfulness exercises — specifically, yoga and tai chi — were also associated with a mental health boost. "There is a lot of work showing that mindfulness techniques can improve people's mental health," Dr. Chekroud says. "We looked at this specifically and found that people doing mindful exercises like yoga and tai chi had better mental health than people who either didn't exercise, only walked, or did any other kind of exercise." The study also looked specifically at a group of people who reported being previously diagnosed with depression — and of those people, those who exercised had fewer bad mental health days than people who'd been diagnosed with depression who didn't exercise at all.
Of course, a lot of the time, exercising to boost your mental health is a lot easier said than done. As fellow Bustler Ayana Lage wrote in 2017, "One of the first things I was told after being diagnosed with major depressive disorder was how helpful exercise would be when it came to recovery […] but even an hour a week can feel impossible if you're in the middle of a depressive episode."
Though exercising is, for many people, a major part of their self-care practice, getting into that habit if you aren't already can be daunting — imagine figuring out what exactly to do once you're at the gym if you've never gone before. Fortunately, this study shows that mood-boosting exercise doesn't just have to be an HIIT class — just getting your steps in can make a meaningful difference.